Jeannie Mai of 'The Real' Looks Amazing as She Dresses up as Kehlani for Gabrielle Union's Birthday Party
Jeannie Mai is taking no hostages as she channels Kehlani in Gabrielle Union's Halloween themed party. 
It's Halloween season again, and celebrities are going all out to make a statement with their costumes.
Pre Halloween parties held over the weekend and our favorite stars came out in stunning attires, some were just right with the theme, but others strayed far.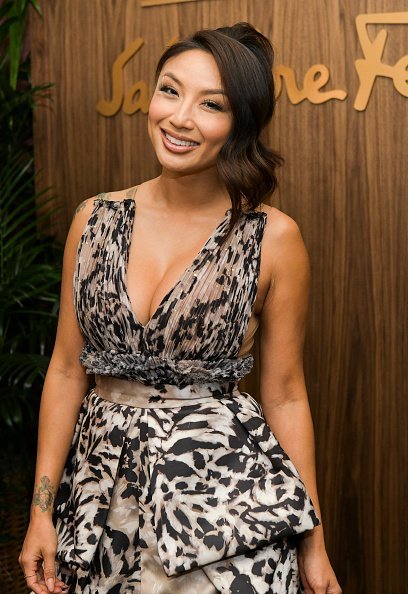 Actress, Gabrielle Union threw a Halloween themed party in celebration of her 47th birthday, this party was with a twist as it was also California-themed, paying tribute and showing lots of California love.
The actress and her daughter Kaavia took center stage with their East Compton Clover uniforms paying tribute to her 2000 "Bring it on" movie.
"The Real" co-host, Jeanie Mai stayed true to the theme as she came to the party dressed as West Coast's resident Kehlani.
She adorned in a halter neck jean cropped jacket, had her hair made into pigtails and drew tattoos similar to Kehlanis.
The co-host attended the party with her beau, Jeezy, who was dressed up as Tupac.
Jeannie shared a video on Instagram with her makeup artist drawing fake tattoos on her with the caption. 
"will the real fans stand up, guess who I'm proudly repping tuhhday."
In another post, a photo collage of her and Kehlani, Jeannie paid tribute to Kehlani, who couldn't attend the party because she was away with her daughter Adeya on a pumpkin patch.
"my girl @kehlani was busy at the pumpkin patch yesterday w/ baby Adeya, so her stand in repped hard @gabunion bday partayy."
In a third post, Jeannie was filled with appreciation for her glam fam.
"can't take credit man #maiglamfam kill it. Makeup @uzmeebeauty, hair @pavyartist and Kehlani for the mad love and props. Keep inspiring sis♥️. Happiest birthday @gabunion."
The talk show co-host finalized her divorce to ex-husband Feddy Hart in December 2018. Early this year, she was rumored to be dating rap artist Jeezy.
Jeannie came out to her co-hosts in the season premiere of "The Real" in June to confirm that she was, in fact, in love with Jezzy as they have similar qualities.
"I found my equal," she says. "Getting to know J, you guys know him as Jeezy has been one of the most beautiful experiences of my life." 
Jeezy seems to feel the same way about her as he shows her off on his Instagram.