Ayesha Curry of 'Family Food Fight' Celebrates Her Sister-In-Law's 25th Birthday Party in Las Vegas
Ayesha Curry, joined friends of her sister-in-law, Sydel Curry-Lee to party on her 25th birthday and from the images shared, the ladies had massive fun.
Sydel Curry-Lee, who had just turned 25 partied with eight of her friends, including her sister-in-law Ayesha and her mom Sonia in Las Vegas.
The mental health advocate, the convener of "The Best Me" project and sister to basketball star player, Steph Curry, was surprised with a Cardi-B themed costume birthday party. 
The group of friends and the celebrant stayed through to the theme as they paid tribute to cardi-B in their inspired outfits.
The birthday festivities started on Friday with a trip to see "FRIENDS the Musical Parody" at D Casino Hotel, the excited group settled for a picture with the cast of the musical after the show.
After that, the group headed back to Oakland for Sydel's speaking engagement.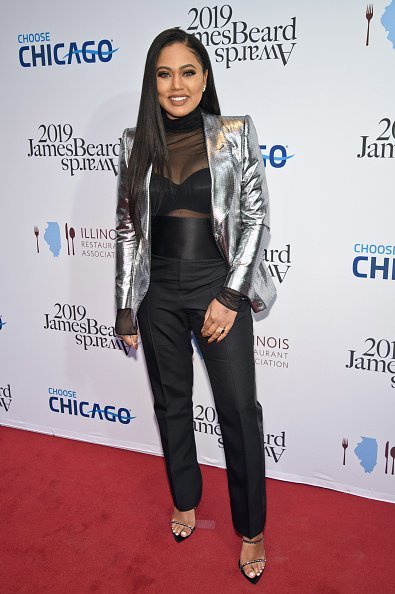 Following that was the proper party in Sin City, Las Vegas headlined by DJ Mustard and Marquee at the Cosmopolitan Beauty & Essex.
Sydel sure did have the time of her life as she was appreciative of her friends' efforts at planning the party. On a post on Instagram, she wrote :
"I had one of the best weekends of my life. My family did such an amazing job surprising me, from the Friends theme to getting me back to Oakland for my speaking engagement to then planning the Best Cardi-B night...they are too much!! I feel so blessed. It's everything I could ever want and more!!"
Sydel, who is married to Damion Lee, also had terrific things to say about her immediate family,
"A special thanks to my amazing husband @dami0lee, my wonderful mother @sacurry22, the most BOMB sisters-in-law @ ayeshacurry & @calliecurry. Godmommy of the world @mbain and all supporting casts, lol y'all really are the sugar honey iced tea. Now I will be hibernating for the next 5 years!!! "
While the girls partied out in Las Vegas, basketball player, Steph Curry was having a bad evening on Sunday as his side. "The Warriors" (Steph's club) lost 92-109 to rivals, Oklahoma City Thunder.
It was a year of surprise parties for the Currys as Steph threw a star-studded surprise birthday party for his wife Ayesha on turning 30. Sydel Curry-Lee is married to NBA superstar Damian Lee.
The couple got engaged in November 2017 and tied the knot in an intimate wedding witnessed by close friends and family in September 2018. Sydel walked down the aisle in a Pnina Torni dress, picked with the assistance of her mom, Sonia, and sister-in-law, Ayesha.
Sydel, excited about her kleinfeld bridal experience, had this to say in her Instagram post:
"I Said Yes to The Dress."
Sydel and Damian live together with their dogs, Quavo and Nobu. The "not so" newlyweds recently celebrated their first wedding anniversary.