Michelle Obama Recalls 'Bittersweet' Wedding Day Following Death of Her Father a Year Before
Michelle Obama revealed that her wedding day was the happiest day of her life, but also the saddest.
Michelle Obama was at the Obama Foundation Summit in Chicago, and she opened up about a very personal sorrow that she has carried in her heart for many years.
The truth came to light when host Isabel Wilkerson asked Michelle about her wedding day, and the former First Lady's answer surprised her.
Michelle clings to the comfort of knowing that her father met the love of her life, and approved of him. 
AN UNFORGETTABLE DAY FOR MICHELLE OBAMA
On October 3, 1992, Michelle Robinson walked down the aisle towards the man she loved, Barack Obama.
For Michelle, it was a bitter-sweet moment, because the arm she held was not that of her beloved father, who had passed away.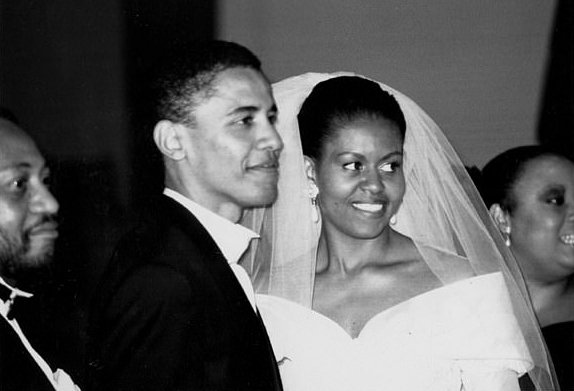 THE BEST OF DAYS, THE WORSE OF DAYS
For Michelle, the joy of the day was tinged with sadness, since her father Fraser Robinson, had passed away a year before after a long battle with multiple sclerosis. She said:
"My dad wasn't there to walk me down the aisle. He had just passed. It was bittersweet and I was marrying the man I loved – you know that guy Barack Obama – but dad had died."
CRAIG ROBINSON GAVE THE BRIDE AWAY
Standing by Michelle's side in his father's place was Michelle's older brother Craig Robinson. For Craig, the moment was equally difficult, a confirmation of a gaping absence. He said:
"It was so traumatic when our dad died. This dude was the epitome of dads in our mind."
FRASER ROBINSON GAVE BARACK OBAMA HIS BLESSING
Michelle clings to the comfort of knowing that her father met the love of her life, and approved of him. 
Fraser Robinson never saw his lovely daughter walk down the aisle, or step out on Barack's arm at the Inaugural Presidential Ball as the first black First Lady of the United States, but his legacy lives on in his children and his grandchildren.
Michelle has often spoken of how much she owes to her parents and their exemplary love.
BARACK AND MICHELLE OBAMA SHARE THEIR VISION
Michelle and Barack Obama at the Illinois Institute of Technology for a three-day summit, during which they shared their ultimate vision for the Obama Presidential Center.  
The Center is to be built along the lakefront of Chicago's South Side, close to where the former President and his family lived.
The imposing edifice will house a public library branch, house multimedia collections and provide a venue for community programs.
The Obama Foundation oversees the creation of the Barack Obama Presidential Center, and the Obama Presidential Library, and runs, the "My Brother's Keeper Alliance", a program dedicated to mentoring and providing support to boys and young men of color.