Kelly Ripa Laughs as Fans Mistake Her for Her Daughter Lola in Halloween Photo with Husband
Kelly Ripa and Ryan Seacrest got into the Halloween spirit by channeling the Addams Family.
Kelly Ripa posted a photo of herself and Ryan Seacrest dressed up as the Addams Family and was stunned to discover that fans thought it was a photo of her daughter Lola.
Hundreds of comments on the Instagram posts of the Kelly and Ryan account let her know that the fans were fooled by the similarity between Kelly and her mini-me.
Kelly dressed up as all the female characters and Ryan was Pugsley
A SPOOF ON THE ADDAMS FAMILY
Kelly and Ryan shared a series of snaps that showed them dressed up as the Addams Family.
Kelly dressed up as all the female characters and Ryan was Pugsley. The results were hilarious, but fans thought Kelly had roped in her daughter Lola to play Morticia.
GOMEZ WAS MARK CONSUELOS
Of course, to play Gomez, Morticia's adoring husband, Kelly had only one choice. Her own devoted spouse, Mark Consuelos, to whom she has been happily married for 22 years.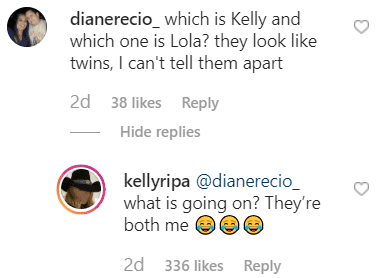 Fans were convinced that it was Kelly's 18-year-old daughter Lola who was dressed up as Morticia.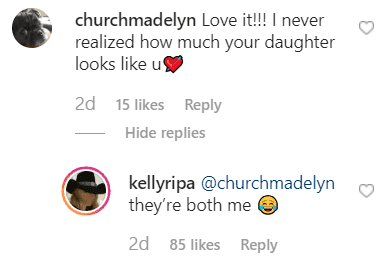 Kelly had to work hard to convince the fans that she was dressed up as both Morticia and Wednesday. 
KELLY RIPA - YOUTHFUL AND STUNNING
Getting mistaken for her 18-year-old daughter is quite a compliment for Kelly, who is now 49.
But the fans are right. Kelly is looking as youthfully fresh and gorgeous as ever.
It is hard to believe she is the mom of three:  Michael, 21, Lola Grace, 19, and Joaquin, 17.
TROLL CALLS KELLY RIPA "TOO OLD"
Kelly Ripa and her handsome husband Mark Consuelos have one of the longest-lasting marriages in showbusiness, but that doesn't stop envious trolls from lashing out.
When Mark shared a post in support of the gender equality movement  #HeForShe, someone decided to tell Kelly that she is "too old" for Mark.
Kelly snapped back and pointed out that she is the same age as her husband, who loves her for her intelligence as well as her looks. Take that, you envious troll.