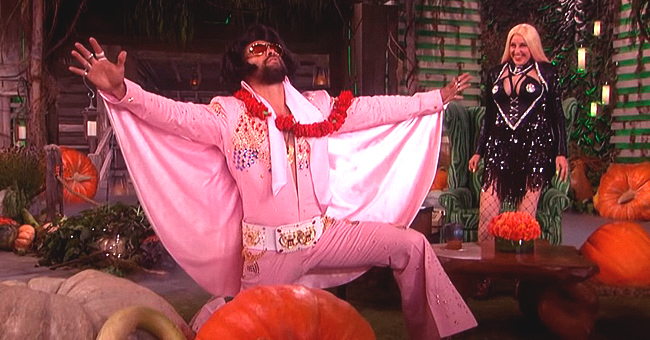 Youtube.com/TheEllenShow
Jason Momoa Fans Are Still Ecstatic over the Elvis Presley Custome He Wore on 'Ellen'

Jason Momoa still has fans reeling from the excitement garnered when he appeared on "The Ellen DeGeneres Show" as Elvis Presley last week.
The wildly popular Momoa, 40, was one of many who visited the talk show host on Thursday, donned in their Halloween costumes for the big day.
Momoa sent women in the audience swooning when he stepped out as the King of Rock and Roll himself. Online, tons of other fans reacted. See their posts below.
The "Aquaman" actor made his way dancing energetically through the crowd before he finally reached the stage and joined Cardi E — DeGeneres' character for this year's holiday.
He sat down and stayed in character as he talked to the host, eventually getting complimented for his accurate portrayal of Presley. It led him to admit that he's "obsessed with Elvis, slightly."
Momoa shared how his mother raised him on the late legend. He went on saying, "I bought a bike like him, and I got an old '55 pink Cadillac." He first dressed as Presley for Halloween at the age of 19.
The "See" star's getup was on point, complete with sunglasses, sideburns, and a full wig. However, one fan playfully dismissed the idea that Momoa should even be in costume.
"Momoa is too cute to be a part of Halloween," Karnica Chaudhary playfully said on Twitter. Indeed, the actor has become somewhat of a sex symbol this year.
Laura Elliott was more accepting of the outfit. She included a cartoon gif of a swooning bunny and said: "My two favourite things - Elvis and Jason Momoa [sic]."
Another fan mentioned Momoa as well as his wife, saying: "Jason Momo is King & awesome. His wife is beautiful & hes much younger giving us women the hope that not all men are shallow."
Diana Vicente simply said, "I'M ALL SHOOKETH UP," giving more reason for user Aaron Hoover to be in shock. He wrote: "Good god! Look at all those giddy women."
During Momoa's interview last week, DeGeneres also brought up the fact that he got into trouble with former "Game of Thrones" co-star Kit Harrington for a picture featuring the two of them as well as Emilia Clarke.
The beloved trio apparently took a group photo at Clarke's 33rd birthday and Harrington requested that Momoa not share it online. Momoa knowingly shared it with Clarke, however, knowing what she might do.
When he did, the actress soon posted it to Instagram with the sweet caption, "Reunions never looked this hairy." So much for shy Harrington's request. Fans didn't mind at all though.
Please fill in your e-mail so we can share with you our top stories!