George W Bush & Daughter Jenna Wish a Happy Birthday to Laura Bush as She Turns 73
Former United States President, George W. Bush pens a thoughtful message to his wife, Laura Bush on her 73rd birthday. Jenna Hager Bush also sends birthday wishes to her mother.
In honor of former First Lady, Laura Bush turning 73-years-old, her husband, George Bush sent her a special birthday message and anniversary reminder, saying:
"Wishing my lovely bride @laurawbush a happy birthday today… and a happy anniversary tomorrow. I'm a lucky man."⠀ ⠀ ⠀
Reposting an Instagram picture from the "George W. Bush Presidential Center," she wears a white long sleeved and high color lace top and accessorizes with large pearl earrings. Laura shows a bold red lip as she smiles with her head slightly tiled. George continues his message and adds:
"Happy birthday, Mrs. @laurawbush! ?? Today, we are celebrating Mrs. Bush and the countless lives she has touched through her meaningful work. Leave your birthday wishes for her via the link in our bio."
George and Laura have been married for 41 years, on an episode of "Today" she says they met at a barbecue and the next they went on their first date, Laura reveals:
"We met the night before at a friend's barbecue, and then the next day we went out to the Midland, Texas, miniature golf course."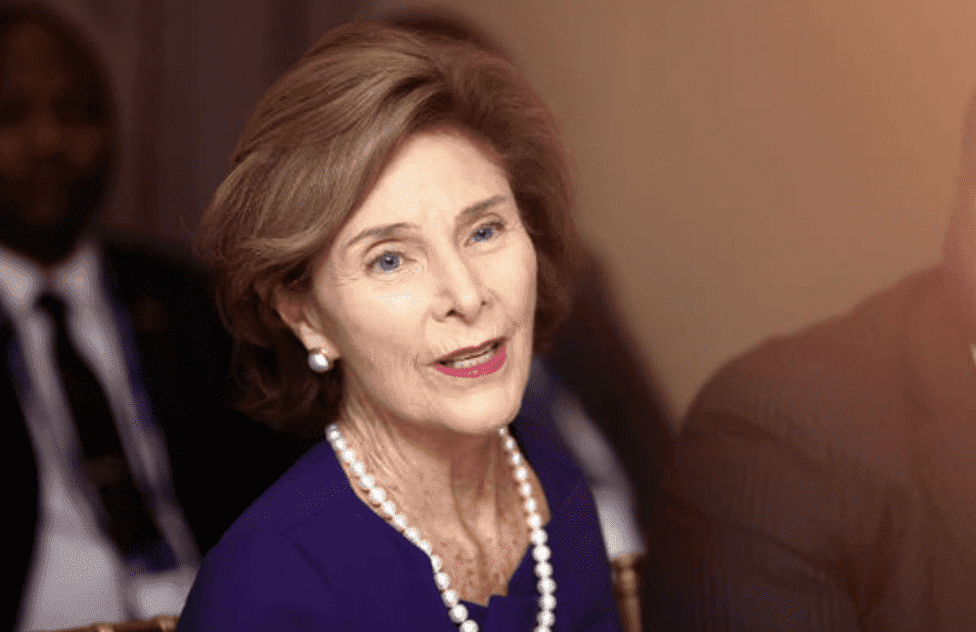 She admits that her husband isn't really the romantic type, but their relationship moved so fast that they married in 1977, only three months after their first golf game together. Speaking about when they first met she admits:
"I kind of think it was love at first sight."
The couple have two twin daughters together, "Today" co-host, Jenna Bush Hager, and author/activist, Barbara Bush. Not to be outdone by her father, Jenna sent her mother a birthday message saying:
"Happiest Birthday to my mama @laurawbush! Thanks for being our light—and teaching us the adoration of books and cats. No one holds a baby quite like you."
It is reported, since leaving the White, Laura has returned to Texas and continues her humanitarian work. She is the chairwoman of the George W. Bush Institute's Women's Initiative, which focuses on global women's issues.