JD Scott of 'Property Brothers' Marries Fiancée Annalee Belle in Vintage Movie Theater-Themed Halloween Wedding
In private event, 'Property Brothers' JD Scott married his fiancé, Annalee Belle in a vintage movie theatre themed Halloween wedding ceremony. 
While most people dressed up to go trick or treating or partying, "Property Brothers" satr, JD Scott and his his fiancé, Annalee Belle decided have their wedding on Halloween. Announcing his marriage, JD says:
"World, I introduce the newly weds. Last night was one of the most epic celebrations I have ever witnessed. So honored to have so many friends and family here with us for the wedding. ❤ #ScottWeddingBelle #Married#NewlyWeds #Wedding"
The couple married at a private home in Las Vegas in front of 180 guests. The groom wore a polka dot suit and the bride wore a revealing tulle swim suit gown, Belle describes her dress saying:
"[It was] the perfect mix of classy, sexy, fierce, feminine, dreamy and daring. Anyone who sees me or knows me can tell I don't like traditional anything."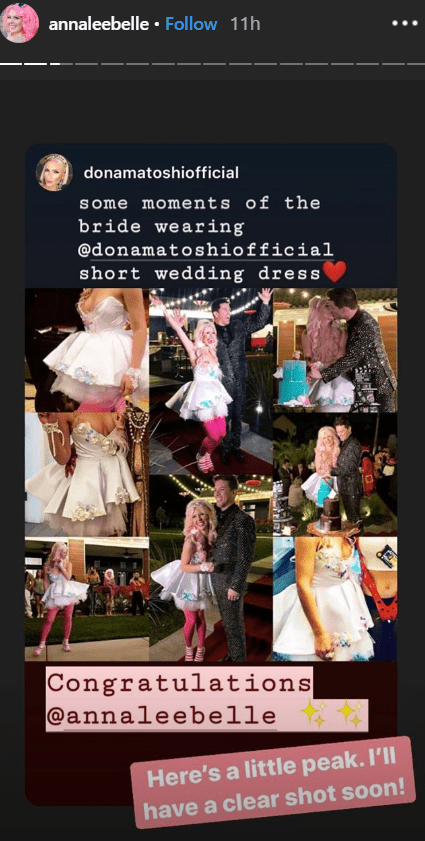 Johnathan Scott and Zooey Deschanel, who have been dating since September were at the wedding dressed at "Batman" and Catwoman," Zooey says:
"It's the first time I've ever been cat-woman escorted to a fancy dress party wedding by Batman. Only for the nuptials of @mrjdscott and @annaleebelle could I be so inspired! Congrats to these gorgeous and gracious love birds, I was overjoyed to celebrate such a happy union! ❤️?❤️?"
In September, after Zooey announced that she was divorcing her husband of four years, Jacob Pechenik. Shortly after Zooey and Johnathan were spotted holding hands in public.
Zooey and Jacob have two children together, Charlie Wolf Pechenik and Elsie Otter Pechenik. A few weeks ago Jacob officially filed for divorce. 
Zooey Deschanel's Husband Jacob Pechenik Officially Files for Divorce https://t.co/LhW1bUBfOX

— E! News (@enews) October 23, 2019
According to E! News Zooey and Johnathan met while filming an episode of James Corden's "Carpool Karaoke," speaking about the relationship a source says:
"It's been nice to meet someone new to spend time with," because at her core, she is someone who subscribes whole-heartedly in happily ever afters."
At the wedding guests enjoyed concession stands, synchronized swimmers. They snacked on nachos, hot dogs, pizza and pretzels.
Wedding planner Sophie Parrott of Marvelous Events USA tells PEOPLE, the couple wanted their wedding ceremony to be a "fun and engaging experience," so they went for a 1940's and 1950's vintage movie theatre theme.