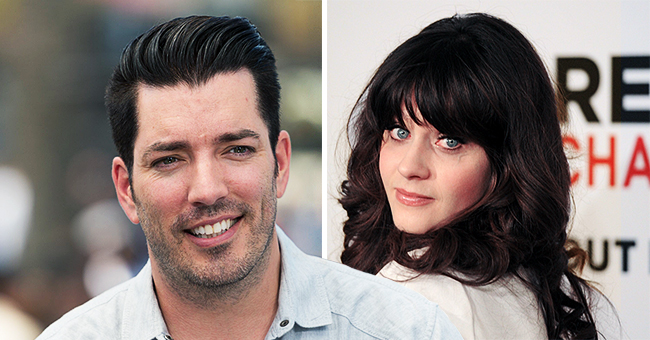 Getty Images
'Property Brothers' Star Jonathan Scott's New Girlfriend, Zooey Deschanel

Jonathan Scott, the TV personality best known for "Property Brothers," is officially dating "New Girl" and "All the Real Girls" actress Zooey Deschanel.
The news about their relationship was shared by a person familiar with their romance but not authorized to speak about it publicly, reported USA Today.
"Met some new humans today. We had fun. I think I'll keep them."
Meeting each other
Even though the details of their romance have not been shared, it is known that the couple met each other in August this year when they participated in James Corden's "Carpool Karaoke."
On August 4, right after shooting the episode of the show, Jonathan took to Twitter to share some photos of the day while admitting that he had had some fun.
Photos of their first meeting
One of the pics portrayed Jonathan and his twin brother, Drew, sitting on a sofa with Zooey and her sister, Emily. Jonathan's legs were placed on Zooey and Emily's lap, and the actress was side-hugging her sister and placing her left arm on Jonathan's shoulder.
For the second photo, Jonathan was standing in front of an old-looking truck while the rest of the group was crouching next to it. Apart from the fact that all of them were wearing sunglasses, Drew was holding a tire.
The third image of the tweet showed the "Property Brothers" stars posing mid-air while the Deschanel sisters had landed already.
As per the fourth and last shot, the group posed in a much more conventional way. They were all standing by a modern truck smiling at a camera. It's important to highlight that Jonathan as posing next to Zooey.
Along with the photos, Jonathan wrote: "Met some new humans today. We had fun. I think I'll keep them."
In an interview with Hollywood Life, Jonathan confirmed that the Scott brothers met the Deschanel sisters for the first time on "Carpool Karaoke" and that they "just clicked."
Their first public date
On September 13, the same source uploaded a set of photos that showed Jonathan and Zooey walking next to each other while holding hands as they arrived at Little Dom's restaurant in Silver Lake, California.
The source added that they sat next together near one of the windows of the restaurant and "whispered to each other often."
Zooey Deschanel's previous relationships
One of the aspects of Jonathan and Zooey's relationship that has surprised people the most is that the "New Girl" actress is still married to Jacob Pechenik. They are separated, though.
Her first husband was Ben Gibbard, the lead vocalist of Death Cab for Cutie and The Postal Service. After getting engaged in 2008, they tied the knot in September 2009.
Unfortunately, they announced their separation in November 2011 and got divorced a year later due to "irreconcilable differences."
In January 2015, the actress confirmed her engagement with film producer Jacob Pechenik. They got married in June that year and welcomed two children together, four-year-old Elsie and two-year-old Charlie.
After four years of marriage, the ex-couple parted ways. In a joint statement shared to USA Today, they admitted that "we are better off as friends, business partners, and co-parents rather than life partners."
Jonathan Scott's previous relationships
Jonathan was also married before. He and WestJet crew scheduler Kelsy Ully tied the knot in 2007 but got divorced in 2013. After that, he dated Jacinta Kuznetsov for a long time but announced their split in April 2018.
In his case, he doesn't have any children but admitted that he would love to become a dad before turning 45. "I want to be a dad, so it's important for me to have a partner who would play a key role in that," he said.
The "Property Brothers" star added at the time that if he couldn't find the right person to have a child with, he would adopt because he considers he would be a "great dad."
So far, it is too soon to tell whether or not Zooey and Jonathan will have children. Their fans would love it, though!
Please fill in your e-mail so we can share with you our top stories!