'Jeopardy!' Has Had Strange Moments over the Years - Here's a Look at Some of Them
The popular contest program has been on the air for more than five decades, putting smart contestants under extreme pressure to, in a few seconds, write a correct answer in the form of a question, winning the bet and lots of money.
The intelligent and charismatic Alex Trebek has been the host of the program since 1984, counting 35 increasingly successful seasons. There have been various special programs with celebrities, with children and even with computers!
When this type of program is carried out, it is about all the details going perfectly, but nothing is perfect, so during all these years strange, disconcerting and fun events have happened that we are going to know.
CELEBRITY IN PROBLEMS
This may have been the worst performance in "Jeopardy!" By a person who is in the center of attention for his intelligence. Before finishing with $ 4,600 negatives, Wolf Blitzer referred to the well-known chef "Julia Childs" and suggested that an excerpt from a book was "voided."
Host Alex Trebek kindly suggested that the great failure of this contestant was because Andy Richter was faster on the signaling button and won the turn.
I will never, ever get tired of seeing this image of Andy Richter curb-stomping Wolf Blitzer on CELEBRITY JEOPARDY. pic.twitter.com/brFuqvNDxv

— Scott Wampler™ (@ScottWamplerBMD) April 4, 2016
MORE THAN ONE HUNDRED
Alex Trebek usually changes up to five times a day but does not do this because he is a fashion maniac. The real reason is that all the programs of the week are recorded on the same day.
The host must change for each show and thus give the feeling that it is a new day. With all this, Trebek has commented that he has more than one hundred suits! That makes it difficult for someone to repeat, they must have a storage system.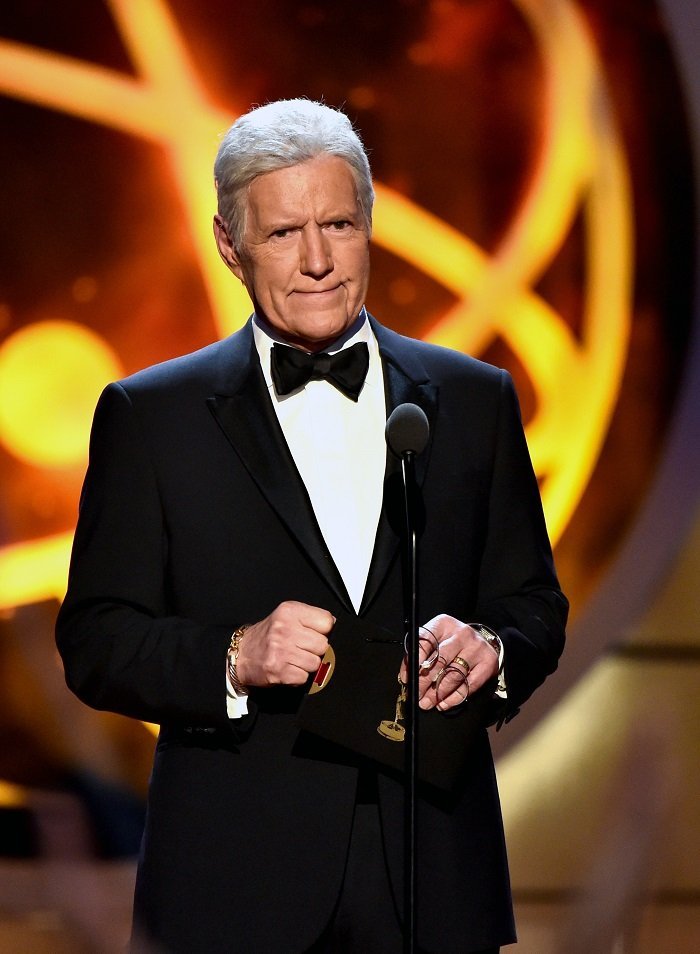 NEWS AND AWARDS
Before starting to host the exciting program, Alex Trebek used to narrate the news on television. Now, the 75-year-old host has his star in the entertainment world. In all this time he has won 30 Emmy awards and even a Peabody Award.
TWIN SHOWS
Although we don't believe it, there is a sister game of "Jeopardy!" and nothing less than "Wheel of Fortune." However, when a contestant has been to "Wheel of Fortune" they cannot compete in "Jeopardy!", and vice versa.
POPULAR CATEGORY
Hundreds of categories have been included in the program over the years, but "Before and After" has returned to the show a total of 114 times. The popular category requires players to combine two answers to form the correct answer.
ALL ARE LOSERS
On two occasions the three competitors have gone home with $ 0 in their pocket. The first case in the 2013 Teen Tournament, when none of the semifinalists could name Belfast as the city divided between Protestant and Catholic neighborhoods, and none retained a dollar, so none reached the final.
The next program was in January 2016 in the episode: State Capitals. "A 1957 event led to the creation of a national historic site in this city, signed by a president whose library is now there too." The correct answer: Little Rock, Arkansas (home of the Bill Clinton Presidential Library).
Looking ahead to this last round, players Mike and Claudia were tied with $ 13,800 each, with Randi pulling the backside at $ 6,000. Unfortunately for Randi, she bet everything and lost everything, because her answer ("Springfield") was incorrect.
Mike and Claudia had followed the same path: betting everything on an incorrect scribble ("Atlanta" and "Austin", respectively), with the three players registering $ 0. There was no champion to return in the next episode.
ALEX IS WRONG
Sometimes, it is Alex who is wrong, as in this case of the "2010 University Championship," in which the host called a competitor who wanted to be a rock journalist as a "groupie." In another episode the champions Jennings, Rutter and Vered, competed for the last place of three games, they invented a way to relieve stress: they would play the game without pants.
Alex took a trip to THE HARVARD LAMPOON in Cambridge, MA, to give you some comedic clues! @harvardlampoon pic.twitter.com/smObGnA9kA

— Jeopardy! (@Jeopardy) November 5, 2019
When Alex Trebek found out, he thought it would be a fun way to show solidarity, and went out to the show at the beginning, he did it without pants, with his shirt on his underwear and his socks up and with suspenders.
But when taking a shot of the boys, the cameraman showed the truth, none had taken off his pants, they played a joke on the host!
Avi Gupta is an 18-year old Teen Jeopardy champion. To honor longtime host Alex Trebek, he made a $10,000 donation towards cancer research during National Pancreatic Cancer Month, which Trebek is fighting. Incredible gesture of generosity 👏. https://t.co/cGw9FOYxjv

— Field Yates (@FieldYates) November 7, 2019
RULES ARE RULES
In the final "Final Jeopardy" of the "Kids Week" tournament in 2013, the contestants received this clue: "Abraham Lincoln called this document, which entered into force in 1863, 'An adequate and necessary measure of war."
That is the Emancipation Proclamation, of course, and that is what Thomas Hurley wrote on his electronic screen. Well, that's what he obviously tried to write: he wrote the first word wrong, presenting his answer as "Emancipation Proclamation."
Alex was casually ruthless about young Hurley's mistake. "That's unfortunate," he said. "The judges are failing against you. "Hurley lost the $ 3,000 he bet, lowering his score also $ 6,600.
There is no doubt that interesting and fun things have happened on the set of "Jeopardy!" but your host is one of the most dedicated and committed. Trebek says that unless there is a Lakers basketball game, you will see Jeopardy! every night. That speaks of dedication!