HollywoodLife: Felicity Huffman Is Reportedly so Happy and Grateful Weeks after Completing Prison Sentence
Since completing her 11-day prison sentence in October, Felicity Huffman has a new found happiness and positive lease on life, as she adjusts to her normal life.
On October 25, 2019, Felicity Huffman was released from the Federal Correction Institution in Dublin, California. Within hours she was back at her home in Los Angeles.
After pleading guilty to mail fraud for her role in the college admissions scandal, the "Desperate Housewives" star was released after serving 11 days of a 14-day prison sentence.
"Felicity is starting to feel like herself again and is so happy and grateful to get back on track with how her life used to be before this whole ordeal,"  source speaking exclusively to Hollywood Life reveals.
She is the first person who has been sentenced in the case dubbed by the FBI as the "Varsity Blues." Felicity plead guilty to attempting to get her eldest daughter, Sofia into college by paying $15 000 to college admissions consultant, William "Rick" Singe to falsify her SAT scores.
In addition to her jail time, Felicity has been ordered by Judge Indira Talwani to complete 250 hours of community service and pay a $30 000 fine.
Just days after her release she was seen doing her community service at "The Teen Project," in Los Angeles. The center helps to support at risk homeless and sex trafficked women.
Daily Mail reports, Felicity kept it casual on Sunday, as she spotted doing her community service in sunglasses, wearing a black sweater and jeans. 
Getting a head start on her community service, while settling to her life in Los Angeles she was pictured holding a tub containing muffins.
"Felicity feels like the worst is behind her and she feels like she has a new lease on life at this point…[She] is actually really enjoying her community service and it's one she's worked with several times in the past," the source adds about her post-prison life.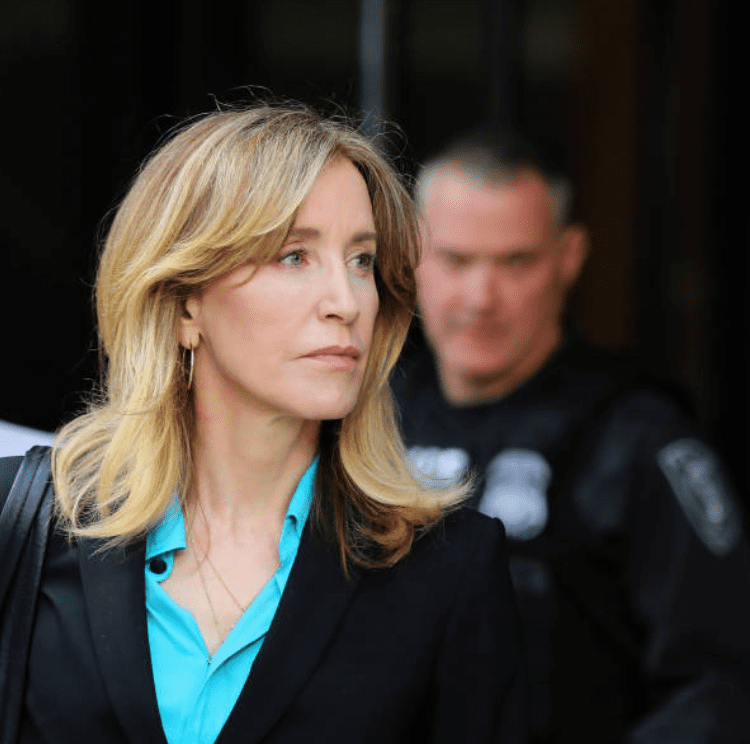 Considering Felicity's strong philanthropic background working with the "Eva Longoria Foundation," "Kids Wish Network," "Oxfam" and "Free Arts for Abused Children," the source says she is enjoying her community service and see's the work she is doing as a positive experience.