Jessica Simpson of 'The Dukes of Hazzard' Looks Slimmer & Is Radiant in Black as She Holds Baby Birdie in Her Kitchen
Fans compliment Jessica Simpson on her slimming post-pregnancy figure as she poses with her infant daughter, Birdie Mae Johnson.
Jessica Simpson's post-pregnancy body is inspiring many fans. The "Dukes of Hazard" star has been working hard to get back in shape after welcoming her third child, a daughter, Birdie Mae Johnson, in March. In a picture with her daughter, she gushes:
"Baby Birdie is the cherry on top of my precious family ? #BIRDIEMAE."
Looking fresh faced while posing make-up free in a black tracksuit, Simpson holds Birdie in her arms as they both give big smiles to the camera. Taking notice of how gorgeous the mother and daughter duo look, on fan remarks:
"She is just so dang precious!!!!! BTW you look amazing!!!!"

Simpson, who gained 240-lbs during her third pregnancy has been working with celebrity trainer Harley Pasternak to get back into shape.
Since setting the goal to reach her target weight in 6 months, she has lost 100-lbs. Her workout includes a lot of cardio that encourages her to walk between 6 000 to 14 000 steps per day.
On top of her rigorous workout, Simpson is also eating healthy. Pasternak has put her on a meal plan, which includes eating lots vegetables for fiber and lean proteins. Commenting on her weight loss, one fan says:
"Omg she is too cute!! And you look stunning!! Can you share your plan for how you lost the baby weight??? I'm struggling momma here!!!"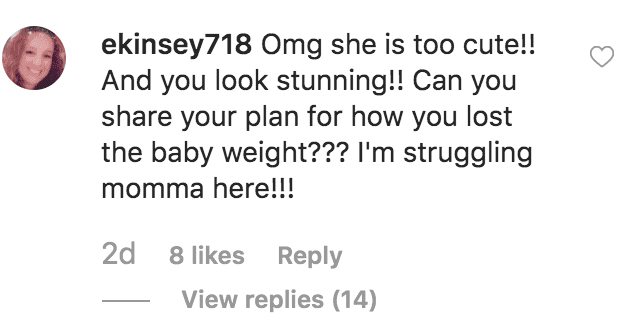 "Jessica Simpson looks and feels better than ever. She's so happy right now in her life with her family and herself and it really shows," a source close to the star reveals.
Simpson, who has two other children, Ace and Maxwell, says she gained the most weight during her pregnancy with Birdie Mae.
"She's taking the best care of herself and life is just really, really good. She's very happy with her body and always has been," the source says.
It is reported, Simpson got in touch with Pasternak only days after giving birth and has changed her whole lifestyle in order to be the healthiest she can be.