'Law & Order: SVU' Fans React to Another 'Elaborate, Twisted' Episode of the Season
"Counselor, It's Chinatown," the latest episode of the 21st season of "Law & Order: SVU," aired on November 7. As usual, fans shared their thoughts on Twitter.
On September 26, Season 21 premiered, making it the longest-running live-action series on TV ever. Tension arises with each episode, and the most recent one was no different.
Warning: The rest of the article contains spoilers of the seventh episode of SVU.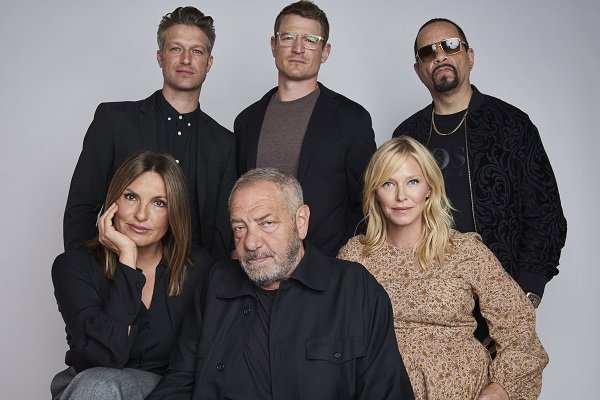 The episode's recap
"Counselor, It's Chinatown" began with Fin Tutuola, played by Ice-T, and Amanda Rollins, portrayed by Kelli Giddish, watching two young women and a man as they investigate a case about illegal sexual activities.
They got into a massage parlor and, a while later, one of the ladies tried to escape through a window. Dominick Carisi (Peter Scanavino) ended up saving her from falling, and the team took in the women and the spa owner.
This is Carisi rights. pic.twitter.com/LzmPviLaG3

— 𝐋𝐀𝐖 & 𝐎𝐑𝐃𝐄𝐑 (@lawandordertv) November 8, 2019
After looking through the massage parlor, they found a video showing one of the women being assaulted.
When Amanda and Carisi interrogate the ladies, they told them their boss allowed the man in the clip to go to the place on Sundays and do whatever he wanted.
Job well done, detectives.

See you next week for another all-new #SVU! pic.twitter.com/rgWwfaWcXG

— 𝐋𝐀𝐖 & 𝐎𝐑𝐃𝐄𝐑 (@lawandordertv) November 8, 2019
The SVU team then caught an arrogant and cocky man named Theo, who considered that what he did was not that bad. Amanda talked again with the young women and asked them to testify, but they initially refused.
Lily, one of them, eventually agreed, but once she was in the courthouse, she received a text message. She asked to use the bathroom and, once there, she tried to escape but unfortunately died.
WE HAD THEM?! #SVU pic.twitter.com/f6Hv5ERzzQ

— 𝐋𝐀𝐖 & 𝐎𝐑𝐃𝐄𝐑 (@lawandordertv) November 8, 2019
During her funeral, Carisi and Amanda ran into Mei Mei, the woman that Carisi saved earlier in the episode. She pointed out that she would not testify, but said that the spa owner's helper, Charlie, was dating Lily.
She added that the ex-couple was trying to save money to run away. With Charlie's help, the SVU team apprehended the owner, who was not worried because he thought he could get out of any trouble with his money.
@nbcsvu Fantastic, elaborate, twisted episode of #SVU One of the best so far this season. AMAZING

— José Molina (@djchema78) November 8, 2019
People's reaction
Shortly after the episode ended, fans took to Twitter to share their thoughts on it. Most of them praised it, labeling it as "fantastic," "elaborate," and "twisted."
Some others were more specific, naming Carisi the "MVP" of the episode based on the "fire escape rescue" scene.
Six minutes in and Carisi is already the MVP of this episode for that fire escape rescue #SVU pic.twitter.com/uQXy62ooon

— amy (@buffyspeak) November 8, 2019
Based on a section of the episode that showed one of the guest characters showing her admiration towards Olivia Benson (Mariska Hargitay), another person wrote:
"I think we might need to change the plaque on Benson's desk to CAPT. OLIVIA 'THE BIG BOSS' BENSON. Has a nice ring to it."
I think we might need to change the plaque on Benson's desk to CAPT. OLIVIA "THE BIG BOSS" BENSON. Has a nice ring to it #SVU #SVU21

— Brendan Feeney (@svubrendan) November 8, 2019
Apart from all the supporting tweets, the show's official Twitter account asked their followers to create a creative caption for a photo of Carisi going out of a van. Some of the funniest results are below.
When you run out of cannolis during a sting operation. #SVU @nbcsvu pic.twitter.com/DyiMyh8jQ8

— Jennifer (@crystallinejen) November 8, 2019
#SVU21 #SVU @nbcsvu

*Me in the kitchen*

Tv: "In the criminal justice system..."

Me: pic.twitter.com/SEzzKPqbbg

— Not Chels.🐿️ (@M_Hermanns_Dyke) November 8, 2019
Warren Leight revealing aspects of the season
Speaking of tweets, "Law & Order: SVU" showrunner Warren Leight shared one only hours after "Counselor, It's Chinatown" ended, and it surprised some fans. He revealed that the fall finale would take place on November 21. His message ended with: "Expect tension."
Before the current season began, Warren revealed some details on the characters, including that they would take on different roles in the team. He said that Olivia would no longer be a lieutenant but a captain and that Carisi became the ADA.
Two weeks to the fall finale.
Expect tension. #SVU21 https://t.co/mnQRhM9FYG

— Warren Leight (@warrenleightTV) November 8, 2019
Speaking of Olivia, the showrunner pointed out that things would not be as smooth for her as she was used to in previous seasons. He added that the new captain would have to approach situations in a different wat to get what she wants.
Warren finally stated that Season 21 would be about "passages and changes," and that the characters would evolve through the episodes.