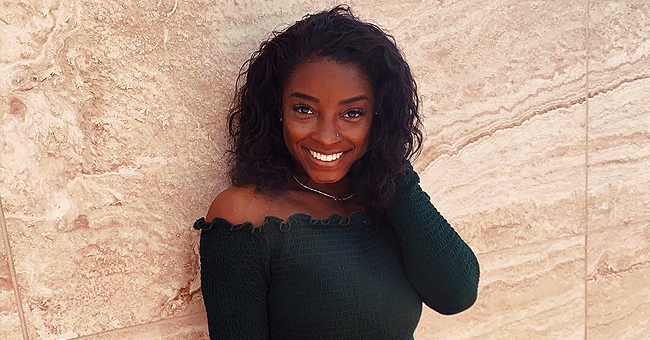 Instagram/simonebiles
Simone Biles Shows off Her Curls in Green Off-The-Shoulder Top & Ripped Jeans in New Photos

Simone Biles had fans drooling some hours ago as she showed off her curly hair while wearing a green, off-the-shoulder top and a pair of ripped jeans. The decorated gymnast also sported an accessory that reportedly got fans worried recently.
Biles is one of the world's busiest athletes and is not known to switch up her hairstyles too often. Recently, however, the 22-year-old has been stepping out of her comfort zone, as seen from social media snaps.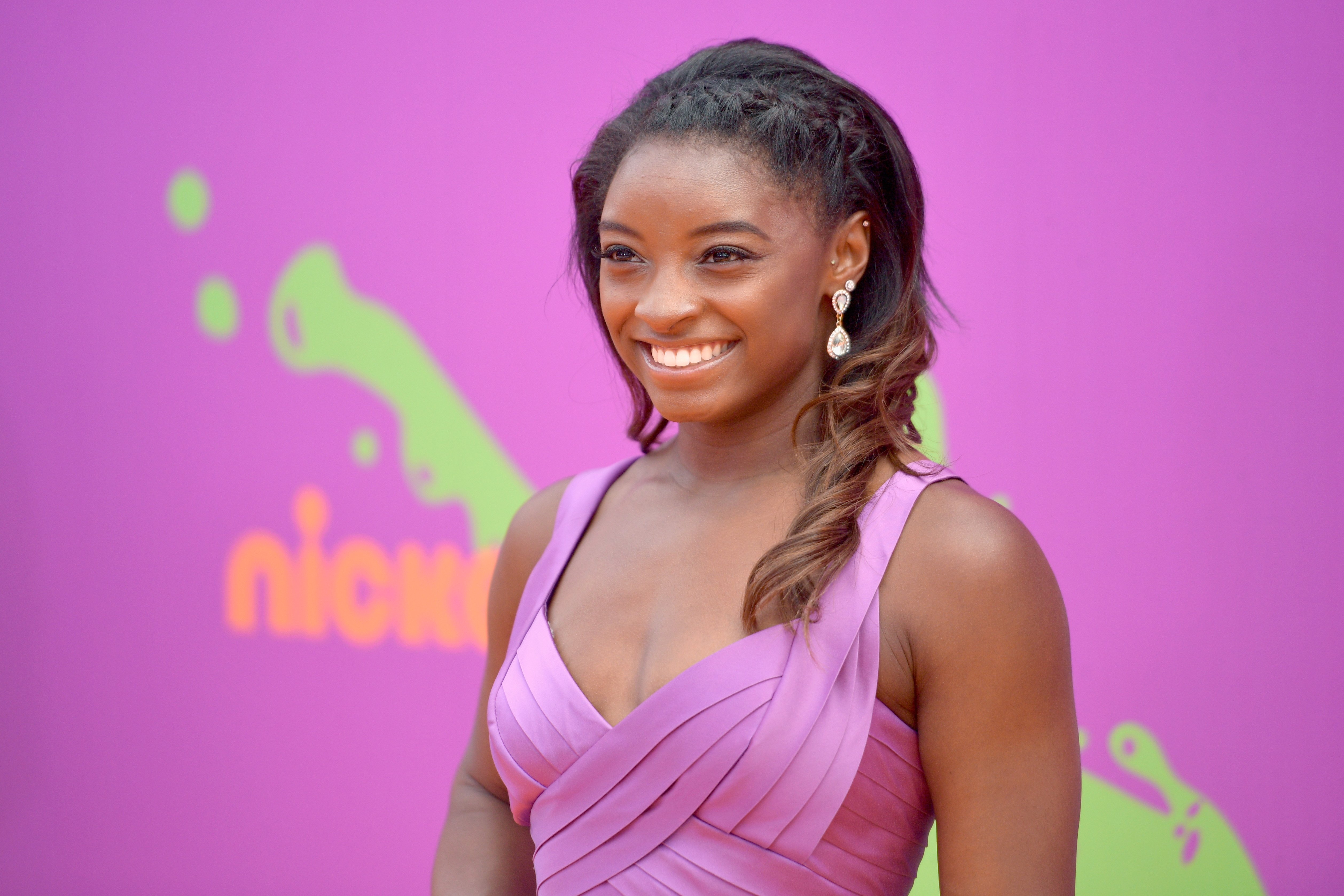 Simone Biles at Nickelodeon Kids' Choice Sports Awards on July 13, 2017 in Los Angeles, California | Photo: Getty Images
WHAT SHE WORE
A few hours ago, Biles took to Instagram with photos of her curls as she posed in a long-sleeved green top that bared her shoulders. The athlete paired it with distressed blue jeans and a few pieces of jewelry.
And Ervin Jr. has never been found wanting, whether it's supporting his woman in athletics or her fashion choices.
"Everyone smiles in the same language," Biles captioned one image that showed her leaning against a wall in the stylish ensemble.
FAN COMMENTS
In less than 12 hours of posting, Biles' photo already has over 95,000 likes and hundreds of adoring comments from supporters around the world.
"Imagine being this pretty," one Instagram user gushed.
"So cute! We think you are incredible!!!" added a second fan.
A WORRISOME ACCESSORY?
Biles also posted another photo of the outfit, this time a close-up shot of herself at a restaurant. The gymnast's nose stud was also visible in the picture.
This will not be the first time Biles is showing off her nose piercing. A few days ago, she debuted another hairstyle – curly, waist-length ponytails – and the nose piercing.
According to Allure, while fans couldn't help raving over the refreshing look, a few were concerned about the piercing because it's not something gymnasts are permitted to do. Folks felt it was a hint of Biles' upcoming exit from professional gymnastics.
Only last month, Biles clinched her fifth world All-Around title at the gymnastics world championships in Stuttgart, Germany. She also went on to become the most decorated gymnast in the history of the sport.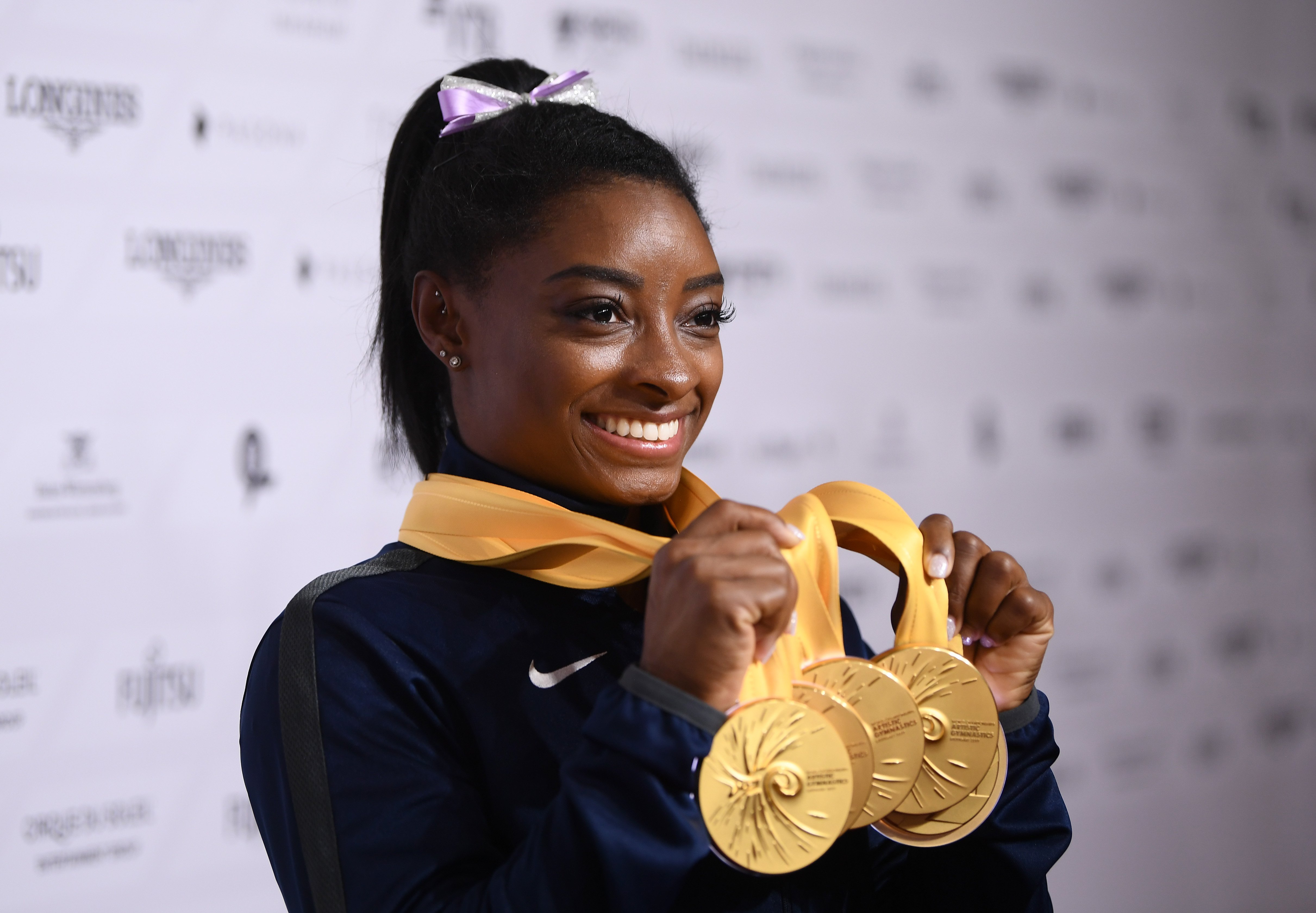 Simone Biles poses with her Medals at the FIG Artistic Gymnastics World Championships on Oct. 13, 2019 in Stuttgart, Germany | Photo: Getty Images
IMMINENT EXIT
According to CNN, Biles is preparing to compete in next year's Olympics in Tokyo but had previously said she's retiring in 2020. While the Ohio-born athlete is getting ready, she's also taking time off to be with her boyfriend, Stacey Ervin Jr.
This past Halloween, the couple had some fun with their contrasting angel and devil costumes, photos of which made it to social media. "A match made in heaven," Ervin jr. captioned his post on Instagram.
LOVE & GYMNASTICS
The gymnastics coach also turned 26 in October and Biles took the opportunity to remind him why she loves him:
"So many things I love about you. Your energy lights up an entire room. You're a true gentleman and you always put others first! Your mindset, grit and your passion for greatness. 26 will be a great one! Never stop being you Stacey Ervin Jr. I love you. 224."
NO. 1 ALL-AROUND FAN
Earlier the same month, Biles had also gushed over Ervin Jr. and the way he supports her during a "TODAY" interview. "He basically just screams into the phone and tells me how proud he is of me," she said. "He's an awesome times two."
And Ervin Jr. has never been found wanting, whether it's supporting his woman in athletics or her fashion choices. After Biles posted the latest photo of her nose piercing, the fellow athlete responded, saying:
"Someone need to pull that fire alarm there because you are wayyy too hot."
We'd double-tap on this love all day long!
Please fill in your e-mail so we can share with you our top stories!