Jennifer Aniston Pays Tribute to 'Friends' While Accepting the People's Icon Award at the 2019 PCAs
Jennifer Aniston became a seven-time PCA winner when she accepted the People's Icon Award from her co-star and longtime friend, Adam Sandler, with a beautiful speech on Saturday night. 
Before the actress launched into her acceptance speech for being awarded such an "incredible honor," Jennifer first had to say a few words about her co-star on "Murder Mystery," Adam Sandler.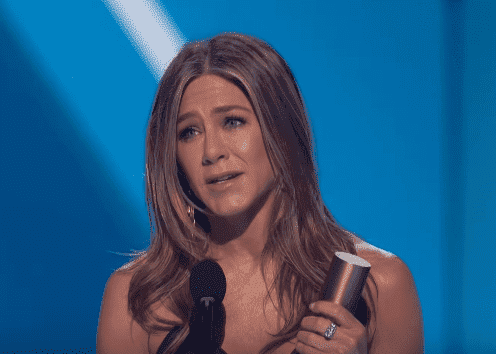 "This is one of the kindest human beings you will ever meet. Aside from being one of the most talented and generous and just a stunning everything," Jennifer gushed before she turned to Adam standing with her on stage. "This isn't your Icon Award, so I can't go too on-and-on, but I'll do it next time. I love you. "
Even though "this town" hands out numerous awards, Jennifer always felt the People's Choice awards to be special. She went on to say that as actors, they don't do what they do for the critics or even to make their loved ones proud.
"We do this for the money," Jennifer joked. "I'm kidding; we do it for you guys! C'mon, seriously, we really do."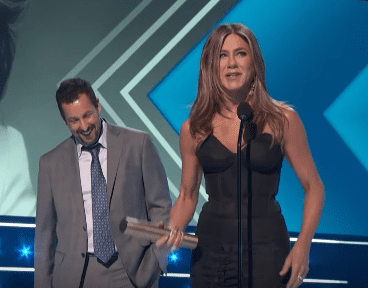 Jennifer's thoughts then jumped to her reaction when she first learned about receiving the award, and the 50-year-old realized how long she had been in the industry.
"When I had first heard that I had won this Icon Award, the first thing I thought was, 'Holy shnicks, have I been around that long? It turns out I have," Jennifer added.
The actress thanked everyone for being "so good" to her over the years and elaborated that she can use the term "icon" because of her time on the "iconic show" she became so well-known for, "Friends."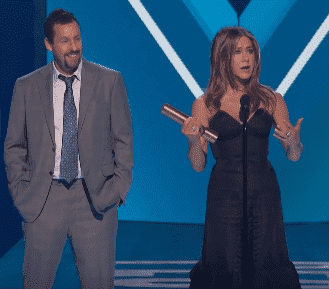 "Friends was truly the gift of a lifetime, and I would not be standing up here without that amazing show and those amazing five other actors and with an audience who stuck with us for a decade and through streaming services now, and syndication and I'm sure coming to a watch soon near you or something!" Jennifer said.
While Jennifer's role in the sitcom paved the way for her future endeavors, like her new hit series, "The Morning Show," she is back on the platform that launched her career. The actress then ended her acceptance speech with a final show of appreciation to her fans.
"Thank you for being on this journey with me, and I just love you guys. Thank you for sticking by me!" Jennifer added.
However, Jennifer and Adam returned to the stage for the final award handout for the evening when their film, "Murder Mystery," received the Comedy Movie of 2019 award.
Smiling broadly as they thanked fans for the prestigious award, Adam Sandler's short speech received a big round of applause.
"You are an icon, so thanks for still doing movies with me. And the people, the people, of course. This is an incredible award, so thank you so much," Adam said.
During an episode of "The Ellen DeGeneres Show" last week, fans got exactly what they wished for when Ellen honored one regarding Jennifer Aniston.
After a conversation regarding kissing turned on Jennifer, she had no choice but to kiss the talk show host on the lips, much to the delight of a roaring audience.