Prince Harry Didn't Wear Remembrance Poppy on His Lapel like the Rest of the Royal Family
Prince Harry's appearance raises many question after he is pictured not wearing his poppy pin on his lapel like the rest of the royal family, at the Remembrance Day Service. 
During the Remembrance Day Service on Sunday, each member of the royal family came out to honor fallen war heroes by wearing the traditional poppy pin. Kensington Royal writes:
"The Duke and Duchess of Cambridge joined Her Majesty The Queen and members of @TheRoyalFamily at the National Service of Remembrance, as the nation honoured those who have lost their lives in conflict."
However, it was very noticeable by some observers that unlike the rest of family, Prince Harry was not wearing his poppy pin on his lapel.
It is revealed, Harry had his poppy pinned above the left ear of his Royal Marine Cap because he was following orders. 
According to PEOPLE, the red and black artificial flower has been worn since 1921 to commemorate members of the military who have died during conflict.
A royal source says under the rules of the Royal Marine, to which the Royal Navy is a branch of, their members have to wear the poppy pin on their caps, behind the cap badge.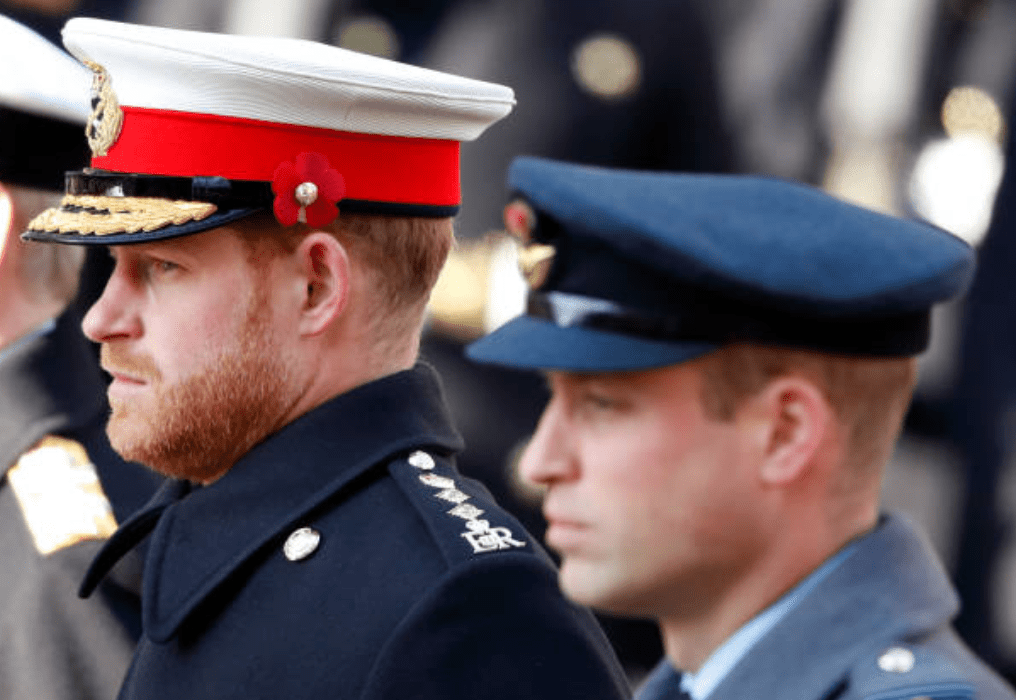 Harry served in the Royal Navy for 10 years, including embarking on two tours of Afghanistan where he worked his way up to the rank of captain.
In his role as Captain General of the regiment, a position that was passed on to him two years by his grandfather, Prince Philip, he wore the ceremonial uniform of the Royal Marines.
For the past two years Prince Charles has been laying the ceremonial wreath, a duty which has been passed down to him by Queen Elizabeth. 
Wearing five poppy pins in her lapel to represent each service in the war, the Queen watched on from a balcony with Kate Middleton and Camilla, Duchess of Cornwall.
Meghan Markle stood on a separate balcony with Sophie, Countess of Wessex and Sir Timothy Laurence.
Reportedly, honoring fallen war heros is particularly important to Harry, who named his son Archie, after his former Army commanding officer, Major Tom Archer-Burton, who got him deployed in Afghanistan,