Lamar Odom's Girlfriend Sabrina Parr Shows off Her Diamond Engagement Ring after He Proposed to Her
Lamar Odom's fiancée, Sabrina Parr confirms her engagement by showing off her giant diamond ring. Their family and friends respond to the news with mixed reviews.
A day after Lamar Odom announced his engagement to personal trainer, Sabrina Parr, she shared the exciting new by showing off her giant diamond ring.
"I SAID YES!!!!! ??" she says in a caption. Testing out her future name and future hashtags she says, "@lamarodom #mrsparrodom #lamarandsabrina."
Parr shows off a high-set teardrop diamond ring with smaller diamonds set along the sides. Joining in on the congratulatory comment, Nene Leaks of "Real Housewives of Atlanta," who was with the couple at the time of the proposal says:
"SO GLAD I COULD BE HERE WIT YOU! LOVE BOTH OF YOU AND PRAYING OVER THIS UNION."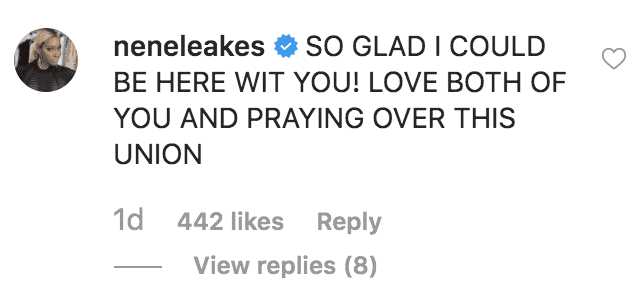 According to Daily Mail, Odom's engagement comes 10 years after he proposed to "Keeping Up With The Kardashian's" star Khloe Kardashian. In his announcement for his latest proposal he reveals:
"Introducing my new fiancé!! Soon to be Mrs. Parr-Odom. She the ONE!!!! @getuptoparr."
It is reported, in a since deleted comment by Odom's son Lamar Odom Jr, he expressed his shock and disapproval of the news saying:
"Not a text or a phone call to see how people who've know this dude his whole life to see how we would feel or react. Knew shawty for 4 months and already got you twisted." 
Odom Jr says their family and friends don't approval of his relationship with Parr and tells him to get out the trap, which he calls a "sunken place." He also shames his father for not telling his family, adding:
"Shame family gotta find out on social media but that's been how life been all the time as the son of an Odom."
Taking back his harsh comments from the previous day, Odom Jr apologies and explains:
"Last night I was emotional seeing my father got engaged through social media. I was hurt and caught off guard."
"At the end of the day, I am a teenager, that is becoming a young man. I have to be responsible for what I post, I have nothing but love for my dad and want what's best for him," he says.
Although many people have pointed out that the couple have only been dating 3 months, Odom was engagement to Khloe after only a month together. Just like his former flame, Odom and Parr are also in the works for a reality show just in time for their wedding.