Yara Shahidi of 'Black-ish' Stuns with Her Whole Family at 2019 Glamour Women of the Year Awards
Yara Shahidi stunned with her beauty and spirit at the Glamour Women of the Year Awards.
Yara Shahidi is on a roll. After recently taking part in a conversation with former President Barack Obama at the Obama Foundation Summit, she accepted her Glamour 2019 Women of the Year Award.
The 19-year-old actress of 'Black-ish' fame stunned in an unusual creation on the Awards red carpet in New York City.
Introducing Yara Shahidi at the Glamour 2019 Women of the Year Awards was comedian Trevor Noah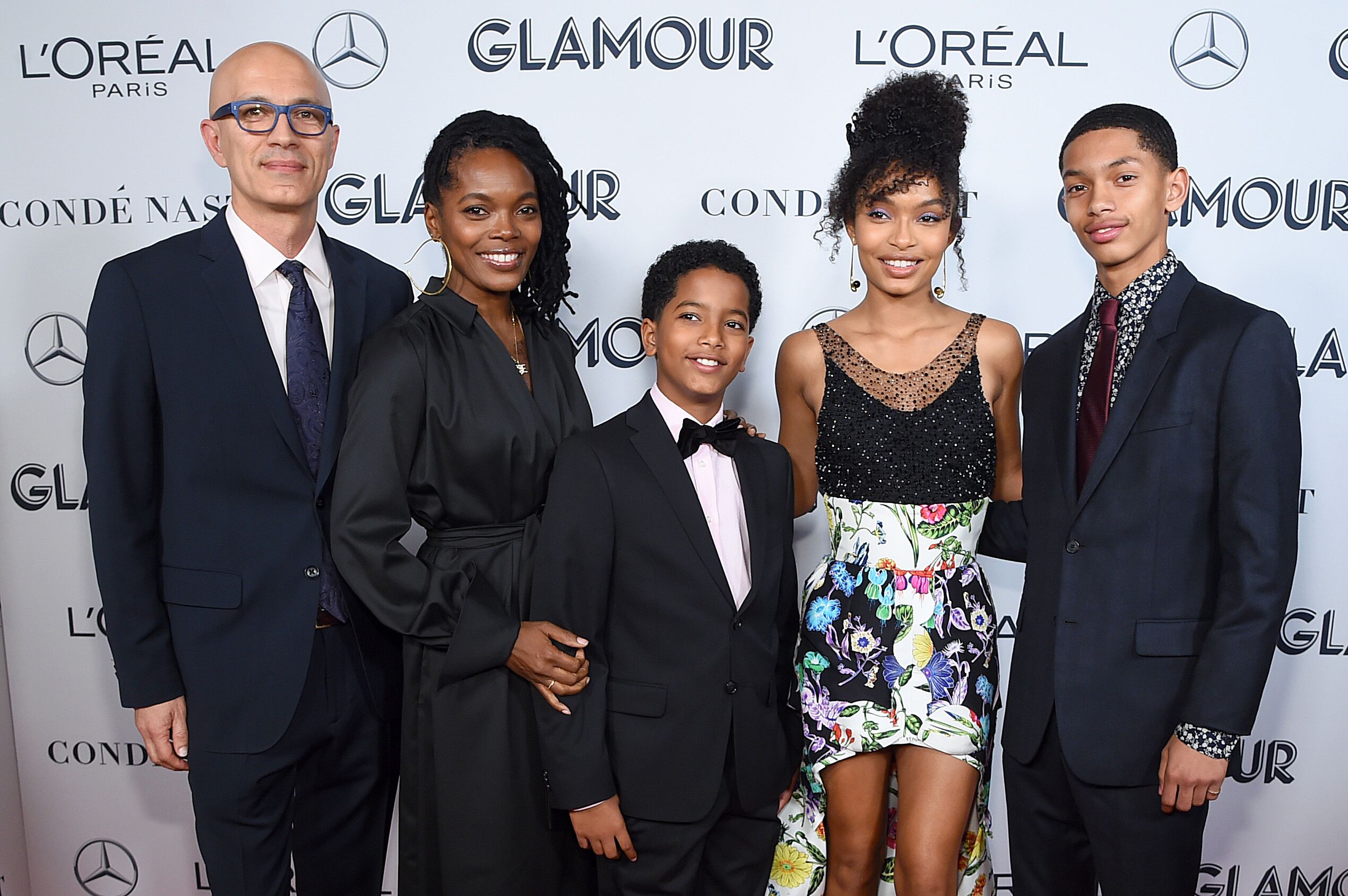 YARA SHAHIDI EMBODIES IRREVERENT GLAMOUR
The leggy 19-year-old stepped out onto the red carpet in a dress that was both original, and irreverently glamorous.
The gown featured a black beaded bodice with a net neckline and a riotous mix of fabrics in the skirt and the inset waist.
A RIOT OF COLOUR
Yara's gown, a bespoke creation by the Schiaparelli Haute Couture house, was made from a fabric that exhibited a riotous mix of color and floral prints in backgrounds ranging from white to jet black.
YARA SHAHIDI SHOWS OFF HER ENDLESS LEGS
Yara's gown was a mini that showed off her endless legs to full advantage but was garnished with a lavish floor-length train to add a dash of Hollywood glamour to her look.
YARA SHAHIDI'S ACCEPTANCE SPEECH
When Yara took to the stage to accept her Award, she admitted that she hadn't written a speech in advance, but had instead relied on the inspiration of the moment to see her through. She said:
"I didn't prepare anything today, but it was because I knew that I was going to find an answer here. And I did. I was wondering what it meant to be a woman. The conclusion I came up with is that to be a woman is to be an abolitionist. To be a woman is to understand the power of our yes"
Yara, whose goal is to awaken a new generation of activists, had the audience - among whom was her beloved family - on their feet. This young woman is more than inspired, she is an inspiration.
TREVOR NOAH ON YARA SHAHIDI
Introducing Yara Shahidi at the Glamour 2019 Women of the Year Awards was comedian Trevor Noah, who was obviously bowled over by the stunning young woman. Noah said:
"I've met few people in my life who are as enigmatic and amazing as Yara Shahidi is. She is equally brilliant, funny, intelligent, caring, and just all-around kick-ass."
And it's no surprise that Noah was impressed.
This actress, who is also a college student has founded a nonprofit for civic engagement called Eighteenx18 and impressed former First Lady Michelle Obama so much that she offered to write her a college recommendation letter. 
WOW! We can't wait to see what Yara does next...