Snoop Dogg's Son Corde Shares Photo with Daughter Elleven That Shows Their Striking Resemblance
Snoop Dogg's oldest son, Corde, really enjoys the father-daughter moments he has with his one-year-old daughter, Eleven, and he shared a photo of them, showing their striking resemblance. 
Corde Broadus took to his Instagram page to share an adorable picture featuring him and his ever-growing daughter, Eleven.
If one thing, the sweet photo showed how much Eleven resembles her father, as their striking features were brought to the fore.
In the photo, Eleven was resting on her father's body, and wearing an expressionless look on her face. The resemblance between father and daughter was obvious, as they both share like lips, eyes, and nose.
They also have a similar face, proving that the one-year-old Eleven is a mini version of her dad. There were many comments from Corde's followers on the captionless photo, including one from his mother, Shante Broadus, where she said:
"My One One ??????."
A second comment from a fan confirmed Corde and Eleven's resemblance, saying:
"You both have the same nose! Twins for sure!"
While a third person said:
"Same face gang."
Eleven is rapper Snoop Dogg's first granddaughter, and the entertainer couldn't stop himself from gushing after she was born.
After her birth was announced in August, Snoop Dogg shared a video of the cute baby on his Instagram page and captioned it with the words:
"My 1st granddaughter lovely day to be blessed Y'all." 
Since her birth, Eleven has continued to steal the hearts of many people with the cute pictures of her that continue to permeate the cyberspace.
In a photo shared by Snoop Dogg's daughter, Cori, when Eleven was just six months, the cute baby stunned in a blue and white polka baby dress, as her bright eyes looked at the camera.
That particular photo elicited a lot of love from fans, as they gushed over the cute baby. One fan captured the feelings of most of those who commented, asking:
"Wow, how are u this perfect at 6 months?"
It hasn't been long since tragedy struck in Snoop Dogg's family, following the death of his grandson, Kai Love, who died ten days after he was born. Kai would have been Eleven and her older half-brother, Zion's sibling.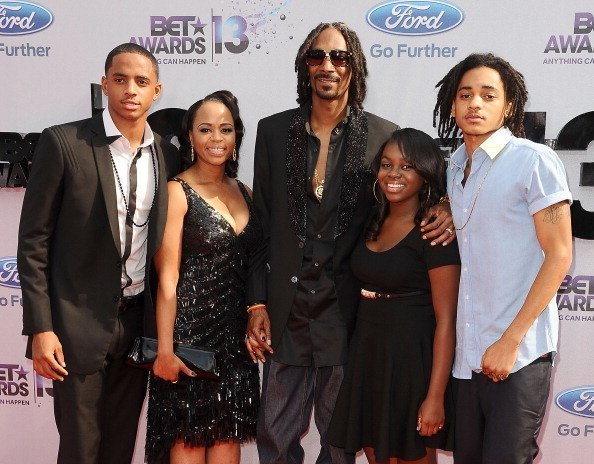 Kai reportedly died in the arms of his father, Corde Broadus, who posted a now-deleted emotional message on Instagram, saying that his late son brought so much love and positivity to the world.