Blake Shelton Dishes on All-Time Favorite 'Voice' Contestant and Other Details about the Show during Interview at His Nashville Restaurant
On Thursday, country singer Blake Shelton held an event at Ole Red in Nashville for "The Voice." The singing competition judge also performed several songs and had an interview with "WSM's" Bill Cody.
Shelton's Ole Red restaurant and entertainment complex had visible TV cameras crews on sight. This season's Team Blake members were also on hand at the private event.
Cali Wilson, Kat Hammock, and Ricky Duran were present for the filming of the segment. The country musician said: "I've been wanting to do something like this with my team since we have Ole Red here."
SHELTON'S ONGOING BROMANCE WITH LEVINE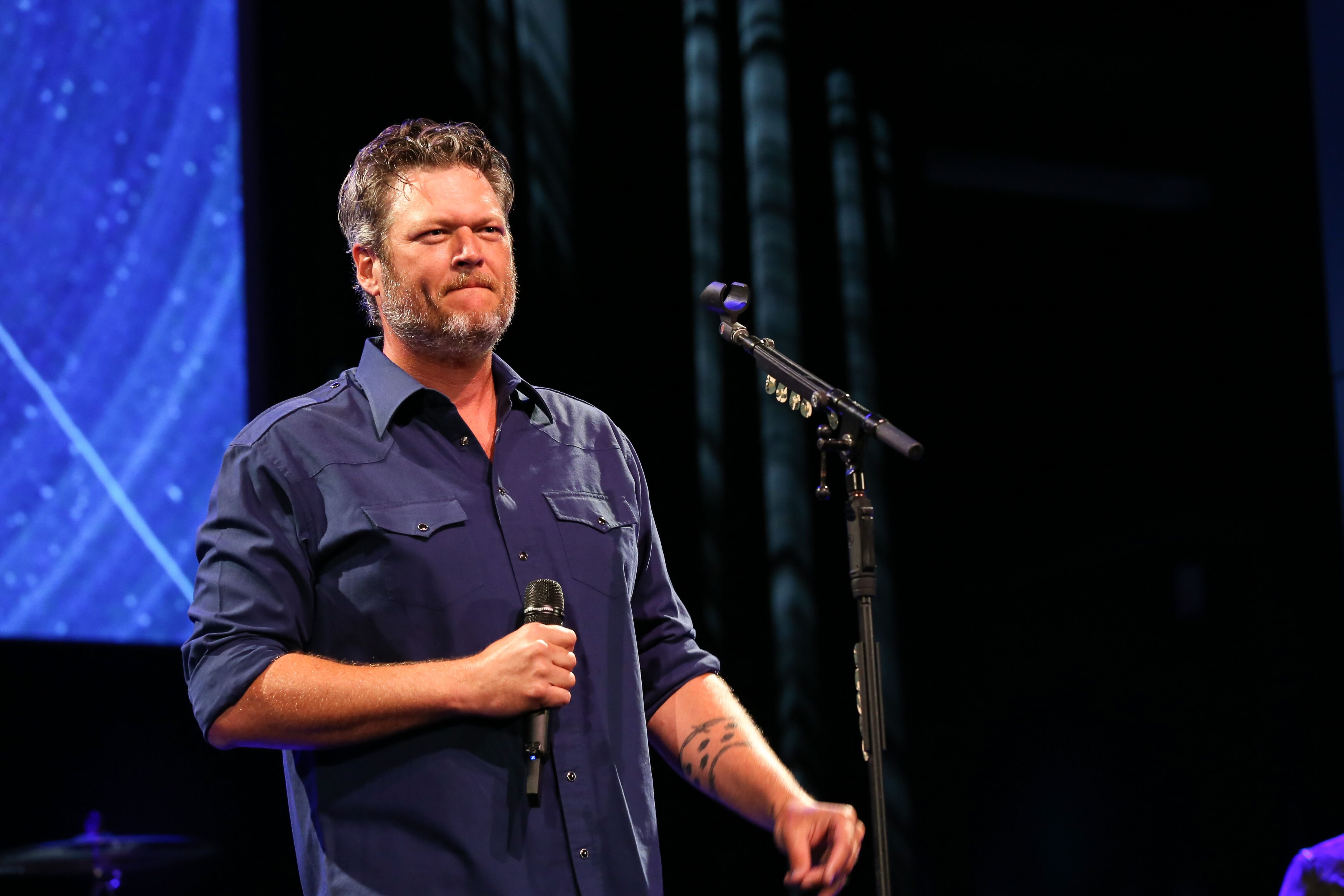 During his interview, Shelton revealed that he'd gotten over missing longtime arch-nemesis Adam Levine. The Maroon 5 lead-singer left the show earlier this year.
Shelton revealed that fellow coach Kelly Clarkson was "doing a great job filling the Adam '[expletive] void.'" He shared that he used the exact same words when speaking to Clarkson and "She didn't take that very well."
However, there was another reason Shelton wasn't so torn up about losing Levine. The artist revealed that he still saw Levine, "just not for the cameras."
WHY THE COUNTRY SINGER CHOSE RUCKER
The country singer also shared that the role he hated the most on "The Voice" was "Eliminating people from the show. … I literally despise it." He also explained why he'd chosen Darius Rucker to be his team's mentor.
Shelton elaborated that Rucker was chosen due to his success across genres, being a Hootie & the Blowfish band member, and his success as a solo artist. The coach explained that he felt Rucker had "pretty much seen it and done it all."
THE THING SHELTON LOVES ABOUT TAYLOR SWIFT
The country singer revealed that he loved "mega-mentor" Taylor Swift's smartness. He explained:
"Every time I'm around her, I love just kind of soaking it in and listening to her talk. She always has something to say or a way of looking at something that I never have thought that way. … Once you get past the" — Shelton gasped — "'It's Taylor Swift!' you're even more impressed with her."
SHELTON'S ALL-TIME FAVORITE CONTESTANT
Shelton also shared that his favorite contestant from "The Voice" was season 4 winner Danielle Bradbery. She won the show when she was just age 16 and had never sung in public before.
He explained further:
"It just kind of fell in her life, and she found it out — and in front of the nation — that she was this incredible vocalist."
THE NEW "VOICE" NEMESIS
Shelton confirmed that new coach Nick Jonas was a challenging addition for season 18. The Blind auditions for the upcoming season have already taken place and the country singer got firsthand experience with Jonas.
He also got to know him when they both contributed their voices to the "UglyDolls" film. However, Shelton also revealed that Jonas was a "super-nice guy."
But the singer's character has been put aside by Shelton who said: "I'm starting to hate the guy because I'm competing with him now." He shared how Jonas was "a tough, tough guy to go against."
Jonas will be replacing Shelton's girlfriend and fellow judge, Gwen Stefani.
COULD SHELTON CONVINCE STEFANI TO COME BACK
Speaking about convincing Stefani to come back to the singing competition, Shelton confessed: "I don't know if I have any power." He revealed that he was clear that he didn't want her to leave.
However, he explained that he understood the need to keep the show fresh and his partner's other professional commitments. He didn't mind the changes much "as long as it's not me."
The country singer hoped that after he beat Jonas, "hopefully at some point we'll bring Gwen back." He shared that he "definitely" didn't "think we've seen the last of her on the show."
THE HIGHLIGHT OF WORKING ON "THE VOICE"
One of the highlight's for Shelton working on "The Voice" was the live shows. He noted:
"It's exciting. Every night when somebody performs in a live show, the first thing all of us coaches do is look at iTunes. 'Oh, man, they didn't even chart, I thought that was great' or, 'they're number one.' It's exciting to see it in motion because that's when you know if you're connecting."
THE OLE RED VENUES
In March, Shelton celebrated the grand opening of the Ole Red. The singer also owns an Ole Red venue in Gatlinburg, Tennessee and another one in Tishomingo, Oklahoma.
The venue is owned and operated by Ryman Hospitality Properties. The Ole Red was inspired by Shelton's hit song "'Ol Red."
There are plans underway to open a fourth venue in Orlando, Florida next spring.