Whoopi Goldberg Chats with Tamron Hall about Being Single and Not Wanting to Live with Anybody
Whoopi Goldberg says that she is happy living her life as a single woman. The "Sister Act" star explains why she prefers living alone and doesn't want to get married again.
It been several years since Whoopi Goldberg made mention of a significant other. During her appearance on "The Tamron Hall Show," she clarifies her relationship status saying:
"People keep saying 'Well, you'll find somebody. I'm not looking for anyone. I am very happy. I don't want to live with anybody."
Although she doesn't want any roommates of the human kind, the 64-year-old isn't living alone, she reveals:
"I have a cat. A 20-year-old cat who is attitudinal. So he will leave little treats for anybody that's not me in the bed."
Tamron questions her if her protective cat could possibly be blocking her from finding a partner, to which she disagrees and puts the blame on herself for blocking potential partners, saying:
"When you make a commitment to someone else, it's a commitment to ask their opinion and listen and work it out with them."
Goldberg, who has been married three times says societal pressures kept pushing her into relationships. 
Her first marriage to Alvin Martin ended in 1979, with whom she has a daughter, Alexandrea Martin. This was followed by David Claessen in 1986 and her last divorce in 1994 to Lyle Trachtenberg.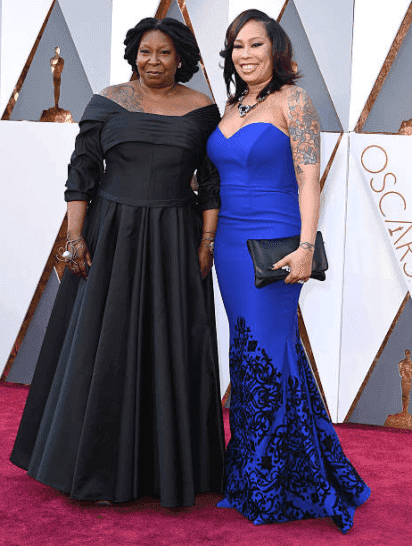 She tells Hall that that her relationships made her realize that marriage wasn't for her and she prefers focusing on her family and friends. Another reason for her preference in being single she adds:
"I don't want to share money. I know it's terrible, but I don't want to do it."
Goldberg's lease on life echoes the same sentiments she shared in 2016, when she told the Times:
"I'm much happier on my own. I can spend as much time with somebody as I want to spend, but I'm not looking to be with somebody forever or live with someone. I don't want somebody in my house."
She is currently promoting "Sister Act: The Musical" playing in London, from July 29, 2020. In the same way her outlook on life has deified peoples expectations, so has the show's musical revival.
She says is almost didn't happen after studios didn't believe in its potential for today's audience. But after seeing the demand with ticket sales there was no denying its future success.