Jennifer Aniston Wipes Away Tears in Cute GIF after Reaching 20 Million Followers on Instagram
Jennifer Aniston shares an emotional GIF as celebrates reaching 20 million followers on Instagram. Her celebrity friends and fans join in to praise her for the latest milestone.
Since joining Instagram a month ago, Jennifer Aniston has made significant strides as a social media influencer. After hitting the 20 million milestone she writes:
"20 million followers?! That's a lot of thank you notes! THANK YOU, GUYS ?"
In her thank you message to her followers, she shares GIF of herself at an awards show, gently whipping away tears with a brown table napkin. 
Commenting on her picture, screenwriter and actress, Lena Waithe jokes about her latest accomplishment.

Celebrity stylist Jamie Jamie Mizrahi joins in on the celebrations and follows up with her own joke.

Another fan who is simply excited about the propect of Aniston having social media presence thanks her in response.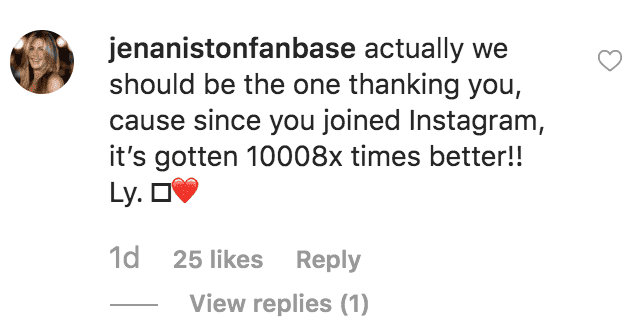 On October 15 when Aniston joined Instagram for the first time, she broke the Guinness World Record for fastest time to reach one million followers. In the caption she writes:
"And now we're Instagram FRIENDS too. HI INSTAGRAM ?."
In her record breaking selfie she posed with all five of her "Friends" co-stars, who squeezed into the frame to give the camera a big smiles.
After her first post, the buzz surrounding her Instagram account literally broke the internet and site experienced a technical fault.
The amount of activity surrounding her post caused her account to temporarily crash, making it difficult for people to follower her account for several minutes. In response she apologized saying:
"I swear I didn't mean to break it... Thank you guys for the kind, glitchy welcome ❤."
It is reported, in 2019, only three people in the world hold the title for reaching one million followers in the fastest time. Aniston hit the milestone in five hours 16 minutes.
K-Pop star, Kang Daniel took the honor of reaching one million followers in 11 hours 36 minutes. This was eventually beaten by Meghan Markle and Prince Harry's Sussex Royal account, which tails closely behind Aniston, at five hours and 45 minutes.