Keke Palmer of 'Hustlers' Shares Rare Photo with Mom as She Brings Her to Paris to See the Mona Lisa
Keke Palmer takes to social media to flaunt a rare picture of herself and her mother slash manager, Sharon, from their special Paris trip via social media. 
The photo was taken in a Parisian art gallery with the mother-daughter duo posing in front of a large framed picture. Although dressed in simple ensembles, the pair made for beautiful photos thanks to the joy apparent on their faces.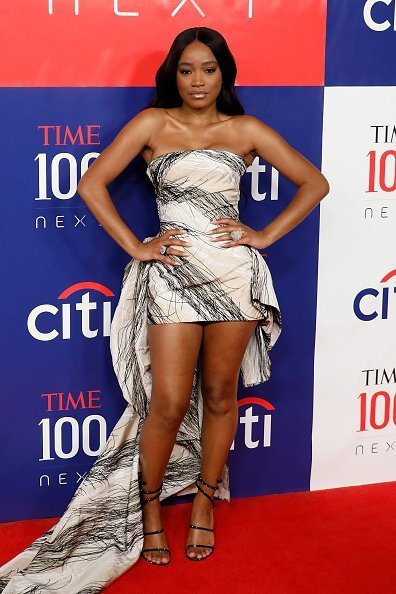 Keke dressed to keep warm, wearing a black fur jacket while Sharon wore an equally black leather jacket. Because they were huddled together, however, very little could be seen of what they wore underneath the jackets except that the outfits are blue. 
While Keke left her gorgeous wavy hair to fall free past her shoulders, Sharon had hers covered with a dark blue beanie. 
What makes the picture most unique is how happy the pair look to be in each other's company. Keke revealed in her caption that the trip is an important one for them because of her mother's undying love for art. 
The lengthy caption started with the "Akeelah and the Bee" star recounting how they came to pose for the photo in front of a woman that "ain't Mona" like they had initially planned before she went on to detail how her mother loved everything art.
"She [Sharon] loved art of all kinds, and she has always loved to learn about those that created. She would look in her books and wonder about the world far away from Robbins, Illinois, and if it could ever accept her."
Keke concluded the heartwarming tale by displaying pride in the fact that she was able to take her mother on a trip to Paris, so she got to see the legendary Mona Lisa painting in person finally! 
"This year, I got to take her to Paris! She finally got to see the Mona Lisa in person. We were surprised at how small it was, so we decided to take a picture next to this other random white lady. She looks good too! I love you, momma."
The tight-knit bond between Keke and Sharon is a well-known one. The star's parents have been supportive of her entertainment career right from her humble beginnings as a child star. 
In a 2016 interview, Sharon discussed the sacrifices she had to make as a parent to help realize Keke's dreams. She said:
"It was a hard decision to pick up our family and move to California – our twins were only two at the time – but my husband, Larry and I believed in Keke's talent, so we did it."
Thanks to Keke's many skills and Sharon doing a passionate job managing her affairs, she is now a world-famous star at 27. It was only a few months ago that the stunning star got signed on to co-host "Good Morning America." 
With all of their hard work this year, especially, she and Sharon deserve to have all the fun they can!