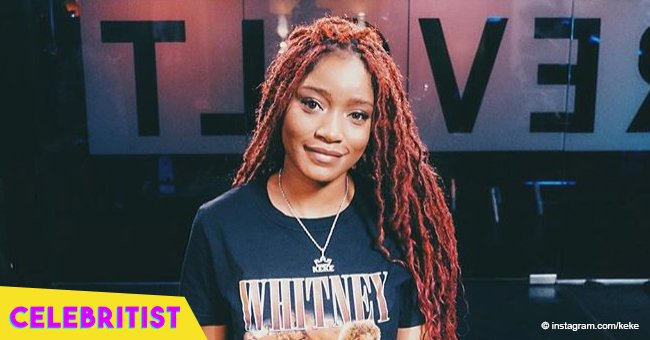 Keke Palmer heats it up in skimpy shorts & top while dancing with male partner in recent video
Keke Palmer is not shy when it comes to showing off her dance moves, and she recently stunned fans with a clip shared to her Instagram where she's dancing to Drake's latest single with a male friend.
The former Disney star recently released new music for the delight on her fans, and she has been enjoying the roller coaster of fame for the last year, working on her issues and sharing them with the world through her book "I Don't Belong to You: Quiet the Noise and Find Your Voice."
She's currently promoting her newest single "Bossy," the first of her sophomore album that will be released later this year, but in one of her recent videos shared to Instagram, the 24-years-old took some time to promote one of Drake's songs from his new album "Scorpion."
In the clip, Keke is seen dancing with a male friend wearing tight black shorts and t-shirt that enhanced her curves as she showed her best moves with the help of the guy. She jokingly referred to the Drake tune as "her song" because of the lyrics that say "Keke, do you love me?" writing in her caption:
"A lot of people been dancing to my song, but the gaaaaag is, it's supposed to be a duet (ft @elvinrdjackson)! #GrabTheClosestKekeToYou"
Palmer has been open about her issues with anxiety, depression, self-esteem and even sexual molestation through the last year. Her book gave her the opportunity to share her story with the general public, and she has become an advocate for mental health issues since then.
Speaking to Billboard about her journey with mental health and therapy, Keke stated that she realized she needed to take care of her mind at 17, and added that there's still a lot of stigmas when it comes to therapy because people associate it with "being crazy," and she added:
"We all lose our minds throughout our lives in different versions of it. Our minds are instruments and sometimes, they go through a lot and what we consider to be crazy or wrong is just part of the human existence. Sadness, happiness, and madness are things we're always going to go through. So, the more we become comfortable with that and stop judging it or look at it as a crazy idea, the easier it will be to deal with."
Keke started her record label this year after confessing that working under the other labels gave her a lot of anxiety for not being able to have a creative intake on her music. She admitted to Billboard that the decision to start her record label also comes from the fact that she's looking out for the Keke of the future.
"Big Boss Entertainment and my label is just another part of me trying something new. I want to empower my peers, so they also feel they're not a part of the old way of doing things and be a part of the big bosses. Big Boss is about me helping expand and using what I know. I'm not always going to be Keke Palmer, the entertainer, but it's meant for me to get outside and move to the forefront. That's what I'm building towards."
The beautiful young entrepreneur has become an example for many young girls, and she's always trying to give an encouraging message for them, as she explained to Harper's Bazaar in a recent interview saying:
"Don't be afraid to write your own blueprint. Sometimes it gets scary for me because there is nobody that's necessarily doing what I want to do because it's my story. There are people that I can look at and get inspiration from, but at the end of the day, there's nobody that's going to have a one-two step for what it is I want to do because it's me that's creating it."
Please fill in your e-mail so we can share with you our top stories!