Regina King from 'Watchmen' Looks Fabulous at 48 as She Flaunts Curves in Floral Dress for Essence Cover Shoot
Academy Award winner Regina King is grazing the cover of Essence magazine's December issue, and she looks stunning and regal, honoring her name and the meaning behind it. 
Regina King is only two years away from entering her fifties, and yet, she's never looked better.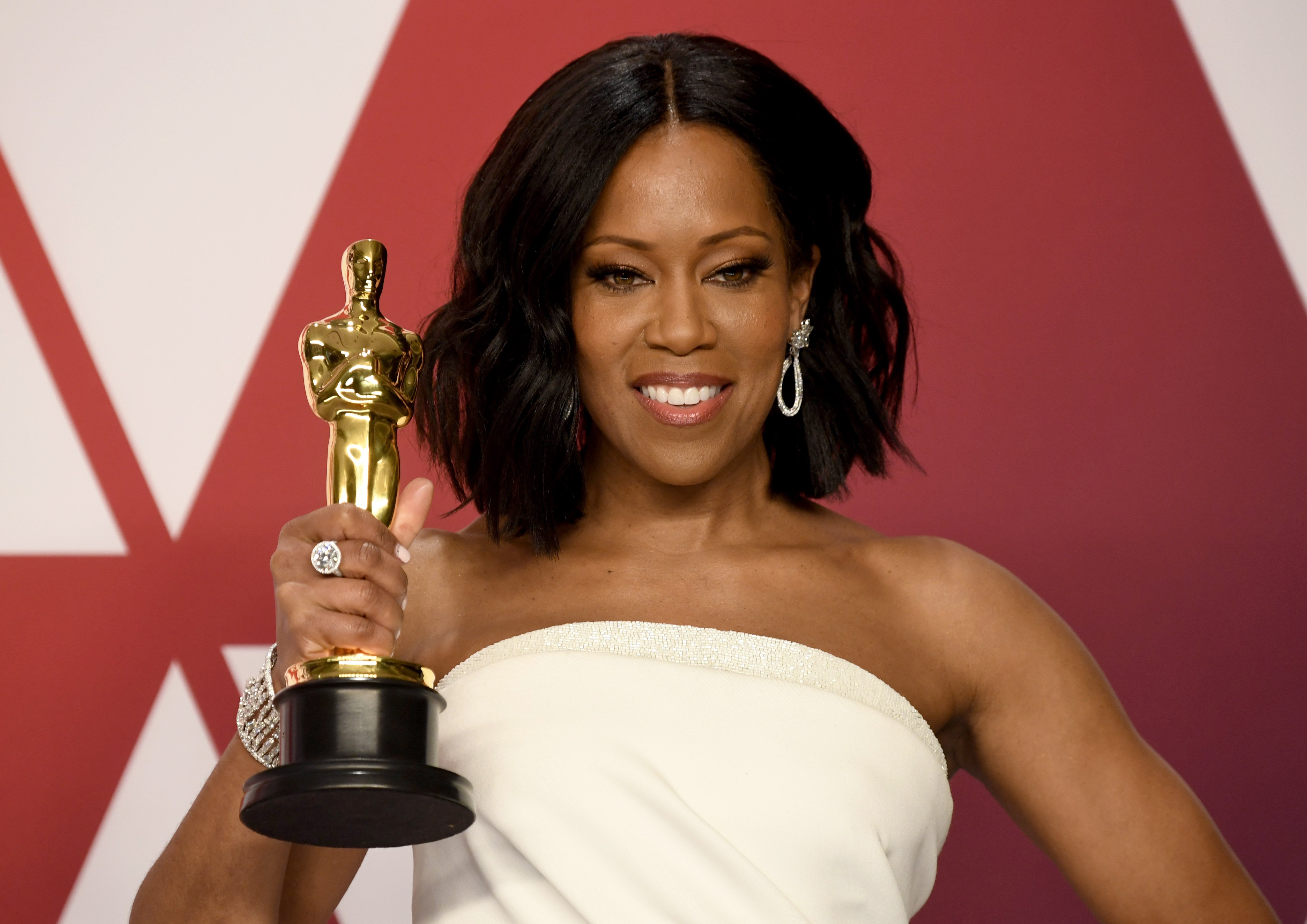 The "227" alum has been the cover of several magazines throughout the year, newfound fame that comes from her victory as Best Supporting Actress at the Academy Awards las February, for her emotional role on the 2018 film "If Beale Street Could Talk."
King has been working tirelessly for over three decades in the entertainment industry, both in and behind the cameras, and yet, it seems like Hollywood is just starting to take notice of her power.
By way of celebrating her impending stardom, Essence chose King as the star for their December issue, which is the "artsy" one.
LOOKING LIKE ROYALTY
Honoring her regal-sounding name, King, posed in a series of different colorful attires that not only enhanced her gorgeous caramel skin but also made her exude her characteristic confidence. 
For the cover, Regina donned a floral printed Y/Project gown in red tones, and her hair was styled in a geometrical afro to contrast with the top of her dress. 
She also wore a gorgeous strapless pink Alexis Mabille gown, which featured a flower printed on the side. Her magnificent hair was styled on a natural afro, and she accessorized with golden bracelets in both arms and matching earrings.
SOCIAL MEDIA REACTS
The pics, shared on Essence's Instagram, earned thousands of comments from King's fans and friends, who couldn't stop gushing about the perfection of the photoshoot.
"Power" actress Naturi Naughton commented: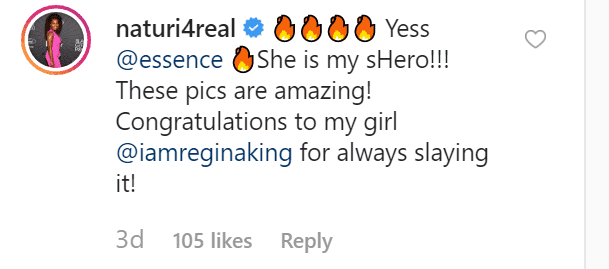 While one fan added:
"Love when a queen wears her natural crown."
 and another pointed out,
"@iamreginaking is just the epitome of Grace intelligence, majestic and regal beauty!!!"
HONORING HER NAME 
Talking to the magazine for the issue aptly titled "The King of Queens," Regina said she's aware her name means "queen" and has been for her entire life.
"I can't remember specifically when I learned Regina means queen because kind of feel like I've always known that. It wasn't an accident; my father did that on purpose," she explained.
Regina continued saying that it was probably when her younger sister was born, and her parents named her Reina, which is Spanish for queen, that she realized they were "Queen Kings."
ON WATCHMEN AND SPARKING CONVERSATIONS
After winning Emmy awards for her roles in series like "American Crime" and "Seven Seconds," King took on the new series, "Watchmen," which is based on the groundbreaking 1986 graphic novel by Alan Moore and Dave Gibbons.
She's at the front of the series, bringing Angela Abar to life. Abar is a bakery owner and detective Sister Night, who fights crime.
King is excited about the possible conversations about race, power, and other similar subjects that the multigenre show will bring to the table.
"You'd have to be living under a rock if you're not aware of what's going on, as far as policing — the difference between white Americans and black Americans," she said.
And continued:
"Hopefully we can come to the table together with grace, but still be honest about the pain and anger that we have."
"Watchmen" airs on Wednesday in HBO.