Meet Arnold Schwarzenegger's Youngest Son Christopher Schwarzenegger
Christopher Schwarzenegger is the youngest child from Arnold Schwarzenegger's marriage to Maria Shriver, but there's more to him than being the son of the acclaimed actor.
Arnold Schwarzenegger first conquered the world of bodybuilding as a young immigrant from Austria. He went on to win the Mr Universe title, found his way into Hollywood, and slowly and steadily, climbed the fame ladder until he became known as "Commando" or "The Terminator."
He also ventured into politics, becoming the Governor of California, and in between his successes, he fell in love with Maria Shriver, with whom he shares four children, the youngest being Christopher Schwarzenegger. 
WHO IS CHRISTOPHER SCHWARZENEGGER?
Born on September 27th, 1997, Christopher Sargent Shriver Schwarzenegger is the second son and last child of Maria Shriver and Arnold Schwarzenegger. He grew up in the family's old home in Pacific Palisades, California, and was doted on by his father, mother, and older siblings.
He attended high school at the prestigious Brentwood School, where he graduated from in 2016, before proceeding to the University of Michigan. Unlike Arnold Schwarzenegger's other children, the young man is heavily built, slightly overweight, and seems to have zero love for the fit-life.
Christopher Schwarzenegger's 2019 look shows more inches to his waistline. While his brother, Patrick, and half brother, Joseph Baena, inherited their father's love for bodybuilding and workout, it seems that "Genetic side" of the family skipped the young man.
HEIGHT AND RELATIONSHIP WITH HIS FATHER
While Arnold Schwarzenegger's height is at "6'2, Christopher Schwarzenegger's height is at "5'11, making the older man slightly taller than his son. Despite the differences in stature and build, father and son share a deep bond, and the actor loves to document moments spent with the young man on his social media accounts.
SURFING ACCIDENT AND RECOVERY
Christopher might not like going to the gym and working out, but the Los Angeles native enjoys surfing, or at least he did when he was a teenager. In 2011, he suffered an accident while surfing that left him with broken ribs and a collapsed lung.
Christopher Schwarzenegger's accident brought his parents who were going through a divorce at the time, together, and they presented a united front as they supported their then-13-year-old son, and helped him through the ordeal.
WHAT LED TO THE DIVORCE?
Arnold Schwarzenegger's wife filed for divorce after she discovered that the "True Lies" actor had indeed lied to her, cheated with their housekeeper, Mildred Baena, and fathered a love child whom he kept in their home, and as a secret for 15 years.
Christopher was a teenager when his parents split, and the divorce which the actor wrote about in his biography, "Total Recall," and spoke about on "ABC News" nearly tore their family apart. However, as Katherine Schwarzenegger, the 22-year-old male older sister told "People NOW," the family stuck it out, and they still love and appreciate each other unconditionally.
Arnold Schwarzenegger's marriage might not have ended in the best way, but his family survived it, and "The Expendables" star is now dating the physical therapist, Heather Milligan.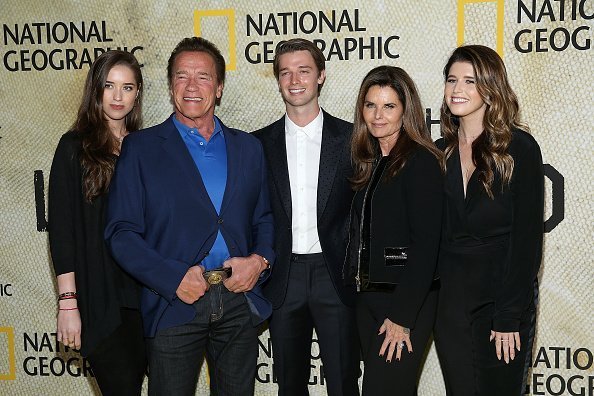 CHRISTOPHER SCHWARZENEGGER AND JOSEPH BAENA
Interestingly, the divorce brought to light the fact that Christopher Schwarzenegger and Joseph Baena, Arnold's love child are only days apart in age. Shriver had her son days after Mildred, and she even attended the christening of the boy, whose existence destroyed her marriage.
Although Joseph Baena and Christopher Schwarzenegger are close in age, the two have little or no relationship. The young man, Patrick, Katherine, and their sister, Christiana, want little or nothing to do with their half-sibling, and although the Pepperdine University graduate follows them on social media, and like their posts, the actor's children are yet to reciprocate.
DOES CHRISTOPHER SCHWARZENEGGER WANT TO BE AN ACTOR?
Out of all of Arnold Schwarzenegger's children, only Patrick had indicated a desire to act. Christopher, on the other hand, is still in college, and concentrating on his studies, before facing the real world. 
Christopher Schwarzenegger's Michigan stay has seen visits from his father, and the two of them, on one occasion, went cycling as the young man played tour guide.
The future of the actor's son holds a lot of promises, and if the "Total Recall" star's words about his son being kind and fantastic are accurate, then finding his way in the world won't be difficult.