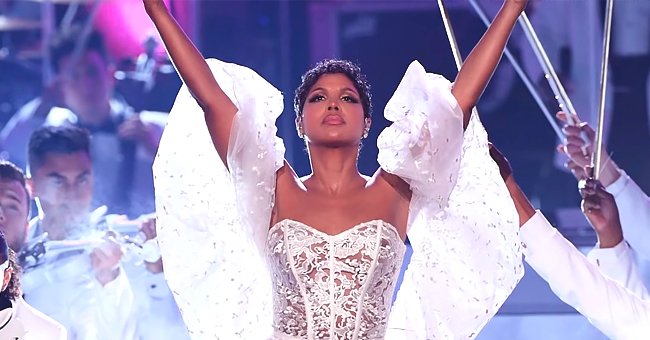 Youtube.com/Billboard News
Toni Braxton Performed 'Unbreak My Heart' at the 2019 AMAs and Fans Loved It
Viewers of the American Music Awards thought Toni Braxton gave the best performance of the night. It was slightly unexpected since it's been years since the singer was last on the big stage.
Toni Braxton, 52, looked and sounded amazing at the American Music Awards (AMAs) on Sunday night. Her show-stopping white dress and timeless vocals were, for many, the highlight of the show.
Reportedly, the singer was last onstage at the AMAs in 2001, making her appearance much-welcome and her delivery all the more surprising considering it'd been 18 years. The clip is found below.
Braxton blew everyone away
Of course, who's to say one should lose their talents with age. Speaking of aging, Braxton didn't look a day older than 35. The stunning mother-of-two had all of us swooning.
When she took to the stage, though, she took our breaths away. Her sister, Tamax Braxton, couldn't help chiming in on Twitter with her loving, uncensored sentiments.

Tamar Braxton comments on sister Toni Braxton's AMA performance | Photo: Twitter/ Tamar Braxton
Violinists surrounded Braxton as she belted out the classic hit song, "Unbreak My Heart," on Sunday. No one had a problem with the fact that she hasn't put out music in years.
Fans showered her with praise
In the clip from Billboard, several celebrities are seen singing along with Braxton. One person noted that the singer doesn't need any reason to perform other than her desire to perform.
Another person called Braxton a "living legend" and shared a GIF to get their point across. With over 67 million records and 41 million albums sold worldwide, we'd have to agree.
Twitter user Kelley Ryan put a spin on Braxton's song, saying the star unbroke her heart with the performance and the princess-like gown she showed off.
There were other performances
Someone else put down the other performers by asserting that Braxton confirmed the mics were working well during the event. Fortunately, they didn't call any particular names.
Others who performed were Selena Gomez, who opened the big night with "Lose You to Love Me" and "Look at Her Now." Lizzo performed her ballad "Jerome" and also received lots of praise.
Some had their own drama
Camila Cabello and Shawn Mendes teased fans with a close kiss call during their performance of "Senorita." Meanwhile, Kesha sang her throwback of the pop hit "Tik Tok."
Of course, Artist of the Decade Taylor Swift was also on stage, singing a mashup of new and old songs. Rock star Ozzy Osbourne joined Post Malone and Travis Scott for a song before Shania Twain finished up.
Braxton never lost it
Although Toni Braxton hasn't been on stage in a while, she did show that she's still got the moves back in September. The singer uploaded a clip of her dancing to a Biggie song inside her car, and fans loved it.
Looking relaxed in a black cap and matching top, Braxton stuck to the beat as she moved to the old school hip hop. Again she looked ageless. We hope she shares her secrets soon.
Please fill in your e-mail so we can share with you our top stories!