Meet Former NBA Player Gilbert Arenas' Ex-Girlfriend Laura Govan
Laura Govan, the ex-partner of former professional basketball player Gilbert Arenas, dated him for over a decade. Their separation was problematic, to say the least.
The 40-year-old reality star, best known for "Basketball Wives: Los Angeles," started her career on reality shows but moved on to acting. So far, she has appeared in several films, including "Almost Amazing" and "I Dream of Nene: The Wedding."
While her professional life has been quite successful, things have not been that good in her family.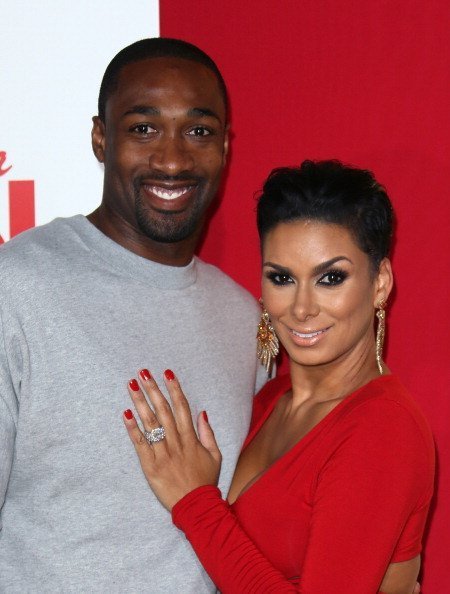 Laura Govan's parents
Born on September 21, 1979, Laura grew up in Oakland, California, with her father, Michael, her mother, Gloria, her sister, whose name is also Gloria, and her brother Lonnie.
During a conversation that Michael had with Iyanla Vanzant in her show "Iyanla Fix My Life," he confessed to being a very strict paternal figure, something that shaped Laura's personality.
Laura's strict father
The man admitted that he would come back home from work at 2 in the morning and, if his children had left their room messy, he would yank them out of bed to make them tidy it up.
Although Laura's father thought he was teaching his children discipline, Iyanla pointed out that it was damaging for the actress and TV personality, and that the tough split that she and Gilbert Arenas had proved it. The host of the show said:
"It broke her heart. Your daughter is so, so broken. And I think part of it is because she feels like she's a problem, like her voice doesn't matter. And that she's got to fight for everything."
Speaking of Gilbert, the actress and the former NBA player started dating in 2002. Laura Govan's kids with him are daughter Izela, born on December 24, 2005, son Alijah, born on March 16, 2007, daughter Hamiley, born on December 9, 2009, and son Aloni, born on June 1, 2011.
Laura Govan and Gilbert Arenas' relationship and breakup
In September 2008, the former couple got engaged. While everyone thought that they would tie the knot shortly after that, the big day never came, and they ended their romance in 2014.
Although they never married, Gilbert is often called Laura Govan's husband as she has repeatedly said that they lived together as husband and wife.
Their breakup soon began to make headlines as she claimed that Gilbert kicked her out of their Los Angeles mansion and even sold her $1 million engagement ring.
Shortly after that, Laura accused Gilbert of starting a rumor claiming that Vincent Herbert had an affair with Laura while he and Tamar Braxton were together.
Gloria Govan was involved in the situation
To make matters worse, Laura's relationship with her sister Gloria Govan has also been complicated.
Gloria, who is also a TV personality and actress who has two children with former NBA player Matt Barnes and is now dating Derek Fisher, allegedly slept with Gilbert, according to Laura.
In an interview, Laura claimed that Gloria wanted to be with Gilbert. As a way to keep her away from her man, she hooked her up with Matt Barnes. However, both Laura Govan's sister and Gilbert have denied any sort of relationship between them.
Apart from the troublesome relationship that Laura has had with her family, there's one aspect of her life that has surprised many people: her weight loss.
Laura Govan's weight loss
In a 2013 interview with Lossip, Laura revealed that she never really struggled with her weight. She pointed out that she was "big" for five years because she was pregnant for four of them, so she called those extra pounds "pregnancy weight.
Laura further explained:
"I gained almost with every baby 100 pounds, but it was easy for me to get off. I've been an athlete all my life. So, you know, the weight wasn't a struggle. It was just the determination in the world to do it and take it off."
Nowadays, Laura Govan's Instagram followers can verify by themselves that she really has that athlete look. With every new post, the proud mother-of-four looks ageless and beautiful.
She is not the only celebrity who looks a lot younger than she is, though. Jennifer Aniston, 50, uploaded a photo to her recently-created Instagram account posing with a "The Morning Show" mug in a makeup-free selfie that suggests she found the fountain of youth.