Jimmy Carter Is Reportedly Looking Forward to Thanksgiving at His Georgia Home after Surgery for Brain Bleed
Former Unites States President; Jimmy Carter looks forward to enjoying Thanksgiving at his home, in Georgia, while he recovers from emergency brain surgery.
After President Jimmy Carter underwent surgery on his skull, caused by a series of falls, doctors in Atlanta worked on relieving the pressure caused by bleeding on his brain.
On Wednesday, a spokesman announced that he has been released from Emory University Hospital in Atlanta in the morning and would be returning to his home in Plains, Georgia. 
President Carter had spent two-weeks recovery from surgery to treat a subdural hematoma. After a successful surgery, without any complication, a spokeswoman says in a statement:
"He and Mrs. Carter look forward to enjoying Thanksgiving at home in Plains, where he will continue to recover."
On November 11, the news of President Carter's hospitalization was first announced by The Carter Center, Carter's humanitarian organization. It was revealed that his wife, Rosalynn Carter, was by his as he prepared for his procedure.
Following his surgery, the spokeswoman thanked the public for their outpour of support and well wishes for the former president, which included personalized cards, written notes and the public's prayers.
Statement about Jimmy Carter's health pic.twitter.com/AUsaDTdRRB

— The Carter Center (@CarterCenter) November 12, 2019
It is reported, surgery to treat a subdural hematoma involves creating a hole in the patient's skull in order to drain the blood through the hole in the skull. 
In some cases, where the injury is severe, doctors will take out a larger portion of the skull. Fortunately, in President Carter's case, it was not life-threatening.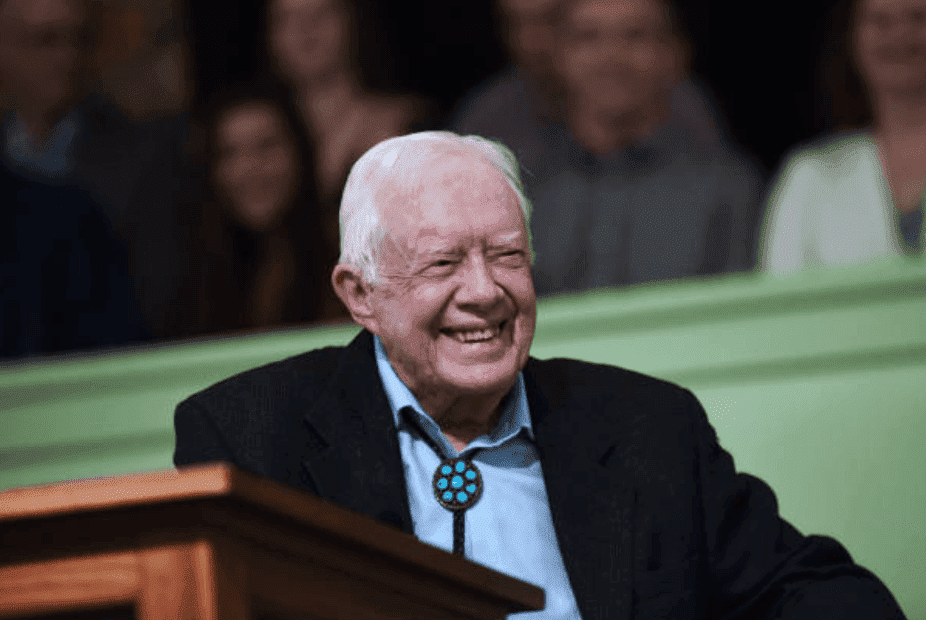 The bleeding on President Carter's brain has been the result of three falls he experienced this year. In May, he fell and required hip surgery. 
After falling and hitting his head on a sharp object in his home he required 14 stitches on October 6. A few weeks later, he fractured his hip after falling at home. It is from these falls that the pressure on his skull caused bleeding.
President Jimmy Carter hosts Sunday school in Plains, GA. pic.twitter.com/wVlCRiVLG1

— The Hill (@thehill) November 3, 2019
As the oldest living former president, he has recovered from several surgeries, including surviving cancer. At 95-years-old he admitted during a church service with his hometown congregation that after a near-death experience, he was at peace with death.  
Never one to let his health slow him down, several sources close to him have said he is in good spirits, following his surgery. Reverend Tony Lowden from his church even revealed that he was walking around.