Tamar Braxton Shares Photos from Boyfriend David Adefeso's 'Great Gatsby'-Themed 50th Birthday Party
Tamar Braxton went all out to celebrate her boyfriend, David Adefeso, on his 50th birthday and posted a loving birthday message for him on her Instagram page. 
For singer Tamar Braxton, there are a zillion reasons to celebrate as her boyfriend, David Adefeso, turned fifty years. The adorable couple was out for a party on David's special day, and Tamar shared a couple of photos from the night, as well as a sweet message for her man, on her Instagram page.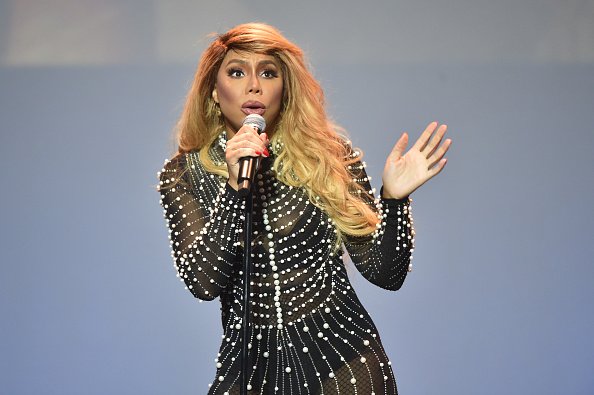 In the first picture, Tamar and David were seated at their dinner table, with the singer resting her hands on David's shoulders and smiling happily as she looked at him. 
David was looking cute in a white suit. In front of the lovebirds was a candle-lit cake. Tamar looked gorgeous in her black sleeveless dress, which she accessorized with a three-layered earing.
In the second photo, Tamar looked gorgeous in a black dress that featured feathers on each shoulder. She also spotted a head gear shaped like a crown and accessorized with a silver necklace. 
In her caption to the post, Tamar wrote:
"Celebrating life is probably one of my favorite things to do. This night was so magical for a zillion reasons! Thank you @david.adefeso for allowing love to celebrate you on your bday[emoji]."
The dinner photos shared by Tamar were taken from the lovely birthday party she threw for him. The singer went all out to celebrate her man, and he was delighted at that fact, as he smiled sheepishly all through. 
The Nigerian-born entrepreneur also took to his Instagram page to share images from the birthday party, and pay accolades to his girlfriend.
In one of his posts, he exclaimed that he had the best birthday ever and thanked Tamar for making the day unforgettable. He also thanked his friends and family, who came from all over the world to come to celebrate with him. 
In another Instagram post, David shared more moments from the birthday, including a video clip showing the time he blew off the candle lights from his cake. 
In the caption to that post, he revealed that his mother, aged 80 years, had flown all the way from Lagos to attend his birthday, and narrated a life lesson of love being the greatest gift, which he learned from her while growing up. 
He added that loving Tamar had brought him so much joy, and that joy had made hope come alive, which in turn brings peace. Tamar Braxton and David Adefeso's relationship has continued to grow since they revealed in April that they were dating. 
The singer was formerly married to Vince Herbert but filed for divorce from him in October 2017. The divorce proceedings haven't been finalized yet, but many of her fans are wondering when she and David would announce their engagement. All fingers would remain crossed in wait for that announcement.