Kylie Jenner Gives Fans Tour of Daughter Stormi's Playroom with Barbies and a Personalized Louis Vuitton Bag in Her Closet
The makeup mogul and reality star, Kylie Jenner took to Instagram and treated her fans with a tour of her daughter's playroom. She also captured some pictures of Webster's closet filled with cute clothes and a designer bag in the closet.
Jenner took to her Instagram stories to share some pictures of her daughter, Stormi Webster's playroom filled with toys and clothes. 
The makeup mogul, who shares Stormi with rapper, Travis Scott, uploaded four pictures of the toddler's playroom. 
STORMI'S PLAYROOM
The pictures mainly featured the child's barbie dolls and a closet filled with mostly sleeveless t-shirts. The first picture was a shot of Stormi's wardrobe with a line of sleeveless or half sleeved apparel.
On the top side of the shot was a Louis Vuitton bag with Webster's name imprinted on it with red and white text. In the series of pictures was one with barbie dolls and a baby stroller.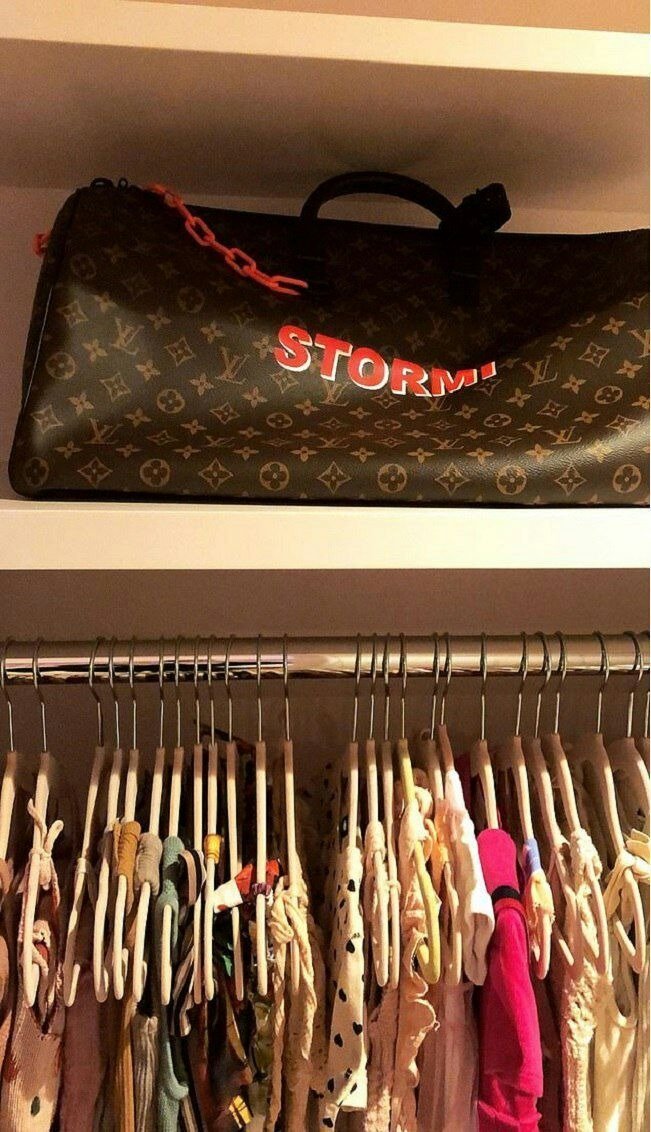 THE BARBIE DOLLS AND OTHER TOYS
The barbie doll, which looked like Jenner with long brown hair, was pushing a stroller with a baby doll that was wearing a yellow dress. 
Among the barbie dolls scattered across the floor, there were some other toys. The toys include a miniature rubber duck, a cat figure, and a picture of a plush toy in a bag in the background.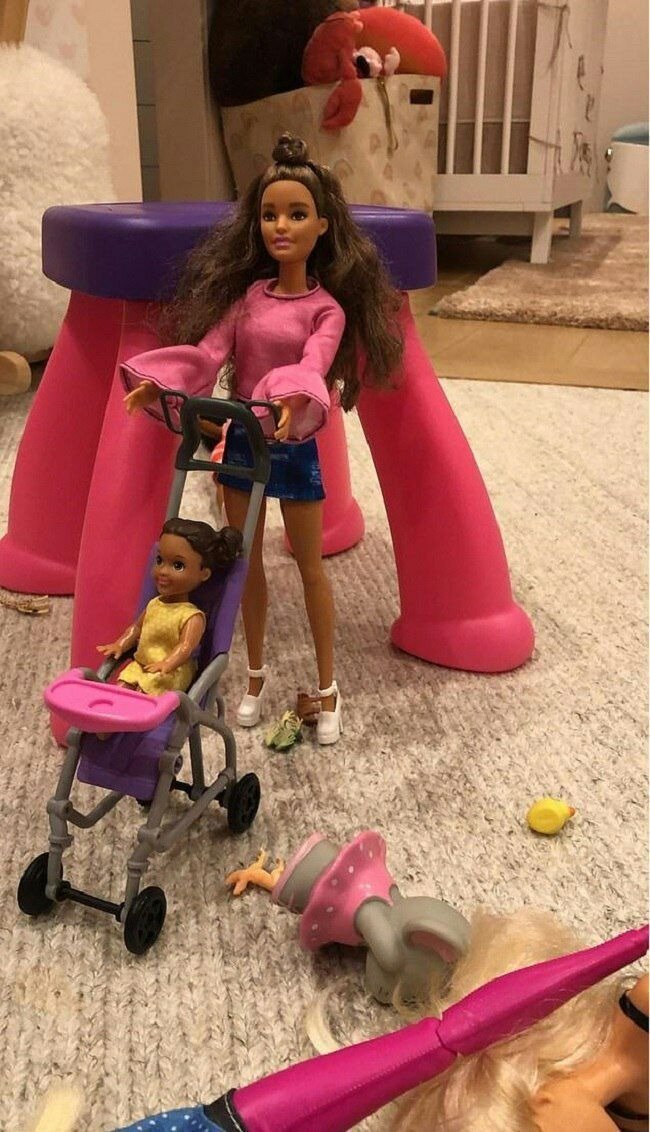 WEBSTER PLAYING WITH HER BARBIES
In one of the shots from Jenner's Instagram story, Webster was playing with her doll with long brown hair and a white dress with black floral designs. 
Webster was wearing a pair of cute chain bracelets in the shot while some small wooden figures with smiley faces and a toy egg were on the floor.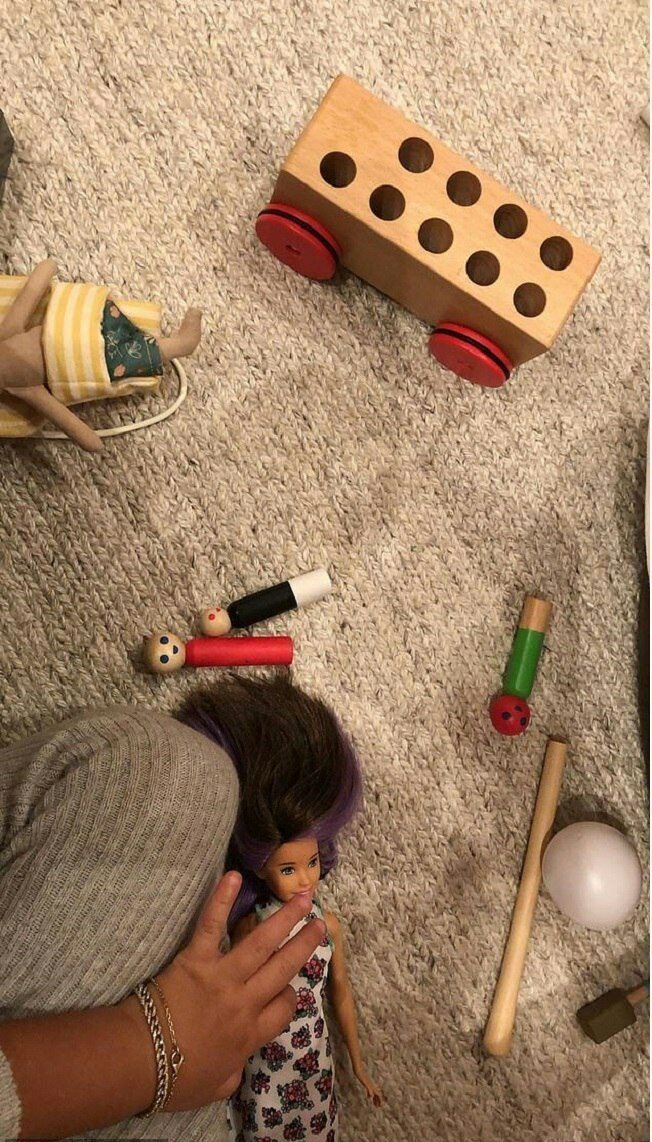 PLENTY OF TIME TO PLAY WITH MOM AND DAD
The toddler spends quality time with both Jenner and Scott following their split after a two and a half year relationship. The couple seems to be on good terms and has spent holidays together as a family, according to "HollywoodLife.com."
"Kylie and Travis still enjoy spending time together, there isn't any tension or awkward vibes so it makes things very easy. Travis will spend time with Kylie and Stormi over the holidays."
The source added that Kylie agreed on going to Huston to visit Scott's family, as well. The former couple reunited to take Webster out to a pumpkin patch on October 16, and proved their capabilities for co-parenting.
WEBSTER'S FOOTSTEPS IN LINE WITH HER PARENTS'
Webster seems to be following in the footsteps of both her parents as she gets older. In a video posted to Jenner's youtube channel, the reality star mentioned how Webster was obsessed with makeup and begs Jenner to put some lipstick on her.
On the other hand, Travis Scott posted a series of pictures on his Instagram featuring Webster with the same hairstyle as Scott's. The rapper, 28, wrote, "Daddy's hair," and "Sicko Mode," on the cute picture of the toddler with box braids. 
The toddler might grow up and become a rapper who rocks makeup on the side or vice versa. Regardless of speculation, Webster has many more cute family moments to look forward to in the future.