Tiny Harris Looks Stunning in Leather Pants and over the Knee Boots after Joining Husband TI at His 'Red Table Talk' Interview
Tameka "Tiny" Harris looks stunning posing next to friend Toya Wright in a pair of tight leather pants and knee boots, days after she joined husband T.I' at Jada Pinkett Smith's "Red Table Talk" to talk about his comments on daughter Deyjah.
Tiny Harris and Toya Wright still got it. The longtime friends and business partners took twinning to another level by rocking basically the same outfits but in a "darkness vs. light" kind of aesthetic.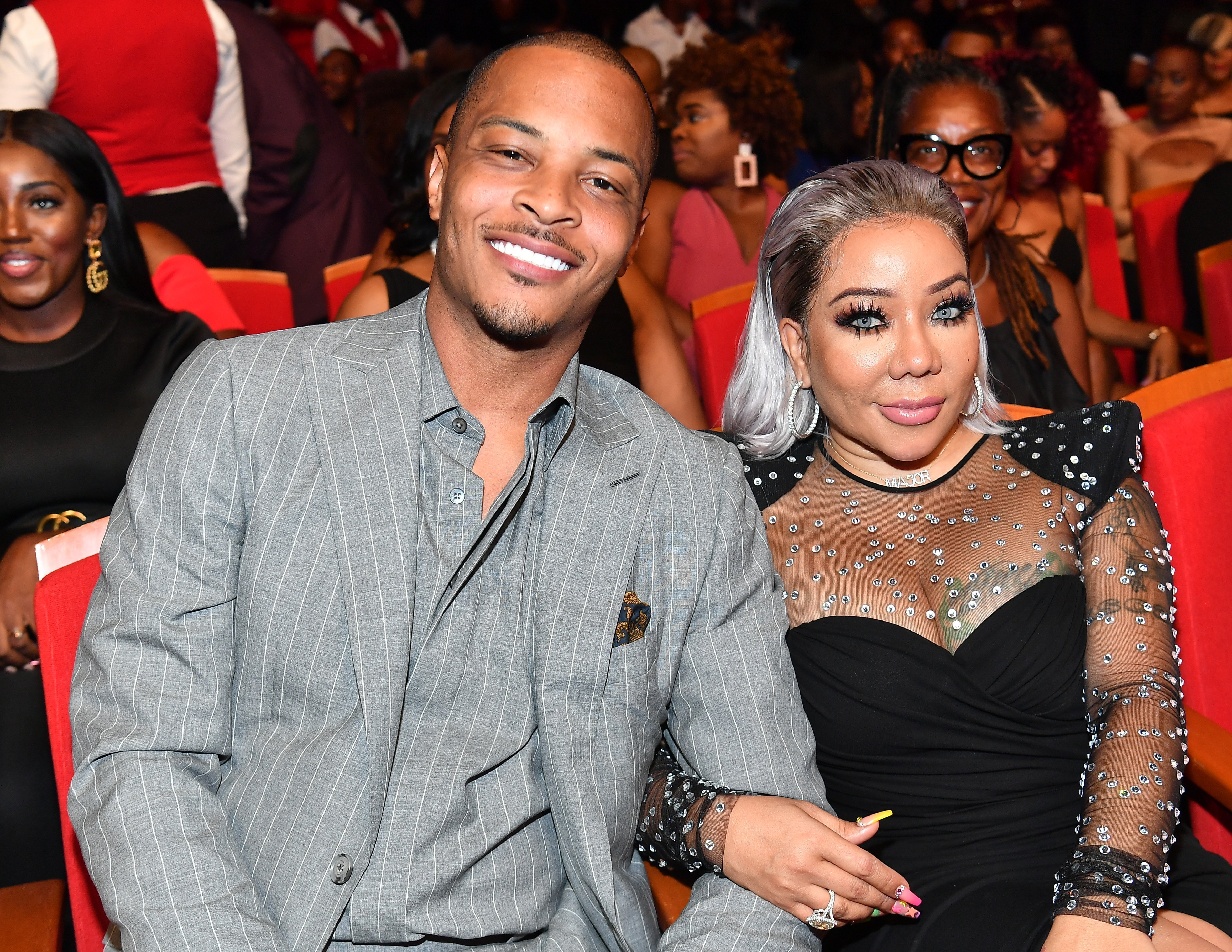 BOOTS AND FRIENDS
In a pic shared by the Xcape singer to Instagram, she looks stunning donning a pair of high-waisted leather pants, which she paired with a black top, and a short fur coat.
She tucked her pants into a pair of slouchy, knee-high boots, and left her straightened black hair fall on her shoulders to complete the rock star look. 
Wright, on the other hand, wore basically the same except her coat wasn't a fur one, and her clothes were in different shades of white and gray, including her silver boots. She also added a bit of color to her outfit, and the picture, with a small pink handbag.
"I love my lil sis @toyawright we been going strong for 10 long years!! Anxious to see what the next chapter of life has for us both!! #TinyNToyaStillAClassicHit #BlackThelmaNLouise #FriendsNFamilyHustle," Tiny captioned the pic.
FANS' THUMBS U
Fans of the "T.I & Tiny: Friends and Family Hustle" stars took over Harris' comment section to gush about the women and their long-lasting friendship.
"Two beautiful and amazing women both so much class," wrote one user.
Another added, "Love to you both ladies. Y'all act like real sisters! Stay close, good friends are hard to find."
And a third one pointed out:
"I'm waiting on the day... when @majorgirl and @toyawright make a comeback show on Tiny & Toya. I [love] you chics. #TotalFav'z."
 THE CENTER OF CONTROVERSY
Tiny, who has been married to rapper T.I for almost a decade, recently accompanied her spouse to Jada Pinkett-Smith's Facebook Watch show "Red Table Talk."
The couple was there to clear the air after T.I became the center of a controversy a few weeks ago. The rapper claimed on a podcast that he visited the gynecologist yearly with his now 18-year-old daughter Deyjah to make sure her hymen was intact.
His words caused outrage on social media, with people calling his actions extremely controlling, as he was overstepping clear boundaries that every young woman has about their privacy and sexual life or lack thereof.
T.I'S APOLOGY 
On the show, TI said he was truly apologetic to his daughter, and explained that his words and his intentions had been misconstructed.
He also said he was being criticized for going "above and beyond" to protect his daughter, and claimed that people made a lot of assumptions that are not the truth, like him being in the room when the checkup is done.
Pinket Smith wanted to know what would happen if TI found out his daughter wasn't a virgin at the time of the exam, to which he replied saying that she would have to face the life of an adult because her childhood would be over.
"Your childhood is [over] when you lose your virginity. That's it, now you've ended your childhood and it's time to begin adulthood," he said. "And I can't let you run around trying to enjoy the luxuries of adulthood without any of the responsibilities of adulthood."
Although TI said he had Deyjah's blessing to go on the show and address the situation, the young lady has opted for deleting all of her social media accounts for the time being.