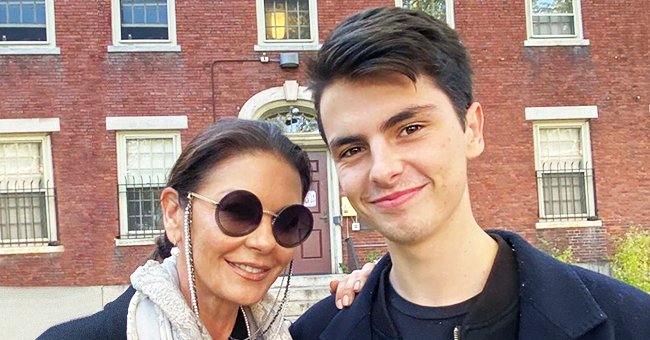 Instagram/catherinezetajones
Michael Douglas' Wife Catherine Zeta-Jones Shares Video from Macy's Thanksgiving Day Parade with Their Son Dylan

Catherine Zeta-Jones wished everyone a happy Thanksgiving as she spent some quality time with her son, Dylan, at Macy's Thanksgiving Day Parade.
Armed against the cold and a windy New York day, Catherine Zeta-Jones donned a black beret and a cozy coat, as she and Dylan enjoyed the legendary parade from their front row seats.
To mark the occasion, the 50-year-old actress shared a short clip wherein she and Dylan smiled broadly as they wished fans a "happy Thanksgiving." Catherine then panned the camera, giving viewers a peek at the ongoing parade below.
Happy to spend time with her 19-year-old son currently attending Brown University, her daughter Carys was notably absent from the day of festivities, and Catherine gave her 16-year-old daughter a shoutout in the video's caption, "Happy Thanksgiving y'all!!!! Miss you today, Carys, see you soon!!!!!"
Last month Catherine also had the opportunity to spend time with Dylan when she dropped by the university. "On-campus with my boy Dylan," the proud mom captioned a picture.
Dylan started his sophomore year in September 2018, and Carys, Catherine, and Michael dropped him off at the university to start the new chapter in his life.
In the black-and-white "college dorm drop off video" Catherine posted, she documented the emotional experience before the clip transitioned to childhood moments with mom and dad.
While Dylan is spreading his wings, Michael Douglas had some advice for his son after his recent and daring shenanigans. Michael sat down for a chat with Ellen Degeneres last month, and as the subject turned to his children, Ellen brought up Dylan's taste for an adrenalin rush.
"He's a daredevil," Ellen said as she showed a clip of Dylan cliff diving in Italy. "He does all kinds of things like this," Ellen continued as a picture of Dylan skydiving came up.
Although the 75-year-old actor is not against his son's participation in such activities, he didn't like it when Dylan was the first one to leap into the air.
"I said, 'Don't be the first one to jump!'" Michael said. "Let a couple of other people go off first to test it … So I said, 'Okay, just don't be first!'"
Dylan went skydiving in August, and he soon posted a video of the exhilarating experience which he cheekily captioned, "Don't tell mom..." But Catherine made sure to let him know that nothing escapes a mother's eye as she commented, "Mom just found out."
Catherine and Michael have an age difference of 25 years, and coincidentally they share a joint birthday on September 25. Although Carys is not always around, she made sure that they know where her inspiration comes from.
"Happy birthday to my favorite people. Thank you for being my biggest inspiration. I love you more than you know," Carys captioned a throwback picture of her parents.
Please fill in your e-mail so we can share with you our top stories!