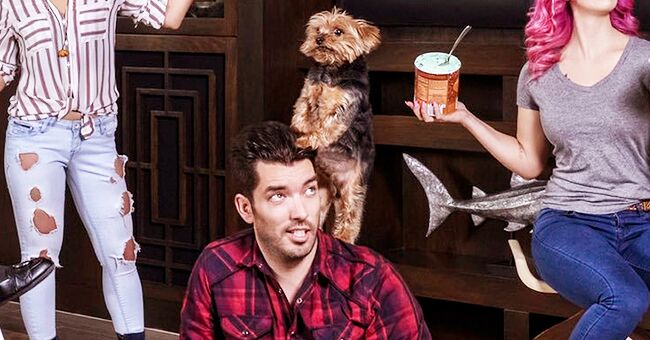 twitter.com/MrSilverScott
Jonathan Scott from 'Property Brothers' Says He's Thankful to Be Surrounded by His Family and Puppies in Thanksgiving Post
Johnathan Scott sends Thanksgiving well wishes by sharing several photos of all the "people and puppies" that have brought joy into his life.
Johnathan Scott is getting in the Thanksgiving spirit by sharing several rarely seen photos of his family, puppies, and girlfriend, Zooey Deschanel. In the caption, he says:
"I am beyond thankful to be surrounded by such incredibly fun loving people & puppies. You bring joy to my life. I love you #HappyThanksgiving #ThankYouToOurFansToo."
In the first picture, his family are sprawled across the room, each engaging in their own activity. Starting with his parents, they stand in the corner of the room with his father gently dipping his mother in a dance.
His brothers JD and Drew are floating in the air above their wives; JD hangs from the ceiling a rope and reaches for a donut from his new bride, Annalee Belle.
Drew Scott is pictured dusting the top of a large wooden display cabinet while floating above his wife, Linda Phan. She effortlessly holds onto the heel of his shoe as she works on a drawing on a clipboard.
In the middle of all the chaos, Johnathan sits perched on a brown rug with his puppies; Gracie and Stewie. Holding one puppy on his lap and the other stands tall on his shoulder, with its paws resting on the top of his head.
Not to be out-done by all the couples in the picture, in the second image, Johnathan shares a selfie of himself with his new girlfriend, Zooey.
After meeting on an episode of Carpool Karaoke, the couple made their relationship official by featuring on each other's Instagram pages. Commenting on the picture, Zooey writes several heart emoji's.

Zooey Deschanel sends Johnathan Scott heat emoji's in response to his Thanksgiving post | Source: Instagram.com/mrsilverscott
Recalling how he first met her during the episode he says he didn't realize that they were going to pair him and his brother up with Zooey and her sister, Emily Deschanel.
Admitting that it was a bit daunting when he and Drew realized the sisters could sing, they eventually fed off each other's sibling batter and immediately clicked over the fun they were having.
Please fill in your e-mail so we can share with you our top stories!