Alelia Murphy, Oldest Living Person in the US, Dies at 114 Years Old
Alelia Murphy died just months after being named the oldest person in the US. She celebrated her final birthday in July andshe revealed her secret to longevity then.
America's oldest living person, Alelia Murphy has died at the age of 114 years and 140 days to be exact. 
Murphy, whose last birthday was in July 6 reportedly died on Saturday. Her cause of death was not indicated in an announcement posted on 119SEIU United Healthcare Workers East's Facebook page. 
Murphy was surrounded by her friends and family when she celebrated her 114th birthday at the Harlem State Office Building in New York. The day was then declared "Alelia Murphy Appreciation Day" because it marked her historic feat as the oldest living American verified by the Gerontology Research Group.
New York State Senator Brian Benjamin likewise deemed her a "Harlem landmark" due to her contributions to the community.
Born in North Carolina in 1905, Murphy moved to New York in 1926 due to the Harlem Renaissance according to CNN. 
Her daughter Rose Green shared that her mother grew up during the pre-civil rights era, drank from segregated water fountains and used the back door to get into restaurants and stores. 
Having been widowed in 1953, she reared her two children by working as a seamstress primarily. She also ventured in several other jobs which included working in a hat factory and selling cosmetic products.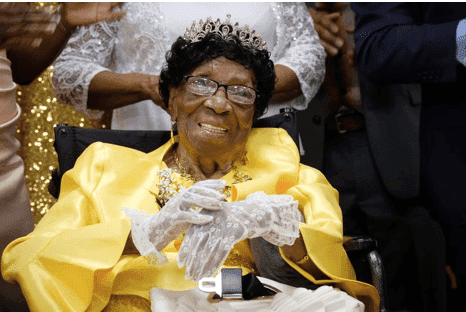 Murphy's granddaughter, Nefer Nekhet told WPIX in July that her grandmother was "the glue" that held their family together. New York State Senator Brian Benjamin likewise deemed her a "Harlem landmark" due to her contributions to the community. She was heavily involved in community organizations and her church throughout the years.  
When asked what her secret to her longevity was during her birthday, Murphy reportedly said, "Treat people right." Her family added that she credited her long life to God and "being a good person."
Alelia Murphy, the oldest living person in the U.S., dies at 114 years old https://t.co/laMlCqsJpq pic.twitter.com/K2BQaYjRSl

— Yahoo News (@YahooNews) November 28, 2019
Green said, her mother would always tell her to "keep on going, whatever happens," words that would definitely resonate in their family now that she's gone. 
With Murphy's passing, the oldest living person in the US is now Hester Ford North Carolina who is 114 years and 105 days old. She is just two years younger than the world's oldest person, Japan's Kane Tanaka.  
For most of her life, Hester Ford thought she was born in 1905. A few years ago, census bureau documents showed she was born in 1904, making her now the oldest living person in the country. https://t.co/eJko4LsCTJ

— KENS 5 (@KENS5) November 30, 2019
Murphy's funeral service will be on December 6 at the United House of Prayer for All People in Harlem.