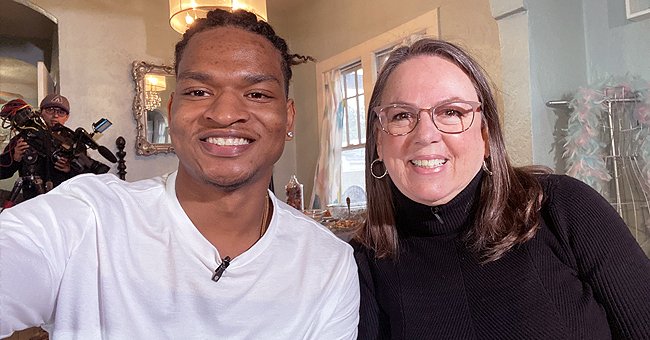 Twitter/kingjamal08
Arizona Grandma and Teen She Accidentally Invited to Thanksgiving Back in 2016 Just Celebrated Their 4th Turkey Day Together
Two strangers four decades apart in age on are now like family all because of a missent text on Thanksgiving.
Four Thanksgivings ago, a young man received a text invitation to dine with his grandmother. However, he learned soon after that the message was sent by a different grandmother who intended it for her real grandson.
The miscommunication led to the young man joining her for Thanksgiving anyway. This year, they celebrated their fourth Thanksgiving dinner together and are grateful for that blessing.
"I just feel like my life has been enriched since he's come into it."
HOW THEIR STORY UNFOLDED
Jamal Hinton was a high school senior in Phoenix in 2016 when he received a text message from 62-year-old Wanda Dench who thought she was inviting her grandson for Thanksgiving dinner at the time.
Realizing he was sent a message not meant for him, Jamal alerted Wanda by sending her a selfie of himself proving she reached the wrong person. However, he also used that moment to casually ask if he could drop by Wanda's Thanksgiving dinner and she obliged.
Every year since then, Jamal would join Wanda's family for Thanksgiving and tweet a photo from the celebration. This year, he shared four photos commemorating each of the four turkey holidays he's shared with her.
"As promised! Here's our 2019 update," Jamal wrote to caption the special photo.
LIKE FAMILY NOW
This year, Jamal hosted Thanksgiving dinner for Wanda at his girlfriend, Mikaela's aunt's home. Jamal was grateful that Wanda finally met his family. He sincerely liked Wanda, he told Good Morning America.
"[Wanda] is a really good person. I really enjoy the time I spend with her," he said, not to mention, he loved her cooking, he told Time.
While some would react to Wanda's openness in inviting a stranger to her home, she said her background growing up contributed to her lack of caution. In a 2018 YouTube clip shared by Jamal, Wanda explained that because her father was in the Navy and they moved around a lot, "strangers were not strangers" to her.
THANKFUL FOR THE GIFT
Wanda says that she was just happy to have found a friend in 20-year-old Jamal who she now considers her family.
"I just feel like my life has been enriched since he's come into it."
Much has changed since their first Thanksgiving together. For instance, Jamal is now working and his selfies with Wanda are now taken in portrait mode while Wanda now considers herself a grandmother of two, not one.
But one thing appears to have stayed the same. Both remain thankful for finding each other on, of all occasions, the holiday celebrating thankfulness.
Speaking of thankfulness, many celebrities chose to express their gratitude on Thanksgiving by giving back. These include Barack Obama's family who helped out in a food bank and rapper T.I. who handed out turkeys at an event in Atlanta.
Here's hoping you too had a happy and meaningful Thanksgiving this year with a lot to be grateful for.
Please fill in your e-mail so we can share with you our top stories!