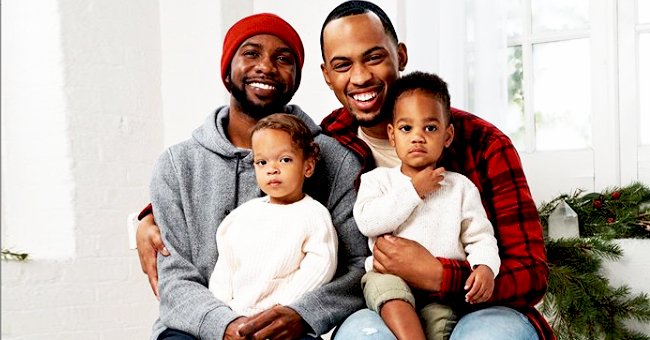 instagram.com/terrell.and.jarius
Dad of 2 Jarius Joseph Speaks on Men Dealing with Grief after Miscarriage and Allowing Them to Process Their Emotions as Well
Father of two, Jarius Joseph, opened up about his parenting journeys and how he and his partner endured a miscarriage before finally having a set of twins.
A Georgian resident shared his experiences since hooking up with his husband, Terrell, and how a past miscarriage affected them and changed their lives forever.
JARIUS SPEAKS OUT
Jarius Joseph and his husband, Terrell, are parents to two children, a son, Ashton, and their daughter, Aria, both two-year-olds. Both kids were delivered around the same time but from different surrogate mothers.
The father of two, who is also a social media influencer, shared his parenting experiences on the "How Do I Parent" segment of People. Joseph explained the sad ordeal that befell himself and his partner before landing themselves, two adorable tots.
A JOURNEY TO REMEMBER
The partners first met in 2011 when they were eighteen. According to the father of two, the meeting happened in a haunted house, where they both showed up with their then respective partners.
At the time, Joseph was dating another guy, while his partner was seeing a girl. Not long after their meeting, the duo ended their respective relationships and hooked up with each other.
Their first thought about having kids came during their senior year in college when Terrell brought up the idea and was bent on seeing it through. So the pair set out in search of a prospective "mom" candidate.
They consulted a surrogacy agency, but the organization got entangled in a fraud scandal, which led them to drop the option and sought out new means.
THE MISCARRIAGE
In their search for a mother to their child, the pair found a woman who was willing to have their child through surrogacy, and the couple made their first daughter, Aubrey, through her, but their joy was short-lived.
When the surrogate mom was 20 weeks pregnant, a misfortune hit them, and they lost their baby to a miscarriage. Their devastating fate took a negative toll on them because they were both young at the time.
Also, the fact that she was their first child, and they had seen her through an ultrasound, which revealed the baby girl to be an active, cute little one, made things worse.
BEING MEN MADE THE LOSS MORE DIFFICULT TO DEAL WITH
After the loss, everyone at the hospital, as well as acquaintances, were on hand to comfort the surrogate for her loss. The distraught couple also comforted her despite their grief, but no one understood that they were also in pain. Joseph explained:
"I think everyone had this mental block as though we were not as affected by the loss of our daughter. At that moment, our whole world had just crumbled, and not one person asked if we were okay."
The social media influencer also explained his thoughts concerning the reactions they got during their difficult phase, saying:
"A part of me believes personal and conservative views about us being a same-sex couple were at the forefront of how people treated us in that situation."
AN ADVICE TO DADS OUT THERE
After narrating the details of his loss, the father of two explained how trying to be strong and not show emotions made the situation more difficult to cope with, which invariably did not pay off in the long run.
Having gotten a firsthand experience, the Georgia Resident advised other dads facing the same struggles that it was okay to let out the tears and sadness, and just grieve the healthy way.
After struggling with the loss for several months, the two finally tried out surrogacy again, this time, with two different women, and they both worked out.
In October 2017, they welcomed their babies, with a firm decision to keep the children from the rest of the world, but they thought better of it.
They got married the next year, using the ceremony as a means of introducing their babies to everyone else. Two years later, the little ones are happily part of the family of four, with family members and a Nanny ensuring the children lead normal, healthy lives.
BECOMING A MOM AFTER FOURTEEN TRIALS
The account of the happy parent brings to mind a related situation about a woman who gave birth to a daughter after experiencing thirteen miscarriages.
Earlier this month, BBC reported the story of a woman, Laura Worsley, who gave birth to her daughter Ivy after losing thirteen previous pregnancies, from 2008.
Having lost most of the pregnancies during the first trimester, doctors soon discovered she had a medical condition, Sticky Blood Syndrome, which caused her recurrent miscarriages.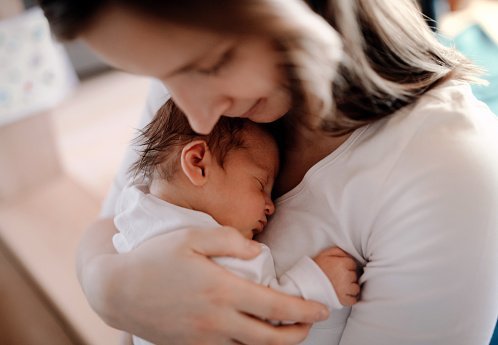 A young woman cuddling her baby with love | Photo: Getty Images
In addition to that, the woman was later diagnosed with Chronic Histiocytic Intervillositis, which caused the body to fight pregnancy.
After several medical procedures, the woman was finally able to have her baby successfully, and her joy knew no bounds.
The miracle of childbirth is indeed a blessing to families, as these parents have experienced firsthand.
Please fill in your e-mail so we can share with you our top stories!