Paula Deen's Daughter-In-Law Claudia Shares Sweet Photo of Her Adorable Triplets in Their Playroom
In honor of the final month of the year, Paula Deens daughter-in-law gives her followers an update on her family's health and shares a picture of her healthy triplets enjoying playtime in their playroom.
After being born severely premature, Paula Deen's adorable grandchildren have come a long way since spending months in the Neonatal Intensive Care Unit at Memorial Health University Medical Center. Staring off December on a positive note, after a tough year, Claudia Deen says:
"Welcome December... this is our perfectly imperfect life! Starting the last month of 2019 with a #grateful heart  Feeling thankful for having our babies healthy at home with us."
The mother of triplets admits that as she nears her 34 birthday, she is feeling stronger each day and jokes that 34 is the new 20.
Giving her fans the all-important about what her children spend their day doing, she shares a picture of their playroom.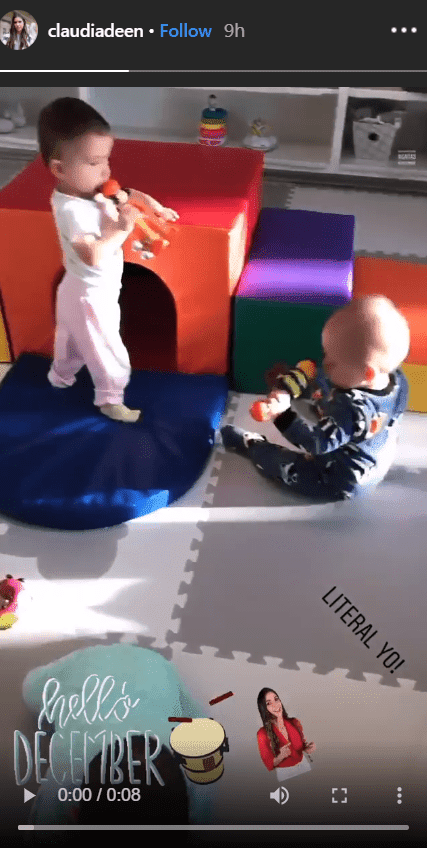 In the picture, one triplet sits on a beanie sofa, another is crawling towards a toy, and her son sits facing a colorful bridge structure.
She also shared a video on her Instagram story of the triplets roaming around the playroom, entertaining themselves with their toys.
Showing all of their developmental milestones, the video shows the triplets sitting up, standing and holding onto things and they walk around the room.
Claudia is wife to Paula's son, Bobby Deen. The couple has a son Linton and daughters Olivia, and Amelia.
In honor of their experience NICU, the couple support initiatives that help fund and educate the work being done to help babies that are born prematurely.
In October, Claudia and Bobby announced that they are proud ambassadors for the March of Dimes Georgia Signature Chefs Auction, a cause personal to their own experience.
After being caught on camera saying a racial slur, Paula's position as America's sweetheart and her $6.5 million food empire has slowly crumbled.
It is reported, at the time of the scandal, her son's Jamie and Bobby spoke out in support of their mother. Bobby insisted that they never grew up raised using such a negative word.