TI and Daughter Heiress Harris Showed up to Support Tiny at the R&B Replay Concert in Atlanta
It's family all the way, as rap icon, T.I was seen with his young daughter, Heiress Harris as they came all out to support his wife, Tiny, during the R n B Replay concert in Atlanta, Georgia. 
Both father and daughter were caught on camera as they gleefully presented their unwavering love and support for the performer of the event.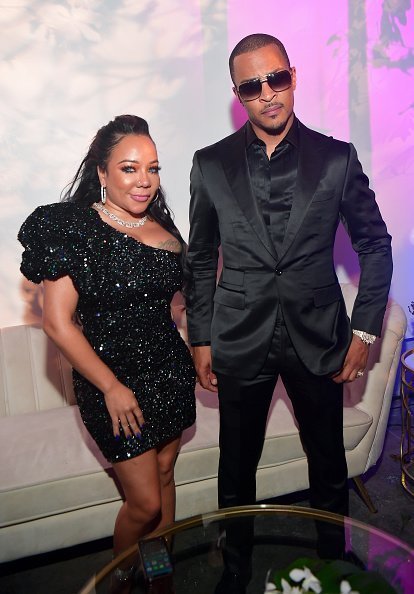 On Heiress' Instagram page, a pair of pictures were updated to share the details of the concert. In one of the backstage uploads, the young lad was sitting pretty in arms of her daddy, whose face was filled with smiles.
The other image focused on the rapper's daughter's moment with Tiny and her teammates. Its caption read: "Pretty hustle."
The hustle became prettier as T.I's daughter was seen in an image with her mom and her singing crew. The little girl was so adorable as she posed alongside the crew.
This gesture quickly caught the eyes of the performer's fans, and they, in no small way, aired their thoughts in the comment section.
While some fans were amazed by the little girl's guts, others couldn't help but observe how many features she tapped from both mama and papa!
The 3-year-old is not only her parents' look-alike; she certainly possesses some talents which distinguish her from her peers. In September, a video of her singing to her dad's song, surfaced the internet.
A few weeks later, Heiress practices with her mom, and fills in for an absent backup singer. The mini-Tiny has shown herself to be a gutsy and talented chap who loves singing, dancing, and acting.
While the younger daughter is making headlines, TI's older daughter, Deyja Harris is also in the news following her father's somewhat too revealing disclosures.
The "Live Your Life" crooner unrelentingly explained in the course of an interview how he is always on the lookout for his daughter Deyja Harris, whom he follows to the doctor for check-ups. 
The rapper revealed that he inquires from the doctor whether or not his daughter is still a virgin. This caused him to fall prey to critics who launched their attacks on him following the "hymen" scandal.
So, if it's not Heiress supporting her mom on stage, then it is T.I displaying his daddy's duties. This goes a long way in showing that the family is close-knitted and would always come through for each other. 
It also comes as no surprise as the couple recently addressed the "hymen" situation via an interview on the "Red Table Talk."