'Harry Potter' Star Daniel Radcliffe Says He Feels 'Really Terrible' for Meghan Markle
Daniel Radcliffe will always be the little boy known around the world as "Harry Potter," but nowadays he is focused on very different projects.
However, despite being a grown man now, the actor still remembers how difficult it was for him to deal with the pressure of the British Media on a daily basis.
According to the 30-year-old, Meghan Markle has been undergoing that exact same pressure but at a much bigger scale due to being a member of the Royal Family.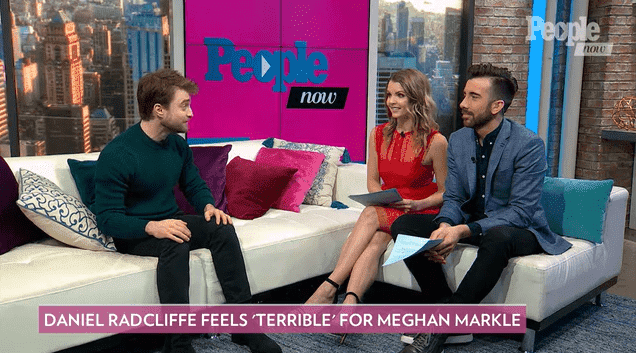 EMPATHY FOR THE DUCHESS
During an interview with People Magazine, Radcliffe said that he feels "really terrible" for the Duchess of Sussex and what she has had to endure ever since she walked through the gates of Buckingham Palace.
He said:
"I don't take a huge interest, I'm sorta hearing bits and pieces and I hear the Meghan Markle thing being privy to the full force of the British media. I can't even imagine."
Having felt the scrutiny of the British media, Radcliffe knows how difficult it must be for Meghan, which leads him to believed that she really loves Prince Harry.
The actor, who is currently promoting his TV show "Miracle Workers," added that he always thought their relationship was "sweet" because it takes real love to get involved in this "crazy life."
GROWING UP FAMOUS
During the conversation, Radcliffe also compared his introduction to fame to Princes William and Harry's, describing the experience lived by the Royals as being much worse.
"What I have and what I went through is a fraction of what they have and went through and they went through it from birth. They didn't even get 10 years like I did."
Meghan Markle has been undergoing that exact same pressure but at a much bigger scale
The 30-year-old concluded by saying that, although he is not into the institution of the monarchy, he still has a huge amount of respect, as well as empathy, for the members of the Royal Family.
LIFE AFTER "HARRY POTTER"
Radcliffe has been keeping himself quite busy since the end of "Harry Potter," having starred in "The Woman in Black," "Horns" and "Victor Frankenstein" alongside James McAvoy.
Earlier this year, he also addressed the possibility of taking over the role of James Bond. However, the actor said that he would never be James Bond, only a Bond-like Playmobil character, a clear reference to his new movie.