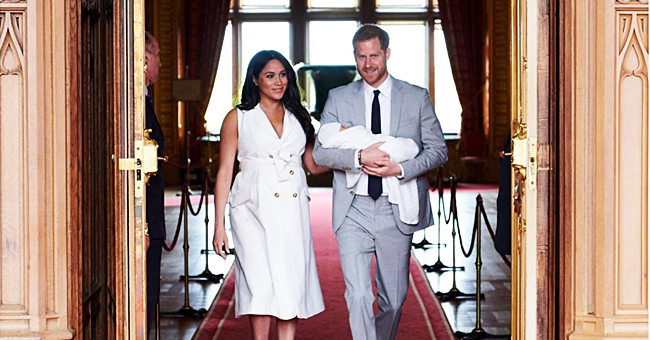 instagram.com/sussexroyal
Meghan Markle Slammed by Radio Host for Her Introduction of Baby Sussex
During her first photo call with her first child Archie, Duchess Meghan shared a little about giving birth and what it was like having her son home and nursing him.
However, last Wednesday talkRADIO host Kait Borsay felt the Duchess wasn't completely honest on giving birth and having a child for the first time. During a segment of the show, Borsay said: "Part of me wishes that Meghan said something honest to us as women and said, 'Oh my God it was horrendous, I'm totally glad I have a baby now but I have never, ever been in that much pain in my life.'"
The host added: "We would relate to her." Borsay also took aim at Harry's comments during the photocall and criticized him for saying parenting was amazing.
She felt his comments weren't realistic since he'd only been a father for two days at the time. The radio host advised: "'Parenting is amazing' says Harry, well you have had two days at it. Calm down because it doesn't stay amazing the whole way through. It's generally amazing but we all know there are times when it is most definitely not amazing."
Jacquie Beltrao, a Sky News presenter, responded to Borsay noting: "I think it's mostly not amazing when they're a baby isn't it?" To which Borsay replied: "It's just a bit of a bore and that's what I almost feel these two are being."
"In the nicest possible way, they are new parents, they are gushing with lovely things to say about their new baby but it's a bit of a bore. Like 'the baby has been sleeping really well, it's an absolute sweetheart, it's so gentle natured,' again the baby is two days old."
"It's in shock. When you give birth a baby comes out and sometimes they're in shock so much that they spend the first two days sleeping. So Meghan my love you're going to have a very rude wake up call, if that baby's sleeping soundly right now, it may not."
Beltrao questioned: "What you are saying is they are clueless, at the moment. In a nice way?" Borsay responded: "In a nice way, but all of us mums know, if you had spoken to me two days after the birth of my children I would've told you to go swing one."
She confessed about her own pregnancies saying:
"I never would have put any makeup on, I would've told you parts of me hurt that I never knew I had parts there. I would tell you I was exhilarated, exhausted and a bit dumbfounded by the whole experience."
Please fill in your e-mail so we can share with you our top stories!