Meghan Markle and Prince Harry Reveal Their Feelings about Parenting Baby Sussex (Photos)
Meghan Markle and Prince Harry gushed with bright eyes and toothy smiles as they spoke about their newborn child while showing him off to the public for the very first time. 
The Duke and Duchess of Sussex are the extremely proud parents to a new baby boy who was delivered at 5:26 a.m. on Monday, May 6. The royal family now has its seventh-in-line to the throne. Photos and videos are found below. 
The little one appeared to be sleeping on Wednesday morning when Markle, 37, and Harry, 34, brought him out to be photographed for the first time. Reporters asked the new mother how she felt.
She replied: 
"It's magic, it's pretty amazing. I have the best two guys in the world so I'm really happy." 
Harry gently cradled the newborn in his arms, and both parents looked down at him with bright eyes as they spoke. He was swaddled in a white blanket and wore a white knitted cap. 
A reporter asked Markle how he's been behaving so far. The duke joked when Markle said, "He has the sweetest temperament, he's really calm." At that, Harry quipped, "I don't know who he gets that from."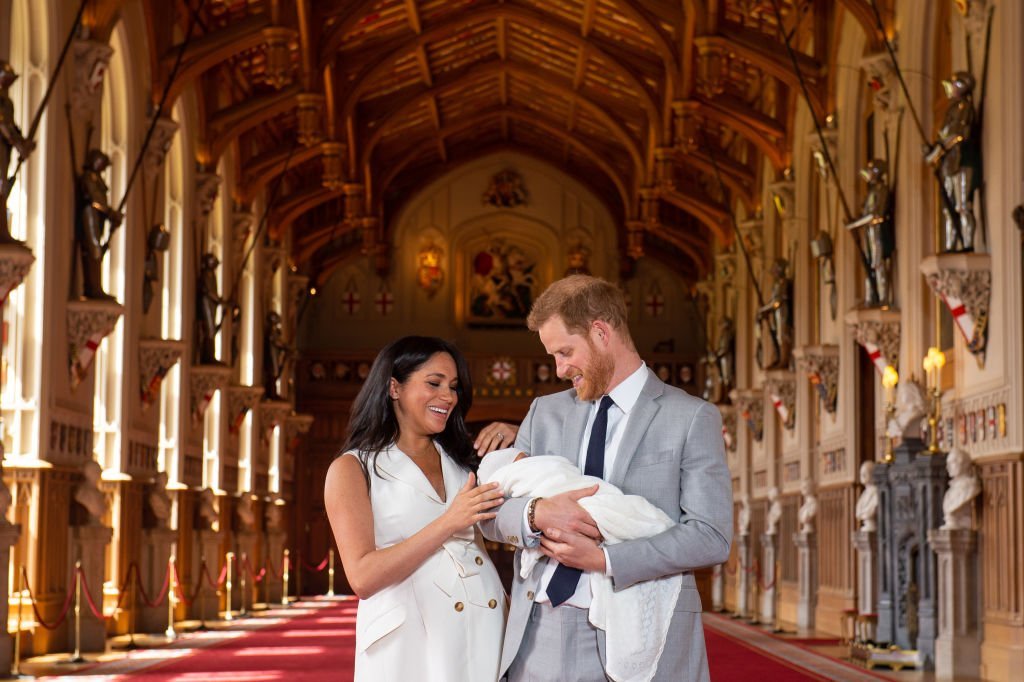 Markle continued saying, "He's just been the dream so it's been a special couple of days." In response to a question regarding who the baby takes after, Markle said she and Harry were "still trying to figure that out." 
Harry explained: 
"Everyone says that babies change so much over two weeks. We're basically monitoring how the changing process happens over this next month really. But his looks are changing every single day, so who knows."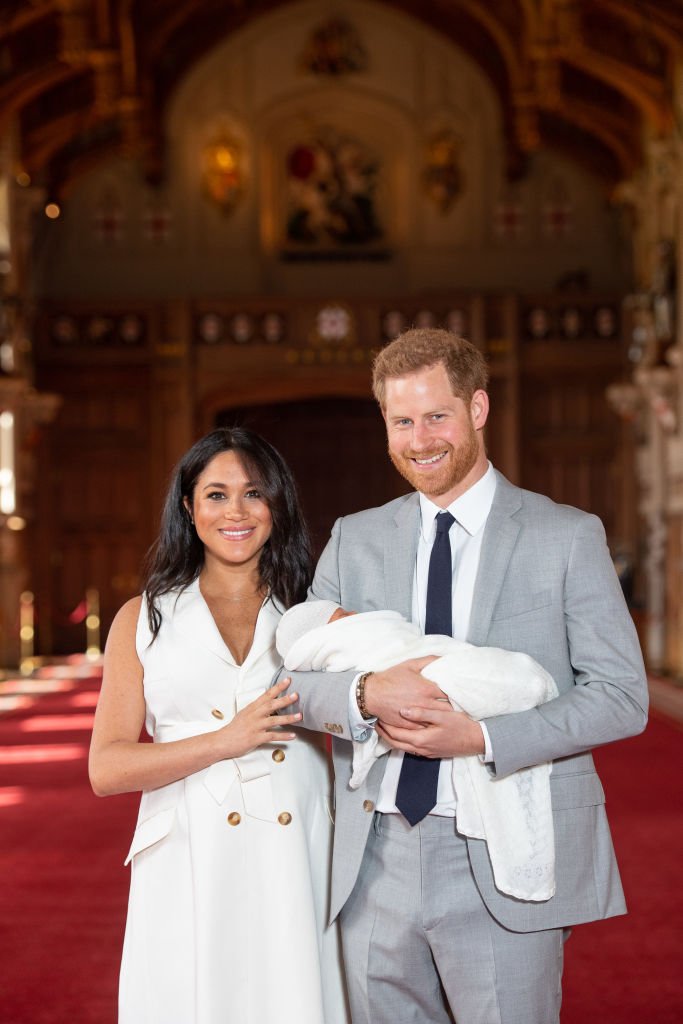 The duke described his first-time fatherhood role as "great" and "amazing" despite it only being two days. "We're just so thrilled to have our own little bundle of joy and be able to spend some precious time with him as he slowly, slowly starts to grow up," he said. 
Markle revealed that the couple had already "bumped into the Duke [of Edinburg]" and looked forward to introducing the new one to the rest of the family. She noted, "my mum is with us as well."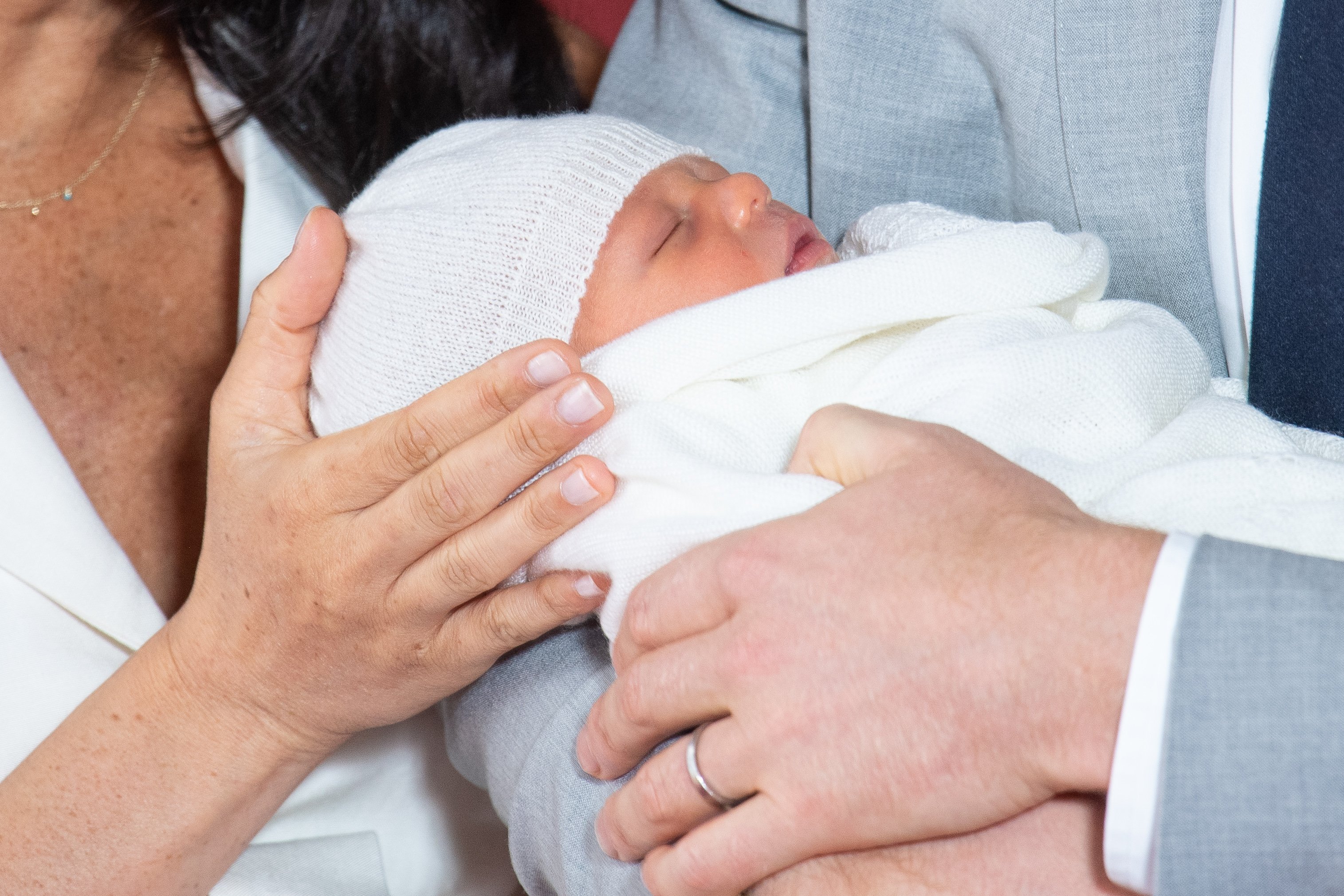 "Another great-grandchild!" Harry said joyfully. When a photographer requested a better look at their son, Harry shifted slightly and joked:
"He's already got a little bit of facial hair as well, wonderful." 
Markle wrapped up the interview by thanking "everybody for all the well wishes and kindness, it just means so much." 
According to the official announcement, the baby was born weighing 7lb 3oz upon delivery at the Portland Hospital on Monday. In an interview with the new father on Monday, he divulged that the baby was slightly overdue. 
As a result, they had a bit of extra time to think about the baby's name, Harry said. The public is still waiting to hear what they decided on. The baby is the Queen's eighth great-grandchild. 
Harry and Markle will be staying at their new home in Frogmore Cottage, where the Duchess has reportedly been recovering since the birth. Her mother Doria Ragland has been by her side pre-delivery and is expected to remain in London for a while. 
"We are so thrilled to have our own little bundle of joy"

The Duke and Duchess have introduced #BabySussex to the public! #RoyalBaby pic.twitter.com/yrWciXHrhX

— The Royal Family Channel (@RoyalFamilyITNP) May 8, 2019
While Markle, an American, waited nearly three days to show her son to the public eye, Kate Middleton stepped out with all three of her babies mere hours after their delivery. This little one is definitely going to be raised with a different take on the royal way of life.