Us Weekly: Kelly Ripa Reveals Daughter Lola's a Little Stressed out over Her College Final Exams
Actress and television show host Kelly Ripa has said that her 18-year-old daughter, Lola, is stressed out due to her College finals. 
Kelly Ripa was speaking at the "CNN Heroes: An All-Star Tribute," which was held at New York City's Museum of National History on Sunday. She attended the event with her daughter, who was her date for the night.
She took the opportunity to talk about her daughter's life at college and college finals. 
LOLA AS A COLLEGE STUDENT
Speaking to US Weekly about how Lola was adjusting to life in college, Kelly Ripa said that her daughter loved the experience.  Ripa was the co-host for the night, with her friend, Anderson Cooper, holding forth as the other co-host for the event. 
Kelly also revealed that Lola was stressed, saying:
"She's got finals this week, so she's a little stressed out."
Lola is the second of three children shared by Kelly Ripa and her husband, Mark Consuelos. Their other children are sons, Michael and Joaquin, aged 22 and 16, respectively. 
LOLA HAS TO LEARN TO STAND ALONE
Lola began life as a college student at New York University in September and stays close to home. Being a local student, however, does not mean that the 18-year-old could come running home during tough times.
In an interview with Ryan Seacrest, Kelly said that college is where one begins to establish himself or herself. Hence she had to ensure that Lola doesn't come home when things are getting complicated, but rather learn to figure things out by herself. 
KELLY RIPA AND LOLA'S CHIC OUTFITS
The night belonged to mother and daughter as they stepped into the red carpet in similar mini dresses, catching the eyes of many at the CNN Gala. The 49-year-old Ripa wore a sparkly black velvet Balmain dress, which she matched with black heels, while Lola wore a navy dress from Reformation.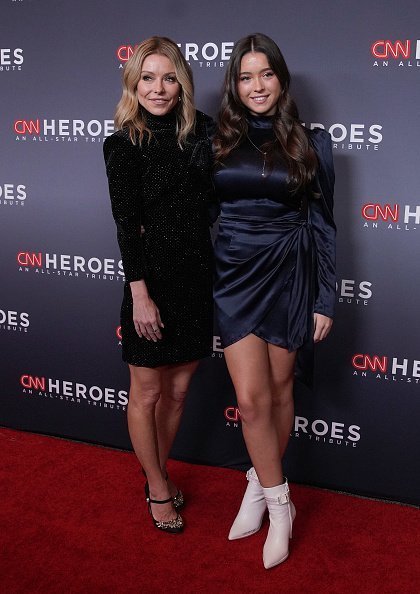 The 18-year-old wore off-white booties and accessorized her look with a drop necklace. 
A SPECIAL CHRISTMAS
Kelly Ripa is celebrating the Christmas season especially this time around. The actress moved on from just the traditional Christmas tree ornaments to decorate her family tree also with old pictures of her family members.
Some of the pictures include throwback pictures of Kelly, Mark, and their three children, including one which showed her and Mark sharing a kiss. 
Ripa shared a zoomed out photo of the Christmas tree decorated with the family pictures with her followers on Instagram. The caption to the post read:
"With Pleasure I present The Lady," along with several Christmas emojis. 
The television show hostess is expecting a full house this Christmas, with her children in college, Michael and Lola returning to spend the Christmas season with the family. 
It would surely be a lovely and memorable time for the Ripa-Consuelos household this Christmas and Kelly would enjoy every bit of it.