Jay-Z Appears to Be Having Good Time with Aaliyah in Unseen Photos from Fourth of July Party Back in 2000
Photos taken at a Fourth of July party in 2000 in East Hampton show Jay-Z and the deceased Princess of R&B getting cozy.
19 years ago, a  year before Aaliyah's tragic death, it seems that she was being disputed by two men: Jay-Z and Damon Dash.
Damon has always maintained that Jay-Z was sparking his lady, now some long-lost photos taken at a 4th of July party and exclusively released to DailyMailTV seem to confirm his assertion.
Damon admitted that Aaliya was dating both men for a while.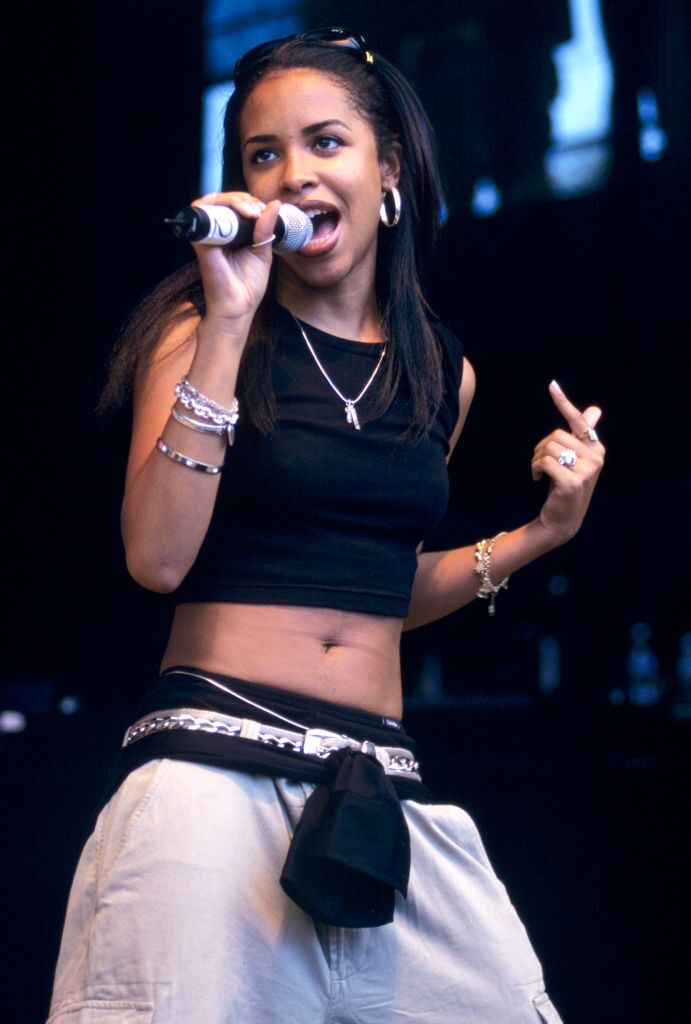 JAY-Z CAUGHT ON CAMERA DANCING COZILY WITH AALIYAH
Jay-Z had rented a mansion in prestigious East Hampton and threw a lavish 4th of July barbecue for his friends, among whom were Damon, Diddy, and of course Aaliyah.
The anonymous source who was present at the party and supplied DailyMail TV with the revealing photos also made the following statement:
"They were hugging each other and you could totally see there was a chemistry between them."
Aaliyah's wax figure was unveiled at Madame Tussauds Las Vegas 👑 https://t.co/UslIyjFxxh pic.twitter.com/aQWlIHPuhH

— Rap-Up (@RapUp) August 23, 2019
AALIYAH DANCES PROVOCATIVELY WITH JAY-Z
On one of the photos, the sensual singer - then 21 - can be seen dancing provocatively, her arm around the Roc Nation boss's neck. Aaliyah was wearing a skimpy shocking pink halter top that left her mid-drift bare and black jeans.
Dame Dash says JAY-Z "tried very hard" to get with Aaliyah: https://t.co/uh9lumS6qD pic.twitter.com/fBW4V3jJ0P

— Complex (@Complex) December 2, 2019
In another photo, Jay-Z stands beside Aaliyah, his hand possessively around her waist, keeping her close as both face the camera. He was wearing a white T-shirt and a thick blingy chain.
EXCLUSIVE: Jay-Z is seen 'all over' Aaliyah in never-before-published photos taken a year before her tragic death https://t.co/IkUgsTALRR

— Daily Mail Celebrity (@DailyMailCeleb) December 11, 2019
AALIYAH WAS DATING DAMON DASH, JAY-Z'S BUSINESS PARTNER
Aaliyah was dating Damon at that time and would continue to do so until her death on August 25, 2001, a little over a year after the photos were taken.
Damon has always asserted that he and Aaliyah, though not formally engaged, had intended to marry.
Aaliyah had been secretly married at 15 to disgraced R&B star R. Kelly, and he is now being accused of bribing an official to obtain the license for the illegal ceremony.
Towards the end of 2000, Jay-Z was to meet the woman who was to become his wife, the then 18-year-old future icon, Beyoncé.
JAY-Z MET AALIYAH FIRST
Record executive Dame Dash revealed that rapper Jay-Z met the iconic princess of R&B Aaliyah first.
At that time, Damon and Jay-Z were business partners, having co-founded Roc-A-Fella, but the relationship eventually succumbed to their differences over business differences - and women.
One of those women was Aaliyah. Damon admitted that Aaliya was dating both men for a while.
Eventually, Aaliyah picked Damon, and the two were in a committed relationship at the time of her death in a tragic plane accident.