Kelly Ripa's Husband Mark Consuelos and Son Michael Are Her Man Crushes in Sweet Photo
Kelly Ripa calls both her husband and her son, her "Man Crushes." in a picture she shares of them making an appearance on an episode of "Live with Kelly and Ryan."
Kelly Ripa is proving why her husband, Michael Consuelos was voted one of PEOPLE magazine's "Men of the Year." In a snap of Michael making a joint appearance with their son Mark Consuelos, she calls them her #mc  and #mc2.
The caption is a play on the social media hashtag: #ManCrushMonday. Adding another popular reference, she tags a cartoon image of a banana stuck to the background wall with duct-tape.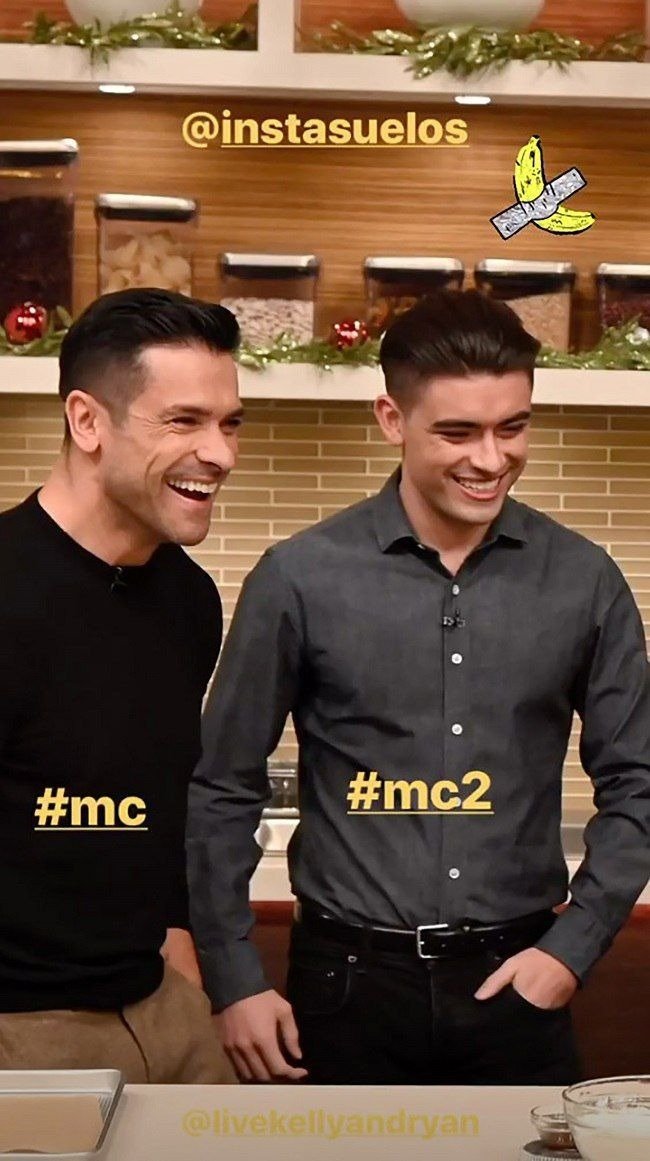 The banana duct-taped to the wall is a story that has gone viral over a piece of art at a Miami Beach international art fair.
Italian artist, Maurizio Cattelan featured a store bought banana and taped it to a white wall with a single strip of duct-tape at Art Basel Miami Beach. It had a selling price of $120 000.
Kelly was either poking fun at the viral story or she was probably alluding to how priceless she considers the father-son moment on her show. 
Sticking to their nicknames, the show calls Mark MC2 in a caption for a video of Ryan Seacrest with Kelly and her family making their "favorite" holiday dessert, a Mexican wedding cake.
Keeping to the holiday spirit earlier in the week, Kelly shared a collage of photos of her family wearing co-ordinated outfits for her holiday Christmas card. 
Never one to take herself seriously, many of pictures looked like hilarious outtakes, with Kelly almost tripping as she rushed past the camera lens to join her family in the portrait.
The Christmas card captures a rare family moment for the Consuelos family because the last family picture they took was in April. When talking about his picture perfect family, Michael says his children have learned an important lesson about inner beauty, he explained:
"They've been to enough photo shoots and been on Instagram long enough to know how much can be faked and filtered and altered and so they aren't fooled by what a picture tells you you should look like. That's not real beauty."
Before putting all her attention on her family for the holiday season, Kelly had her own celebration when she jetted off for the first broadcast of "Live with Kelly and Ryan" from the Paris Theater at Paris Hotel and Casino in Las Vegas.
Having eloped in Las Vegas 23 years ago, the talk show host was joined by her cast for a second bachelorette party in "Sin City."