Joan Collins Joins Fellow Soap Opera Icons Donna Mills and Linda Gray at Annual Christmas Party
Three of the most legendary names in soap opera history came together to celebrate the holidays as Joan Collins, Linda Gray, and Donna Mills attended a Christmas party on Saturday.
Linda Gray looked fierce in her animal print ensemble next to Joan Collins, who dazzled with sequence while Donna Mills looked stylish in black and white over the weekend.
FRIENDS RECONNECTING
"Three actresses ready to party for our annual #christmas party @lindagray_ @thedonnamills," Joan Collins captioned a smiling snap flanked by Linda and Donna.
Joan became well-known for her role as Alexis Carrington Colby in "Dynasty" from 1981 until 1989, and Linda also marked the happy get-together with a picture of the three "friends" together. "Lovely seeing good friends at a Christmas party last night," Linda captioned the image.
SOAP STARS OF THE 1980S
During Joan's time as Alexis, Linda made waves over in "Dallas" as Sue Ellen Ewing until 1989. Donna Mills, on the other hand, starred in "Knots Landing" from 1980 until 1989 as Abby Cunningham.
However, between the three women, Joan Collins stood out for her love of fashion, as she always gravitated towards more "eclectic" clothes. The more glamorous and the more they sparkle, the better.
JOAN'S FLAMBOYANT CLOTHES
Joan's taste in clothes had her build a relationship with the house of Valentino since the 1960s, and it led to her being the star of their latest Christmas campaign. 
Having had several Valentino pieces in her closet over the years, Joan enjoys dressing up. But the 86-year-old actress also fears that the end of women buying glamorous clothing might be coming to an end.
THE TRAGEDY OF JEANS
"I really hope that people will spend more money on clothes because nobody dresses up anymore," Joan told Vogue during a recent interview. "Everybody's going to end up in jeans and T-shirts, which I think is tragic."
Joan is not a fan of jeans, she finds them "unflattering," and because she prefers her clothes to be elegant, Joan can't stand jeans with holes anywhere. Not keen on T-shirts with logos either, the actress feels somewhat misplaced in the relaxed Los Angeles lifestyle where people tend to favor their favorite pair of jeans and T-shirt.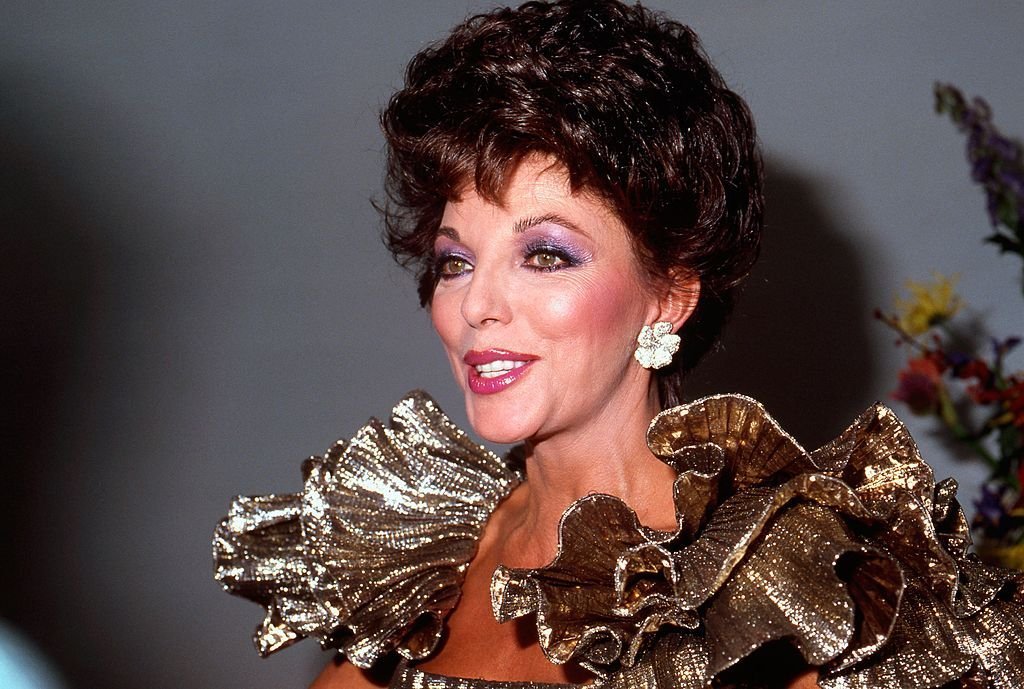 JOAN'S 'DYNASTY' CASTING
After beginning her acting career on the silver screen during the 1950s, Joan Collins also wasn't a fan of moving from Europe back to California to star in "Dynasty," which she said happened last minute.
The role initially offered to Sophia Loren, Elizabeth Taylor, and Jessica Walter, eventually went to Joan, and she only found out two weeks before they started filming "Dynasty." While it was meant to be a six-week job, Joan's role as Alexis turned into her most well-known casting that lasted nine years.