Lori Loughlin's Daughter Olivia Jade Posts First Makeup Tutorial Video on YouTube Since College Admissions Scandal
Lori Loughlin's daughter Olivia Jade is slowly returning to her career as a YouTube influencer. She shared a new makeup tutorial video, the first since her mother became a social pariah.
Olivia Jade, the daughter of the embattled actress, Lori Loughlin returned to her YouTube channel with a makeup tutorial for her subscribers. 
The YouTuber, who has about 1.95 million subscribers, shot the video wearing her pajamas, and in her bedroom. She informed her followers that she would show them everyday makeup routine to use in getting ready.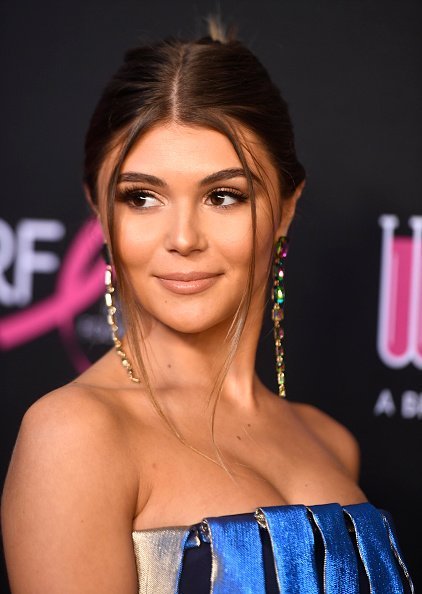 NOT A MAKEUP PERSON
Olivia noted that she is not into wearing makeup every day. Loughlin's daughter added,
"When I do wear makeup, it's normally for something, or I'm just feeling like putting myself together."
The young woman went on to show a makeup routine that involves using more than moisturizer and mascara, but still looks natural, and not forced. It starts with applying sunscreen, which the actress's daughter said is "Super important."
A NEW VLOG
Next, Olivia applied powder and face base moisturizer and informed her followers that she has a new vlog in the works. The Vlogger added that she couldn't wait for it to get finished because she wanted to follow up on her previous post immediately.
Lori encouraged it, and wants the YouTuber to continue with her life, and not put it on hold
The actress's daughter apologized to her followers for the delay and thanked them for sticking with her. Next, she displayed her outfit for the day, a Reformation Zebra-print dress.
SHE FORGOT HOW TO APPLY MAKEUP
Towards the end of the 16-min video, Olivia ruined her eyeliner attempt, and joked about it, saying,
"I really forgot how to do makeup."
In the end, the young lady finished her glam but straightforward look with a glossy mascara and lip gloss. The video was impressive, but Olivia's followers noted that she looked a bit skinny and was trying to hide her sadness behind her smile.
A CHALLENGING YEAR
Olivia had a difficult year, with her parents getting indicted for bribery in the college admissions scandal. The young lady recently returned to YouTube with a post, where she revealed she got barred from speaking about her parents' case.
Olivia also returned to social media and shared her first post in five months. In it, she wore a thin-strap tank top, with a deep cleavage that showed off her chest, and in the caption, she wished her over 1 million followers a beautiful day.
Loughlin supported and still supports her daughter's return to the spotlight. A source close to the "Full House" star revealed that she encouraged it, and wants the YouTuber to continue with her life, and not put it on hold.
Lori and her family lived away from the spotlight, and under public scrutiny for most of the year. With her trial coming up at the beginning of 2020, there are harder days ahead, and Olivia will have to support her mom and dad unconditionally.