John Legend's Son Miles Melts Hearts Posing in Red Car in New Pic Shared by Mom Chrissy Teigen
Chrissy Teigen and John Legend's son is driving in style in adorable new pictures the model shared to Instagram recently. His red car is gleaming. 
John Legend's son Miles Stephens is just one year old, but he's already looking to pick up some ladies in his new car — granted they have a good personality, too, of course. 
The toddler showed out in a cute photo which mom Chrissy posted to Instagram on Wednesday. She accompanied the shot with a funny caption. The post is found below.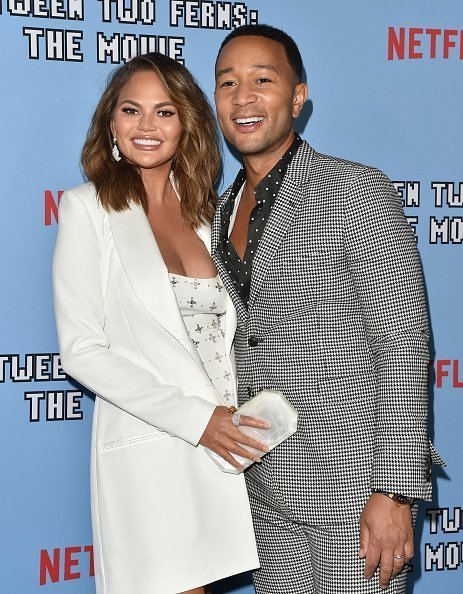 Miles flaunts new ride
In the picture, Miles sat in a kid-sized red car that featured an open-top design and only two seats — one depending on the kid's size. He wore a striped white and black long sleeve shirt. 
The adorable boy looked towards the camera wearing a serious expression. One hand held onto the edge of the ride, which also boasted an intense shine and silver rims. 
He's a chick magnet
In the caption, Teigen just wrote, "Hey ladies." She got a flurry of responses. One person jokingly commented, "swoon." Others couldn't get over the cuteness level the young tot was on. 
At least one person mentioned how much the boy looks like his R&B singer dad, and he received tons of likes in agreement. The celebrity couple are also parents to daughter Luna Simone, three. 
Born melting hearts
This wasn't the first time Teigen has shown off her son as a budding ladies' man. Last year, she again took to Instagram to share a photo of an even younger Miles. 
This time, all the tot had on were some pampers. He held onto a green pacifier as he lay on a blanket and looked at the camera. "Hello ladies," Teigen wrote. 
The look on Miles' face led many to comment that he either was giving attitude or he was unbothered. Either way, he was praised for looking like a doll. 
Miles' faux fur getup
Earlier this month, Teigen shared photos of both her kids displaying model behavior as they wore faux fur coats at home. Again, Miles' expression was the best in his brown fur coat. 
The little one was not focused on the camera at all, but he still managed to look like the man-in-charge as he looked off somewhere. Legend's mini-me wore his curls out for the photo. 
Luna's top model pose
The cookbook author also shared a photo of little Luna looking care-free and confident as she rocked a pink faux jacket. Hers actually fit her. The little girl crossed her legs and looked away from the camera in her shot. 
In the caption, Teigen reassured her fans that the fur was faux. That's a relief, but we're also hoping she continues sharing more pictures of her incredibly cute kids.