Tori Roloff of 'Little People, Big World' Shares Heartwarming Christmas Photos with Her Two Kids
The festivities of the holiday season has kicked into high gear.  The stars of TLC's "Little People, Big World" are no exception and Tori Roloff took to Instagram to share a glimpse of their holiday pictures, shown below.
Tori and Zach Roloff have been married since July 25, 2015. Together they share two cute children named  Jackson Roloff and Lilah Ray Roloff.
Lilah was born earlier this year and Tori struggled to bounce back and love her body after the pregnancy. However, she appears to be slowly recovering.
The new mother recently took to Instagram to share a new picture of her happy family. In the new post, Tori, Zach, Jackson, and Lilah wore matching family Christmas pajamas.
In the first picture, the whole family is seen sitting in front of the tree. The other pictures in the post showed Jackson and Lilah together.
Another picture showed each of the "Little People Big World" children. The mom-of-two took to the caption to pen a message writing: 
"'Tis the season for matching jammies, cozy fires, and the smell of Christmas! Even if it took us like 20 times to get this photo (on a self timer). My Christmas has already been made by my family. Especially the fact that Jackson touched his sister in this photo (he's been a little standoffish and only wants to admire her from afar)."

Tori went on to add: 
 "I hope you and your family remember what's truly important this Christmas season… family and being present!! Merry Christmas from our family to yours!"
Fans of the family were excited to see an update from Tori  They have been eagerly awaiting new pictures of little Lilah since she was born.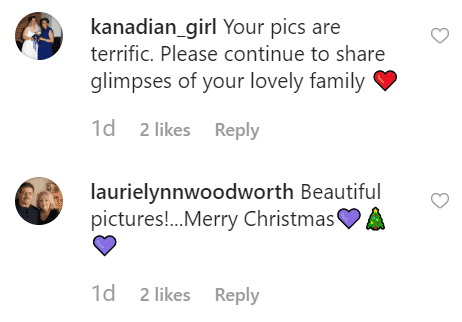 Fans flooded the post with love and adoration. More than two hundred thousand fans liked the post and many took to the comments section. One wrote: 
"The one with heads cuddling is TROPHY WORTHY !!!!! Absolutely priceless. Merry Christmas to you and your adorable family! You look AMAZING by the way!!!!!!"
Another fan took to the comments to tell Tori that she had a "truly gorgeous family" and to wish the entire family a Merry Christmas.