Lara Trump Posts Snap with Her Family and Wishes Everyone a Merry Christmas
Lara Trump and her husband, Eric Trump, spread the holiday cheer by sending her followers a Christmas message with a photo of her posing with her family.
Eric Trump and his wife, Lara Trump, joined millions of people around the world in celebrating Christmas, surrounded by their family. In a picture posted on Christmas day, she said:
"Wishing everyone a very Merry Christmas! ?."
In the picture posted on Instagram, the family stands in front of their Christmas tree covered in yellow, white, and gold sparkling ornaments.
Eric is shown holding his son Luke, while Lara clutches their daughter Carolina in one arm, and embraces her mother with the other arm. The couple was joined by Lara's father and brother.
 It is not clear whose Christmas tree they posed in front. However, earlier in the month, Lara displayed their personal and joked:
"...as promised, here he is, trying to destroy the tree. ? #ToldYouDad ?."
It the post, Lara shared a very relatable moment after putting up their brightly decorated Christmas tree. 
Luke appears to have one ornament in his hand and is trying to reach for another on the tree, which had been adorned with bright ornaments, and speckled with green and red lights.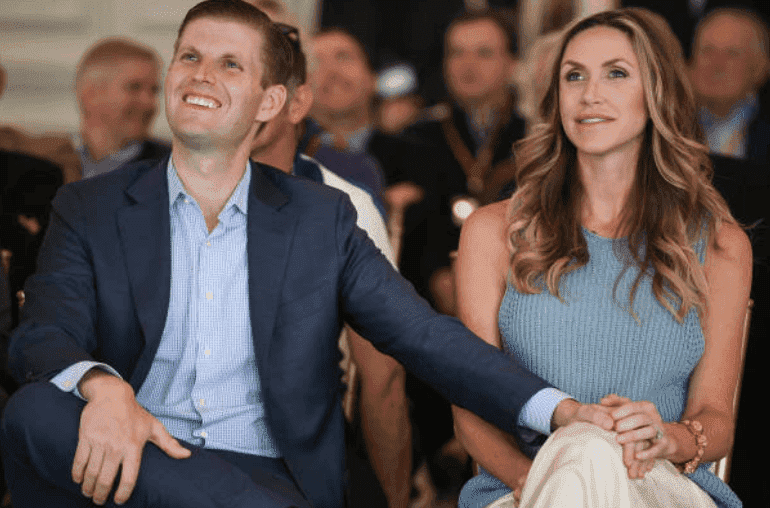 It is 
reported
, despite their prominent positions as the first family, and working alongside President Donald Trump, the couples live somewhat normal lives.
Lara once mentioned in an interview with Hello! that because they live their lives in the spotlight and are constantly surrounded by secret service, they enjoy normalcy and relaxing in their home outside of New York City.  
Lara, who is the Senior Advisor to the president has worked several jobs, which included a chef, a trainer, and a television personality. 
In many of her social media posts, she has shared that her proudest job, apart from her work at the White House, is being a mother.
According to Elite Daily, the couple took things slow when they first met at a fashion show in 2018. Donald mistakenly introduced them to each other twice that evening.
After going on their first date months later, they dated for five years before getting engaged, and waited another year before a lavish wedding at the President's Mar-a-Lago estate in Palm Beach, Florida.