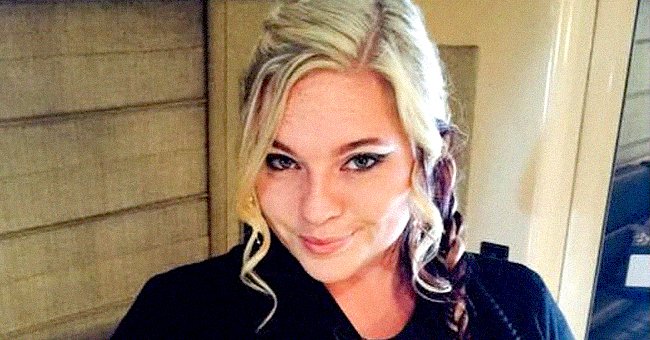 facebook.com/RealCecilyChapman
Cecily Chapman's Father Duane Comments on Picture of Her in Beautiful Kimono
Cecily Chapman looked gorgeous wearing a mini Kimono dress, which she showed off on her Instagram as she enjoyed the holidays in Hawaii.
Cecily Chapman, 26, is continuing to promote her new clothing line that she started in memory of her late mom, Beth Chapman. The bounty hunter passed away in June this year from lung cancer.
A few months later, Cecily launched a line under the One Love One Tribe apparel business called, For Beth. On Monday, she displayed one of the many styles she offers on the site.
Cecily shows off kimono
Sporting a simple makeup look and her regular blonde locks, Cecily posed in front of a For Beth backdrop wearing a black mini dress and a black and white floral kimono.
She wore just a few bracelets and a pair of earrings and smiled close-mouthed into the camera. In her caption, she wrote a promotional piece for the item, adding, "Love our kimonos [lips emoji]."
Cecily's dad Duane "The Dog" Chapman commented under the photo. "Good job Cecily LOVE YOU !!" His daughter, in turn, responded with sweet words.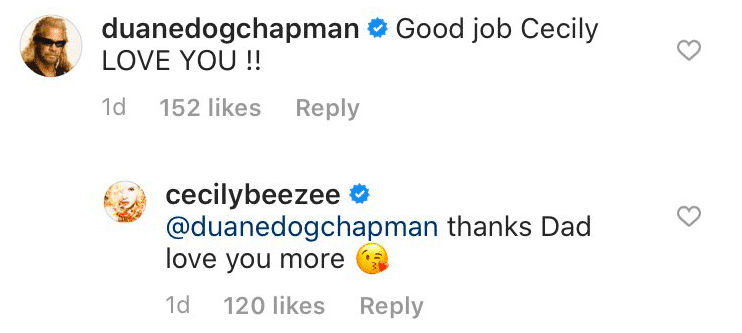 Duane Chapman comments on Cecily's instagram post | Photo: Instagram/ cecilybreezee
Fans react to photo
Other fans showered praise on Cecily. As usual, they threw in many words of support as well. Since losing Beth, most of the family has expressed some grief via their social media.

Fan comments underneath Cecily Chapman's post | Photo: Instagram/ cecilybreezee
Of course, there were also quite a few people who compared Cecily's looks to her beloved late mother. "You look so much like your amazing Mom," a user said.

Fan comments underneath Cecily Chapman's post | Photo: Instagram/ cecilybreezee
The For Beth line
Some of Cecily's other clothing items are etched with her mom's name on them in more obvious places. For instance, when she just came out, she showed off a black T-shirt with "For Beth" written at the front.
The Hawaiian native uses environmentally-friendly materials to produce her line and donates some of the profit to charities and those in need. Beth would indeed be proud.

Fan comments underneath Cecily Chapman's post | Photo: Instagram/ cecilybreezee
Cecily grieves for her mom
Despite knowing that, Cecily is still struggling to feel normal without her mom. Earlier this month, she admitted that she felt "so empty and lonely" without Beth around.
She attached a throwback photo of her mom sitting in a vehicle decked out in all-black garb, including a black hat. Beth held onto a walkie talkie as she smiled.
Duane's ups and downs
Meanwhile, Duane has also been mudding through the loss of his wife with difficulty. Along with health problems, the famous bounty hunter has been in emotional turmoil.
At one point, Duane was unsure if he even wanted to go on living without his wife. Thankfully, he overcame those feelings and is now doing his best to restore his health and thrive mentally.
Cecily is lookalike to Beth
Both he and Cecily have shared a few throwbacks of Beth. Back in July, Cecily shared another one that caused fans to point out the similarities between mother and daughter.
It was just a day after Beth's Colorado memorial service that Cecily shared pictures from the event. Cecily looked towards the camera with one hand resting on her head.
Fans point it out
Followers couldn't help but notice that not only did Cecily give off her mother's fashion sense but also that she looks just like her at first glance of the picture.
The young lady will likely get comparison comments throughout her life thanks to her mother's celebrity status. Fortunately, she doesn't seem to mind in the least bit.
The National Suicide Prevention Lifeline is 1-800-273-8255. Other international suicide helplines can be found at befrienders.org.
Please fill in your e-mail so we can share with you our top stories!